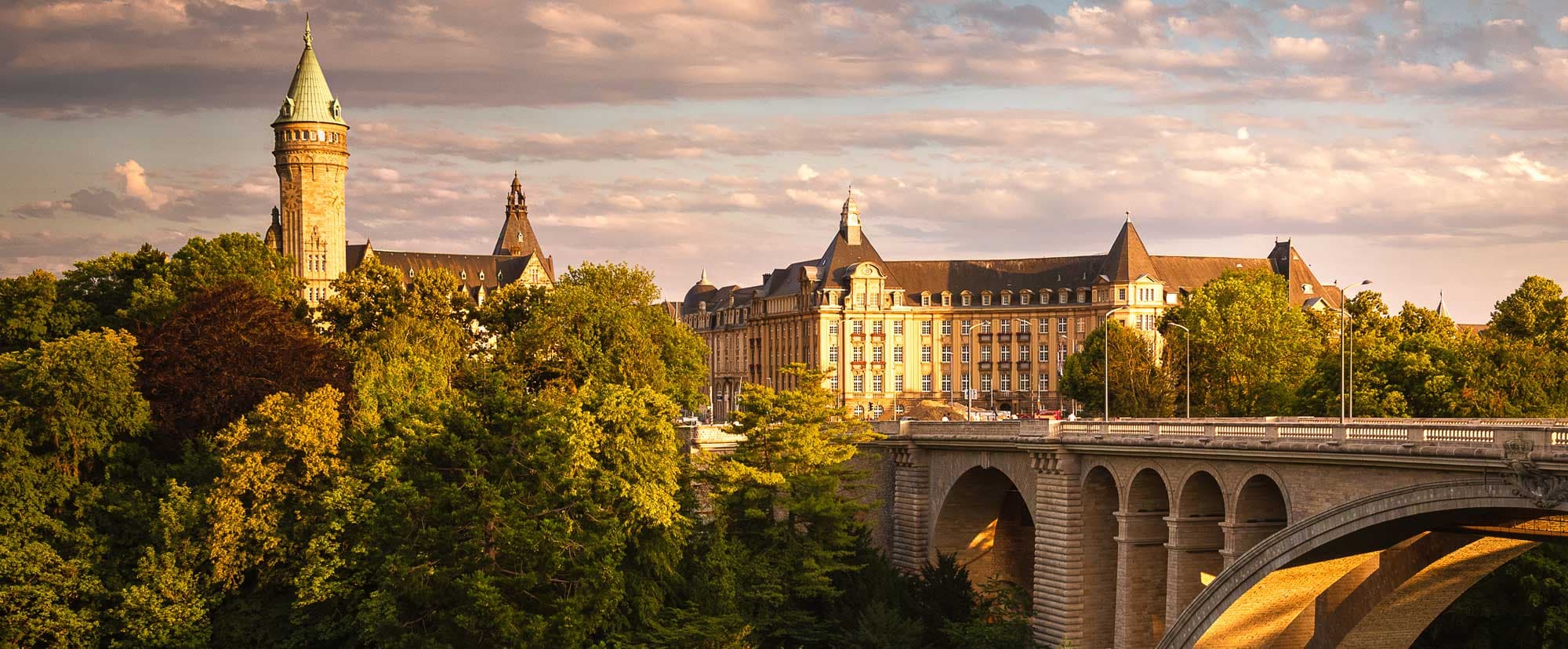 Biking In Luxembourg: renting, trails and festivals for cyclists
If you are one of the people who love cycling through beautiful landscapes on comfortable and fully equipped trails – Luxembourg is a perfect destination for you. This small country has 600 kilometers of cycling routes and 700 kilometers of mountainbike trails, and the cycling ecosystem of the Grand Duchy is growing every year. In this article, you will find out everything you need to enjoy a stroll on a sunny day.
Bicycle culture in Luxembourg
Bicycle culture in Luxembourg has been growing steadily in recent years as the country embraces sustainable transportation and promotes cycling as a means of commuting, recreation, and tourism.
Biking is very popular in the country and there are various organizations and initiatives working to maintain a good experience for cyclists.
For example, ProVelo offers support to all cyclists in Luxembourg by providing useful information on the cycling scene and connecting cyclists. There are 1800 members in this community and every week ProVelo organizes bike tours to different attractions.
Luxembourg has been investing in the construction of dedicated cycling infrastructure, including bicycle paths, lanes, and tracks. These are designed to provide safe and convenient routes for cyclists, separate from motorized traffic. Many urban areas have designated bike lanes on roads, and there are also off-road cycling trails that connect various regions.
Also, Luxembourg is part of the EuroVelo network, a European-wide network of long-distance cycling routes. The country is located along EuroVelo 5 (Via Romea Francigena), which passes through Luxembourg City. EuroVelo routes provide connections to neighboring countries and offer opportunities for long-distance cycling adventures.
Safety rules for cyclists in Luxembourg
"Better safe than sorry" – should be the motto of every cyclist. As cycling gains popularity and the number of cyclists on the roads increases, it becomes essential to comply with safety rules that protect both cyclists and other road users. It is very important to follow several rules for safe cycling, which are:
Always be visible: wear a visibility vest or use your lights;
Check the general condition of your bike, and the brakes in particular, before the beginning of cycling;
Use hand signals to indicate when you are changing lanes or turning;
Follow traffic rules.
Wearing a helmet is not a legal requirement in Luxembourg, but is highly recommended by the Police.
Where to rent a bike in Luxembourg
In case you don't own a bike, there are a few options to enjoy a ride. Multiple companies in Luxembourg provide numerous services for cyclists. Whether you're planning a leisurely ride through Luxembourg City, an adventurous journey along scenic trails, or a multi-day cycling tour, renting a bike is the perfect solution to embrace the freedom and joy of exploring Luxembourg on two wheels.
Vel'OH bike sharing in Luxembourg
Vel'OH! is a bike-sharing service with multiple bike-sharing stations located in Luxembourg City. There are over 1200 bikes available at over 93 stations throughout the city.
In order to use Vel'OH! services, you need to register and choose a subscription plan using the official mobile app or website. You can choose:
1-day ticket – unlimited trips for 24 hours. The cost of the ticket is 2 euros, every additional hour is 1 euro, up to a maximum of 5 euros in 24 hours.
3-day ticket – unlimited trips for 72 hours. The cost of the ticket is 5 euros, every additional hour is 1 euro, up to a maximum of 5 euros in 24 hours.
Annual plan – unlimited trips for one year. The cost of the subscription is 18 euros, every additional hour is 1 euro, up to a maximum of 5 euros in 24 hours.
After registering and selecting your subscription and bike, you can take out your bike and enjoy the first 30 minutes free of charge. When you finish your trip, choose the nearest station to return the bike.
If you want to know more about getting around the Grand Duchy, check out our special article – Public Transport in Luxembourg (we talk about bikes there too!).
Velo en Ville bike rental in Luxembourg
Velo en Ville is a bike rental company in Luxembourg that offers a variety of bikes for rent, including city bikes, electric bikes, and tandem bikes. They have over 100 stations located throughout Luxembourg City and the surrounding area, making it easy to rent a bike no matter where you are.
| | | |
| --- | --- | --- |
| Duration | Bike | Tandem |
| 1 hour | 7,50 euros | 15 euros |
| Half-day | 20 euros | 40 euros |
| 1 day | 30 euros | 60 euros |
| 1 weekend (from 7 p.m. on Friday to 7 p.m. on Sunday) | 55 euros | 110 euros |
| 1 week (7 days) | 150 euros | 300 euros |
There are additional fees for children's seats and helmets. Also, there is a 20% discount on daily, weekend, or weekly bikerental prices for groups of 4 or more people and young people under 26.
To rent a bike from Velo en Ville, you can either go to one of their stations or book a bike online.
Popular bike routes in the Grand Duchy
From picturesque countryside routes to urban trails, Luxembourg's well-maintained bike paths provide a unique opportunity to immerse yourself in the natural beauty and cultural treasures of this country while enjoying the freedom and exhilaration of cycling.
Fähranleger in Oberbillig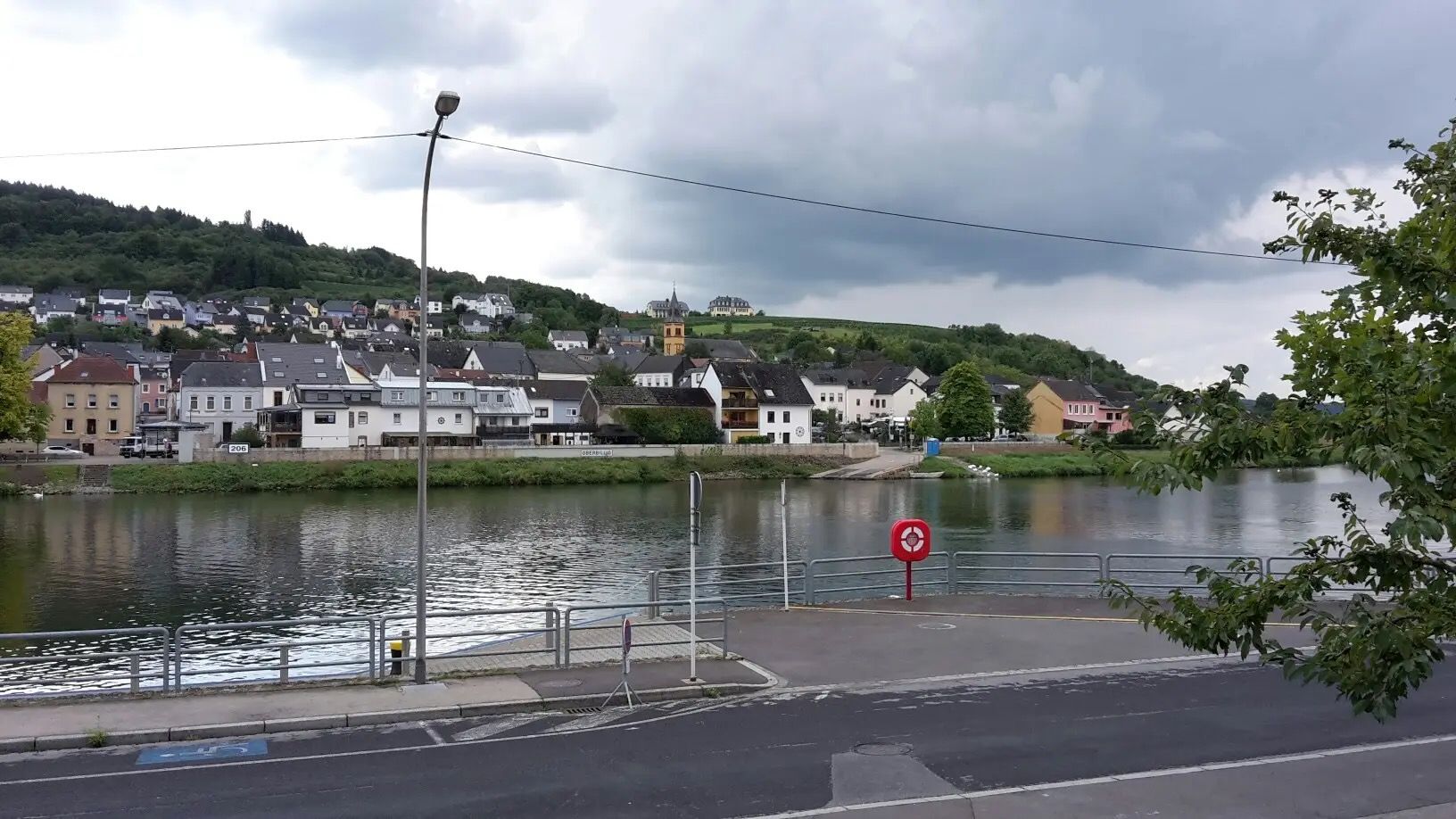 The Fähranleger in Oberbillig bike route is a 43-kilometer loop that starts and ends at the Fähranleger in Oberbillig. The route is mostly flat and easy to ride, making it a good option for beginner cyclists. The path runs mostly by the water, making it the perfect way to enjoy nature. Also, this route includes a ferry crossing, so be sure to check the ferry's timetable in advance.
Denkmal Schengen-Abkommen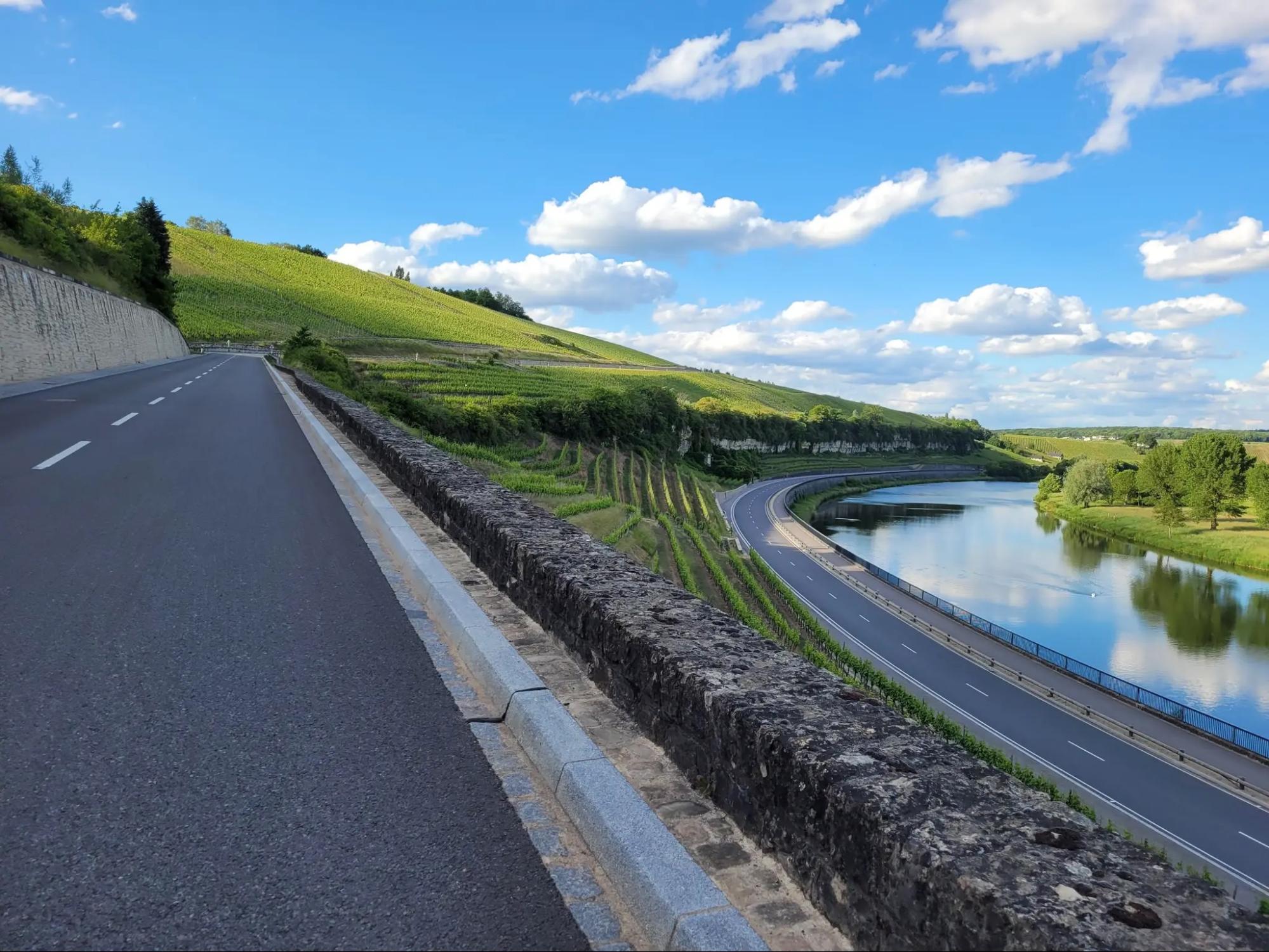 🚴 Intermediate
⏰ 03:22
📍 81.6 km
The Denkmal Schengen-Abkommen bike route is an 81.6-kilometer loop that starts in Oetrange, Luxembourg and passes through the towns of Schengen, Schengen-Grenz, and Wormeldingen. The route is considered to be for intermediate-level cyclists. Approximate time of cycling this path – 3 hours 22 minutes.
The route takes in some of the most scenic parts of the Grand Duchy, including the Moselle River, the Schengen Gardens, and the Schengen Peace Museum. The route also passes by the Denkmal Schengen-Abkommen, a monument that commemorates the signing of the Schengen Agreement in 1985.
Hovelange tunnel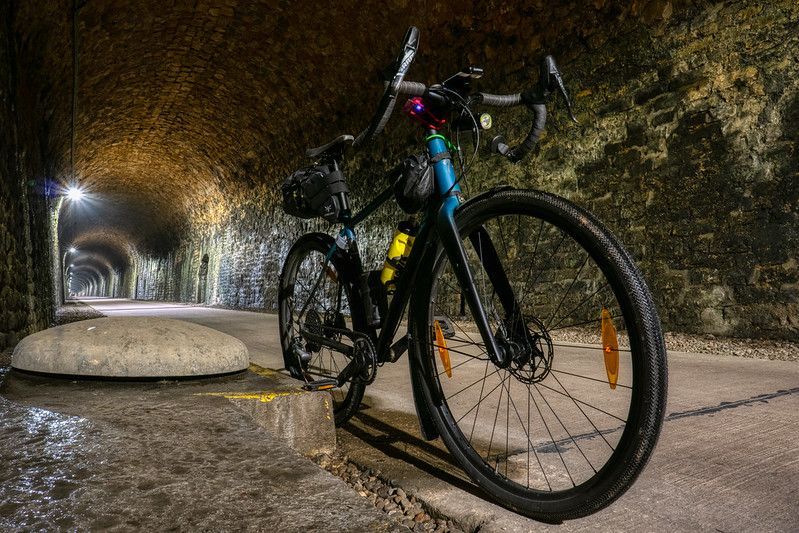 🚴 Intermediate
⏰ 03:41
📍 85 km
The Hovelange tunnel bike trail is 85 kilometers long. It starts and ends in Hovelange. The path runs through the Hivelange tunnel, Useldange castle, and other attractions. It takes around 4 hours to complete this route.
The path starts in Hovelange and follows the beautiful Attert river valley. It passes through the Hovelange tunnel, which is a 1.5-kilometer-long former railway tunnel that was closed in 1967. The tunnel is lit up and is open to cyclists and pedestrians.
Beaufort Climb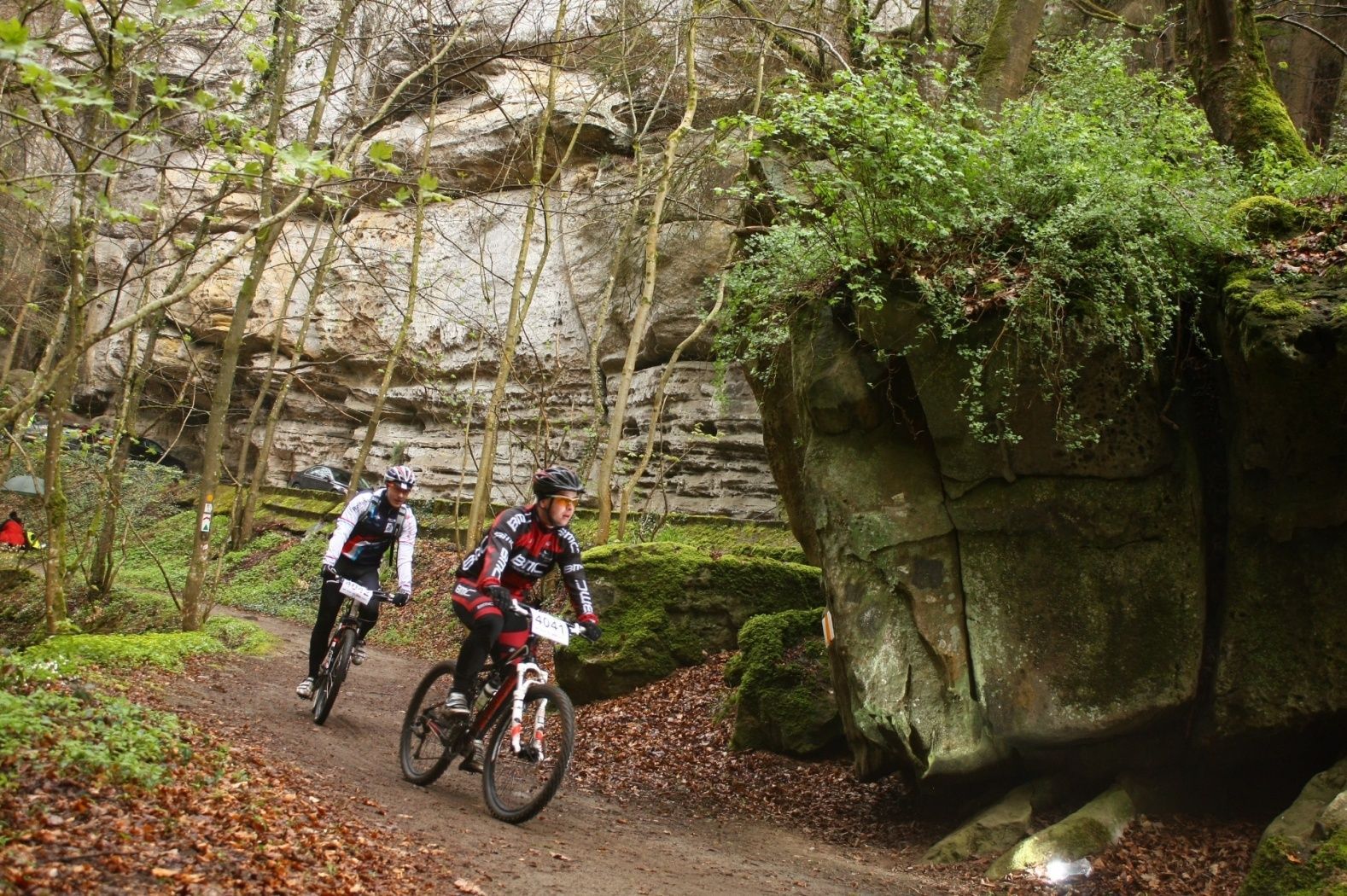 The Beaufort Climb bike path is 158 kilometers long, it starts in Berdorf and climbs up to the Beaufort Castle, which was built in the 11th century. The climb is steep, with an altitude gain of 2000 meters, but the views from the top are worth it.
After the castle, the route passes through some beautiful scenery, including the Mosel river, forests, valleys, and waterfalls. The route is challenging and is considered for expert cyclists. It takes around 7 hours to complete the route.
Cycling festivals in Luxembourg
Luxembourg hosts several cycling festivals and events throughout the year, offering opportunities for cyclists of all levels to come together and enjoy various activities. Let's take a look at a few of them.
Ironman 70.3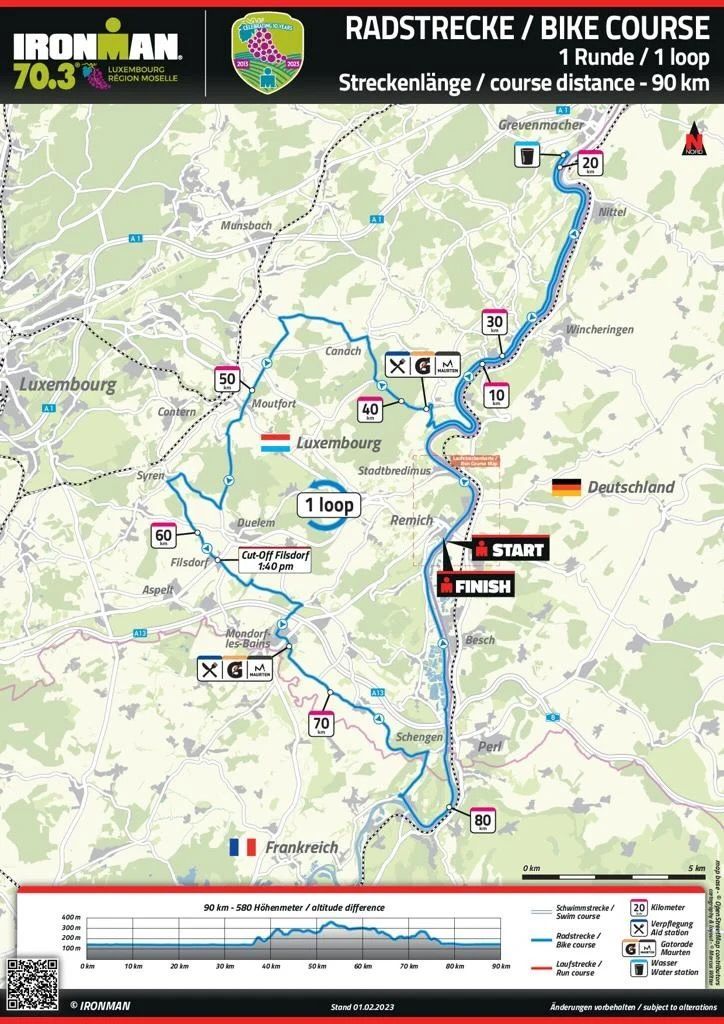 Ironman 70.3 is a race that offers competitors to participate in different challenges: swimming, biking, and running.
Ironman bike course is a unique cycling adventure on the mesmerizing 90 kilometers cycle route that winds through the heart of the region. As you pedal, you'll be surrounded by vineyards and soak up the scenic beauty and history of Luxembourg.
Prepare to be transported back in time as the journey reveals a fascinating piece of history. Along the way, you'll come across the famous Schengen Monument, a symbolic tribute to the Schengen Treaty.
The bike race takes place on 9 June 2024. You can register for different categories, and the price for participation ranges from 299 euros to 899 euros.
The Ironman 70.3 Luxembourg offers monetary prizes for its participants. In 2023, the prize purse was 25,000 dollars, spots for the Ironman 70.3 World Championship, and valuable PTO ranking points.
Vёlosummer bike festival in Luxembourg 2023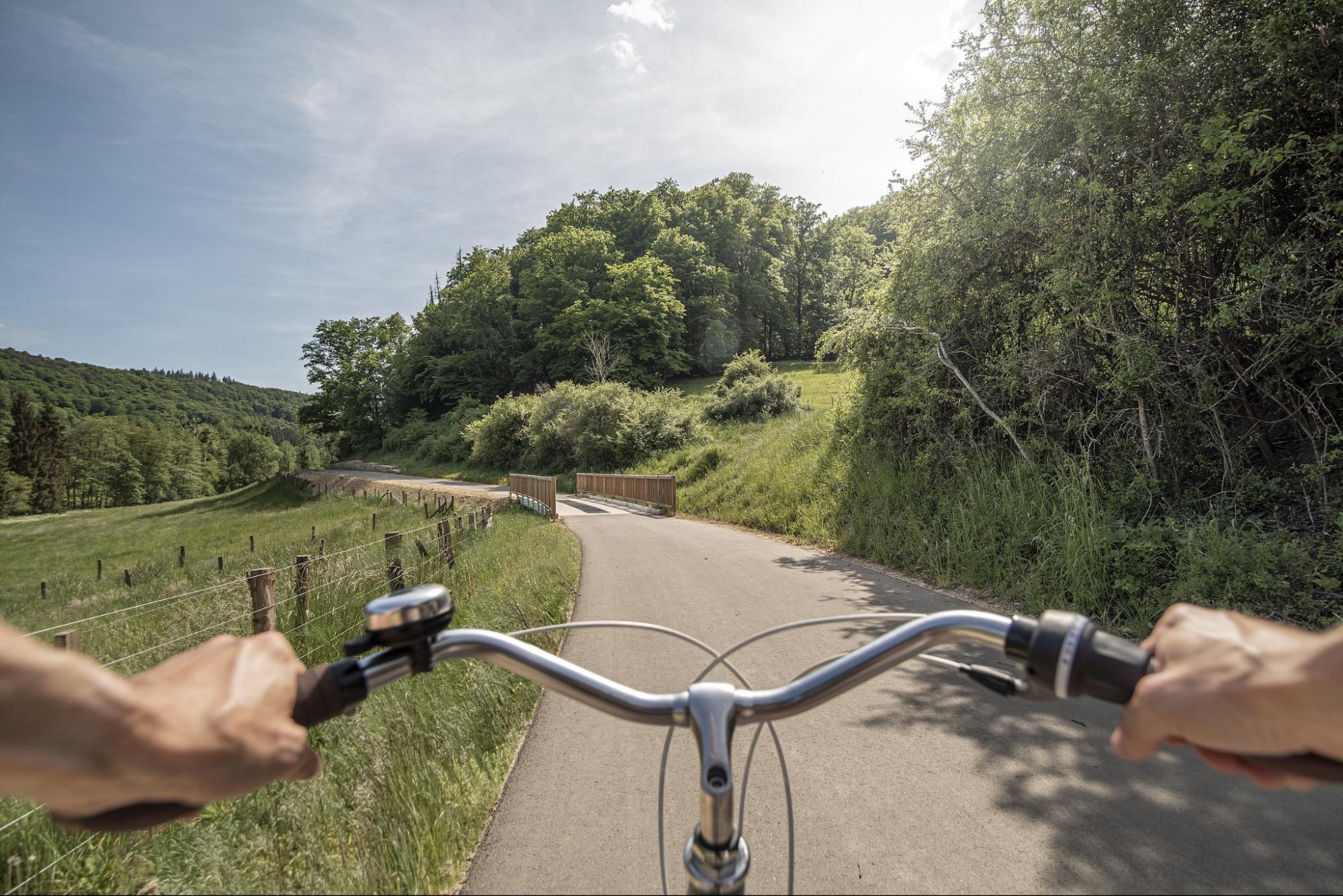 Vëlosummer is a bike tourism program that takes place in Luxembourg every year in the summer. It is a celebration of all things cycling, with a variety of activities and events for people of all ages and abilities.
Vëlosummer offers 13 different routes covering more than 500 kilometers. The routes are designed for all levels of cyclists, from beginners to experienced riders. You can also use the Move we carry baggage transport service to have your belongings transported from one accommodation to another, so you don't have to worry about lugging your luggage around.
In 2023 the bike festival will take place from 29 July to 27 August. During this time, several roads are closed to cars, so cyclists can enjoy the peace and quiet of the countryside.
You don't need to register to participate in this program, but you can download a VisitLuxembourg App, where you can participate in different challenges and win prizes.

Frequently Asked Questions (FAQ)
Is it obligatory to wear a helmet on the bike in Luxembourg
No, it is not obligatory to wear a helmet on a bike in Luxembourg. However, it is highly recommended by the Police. Wearing a helmet can significantly reduce the risk of serious head injury in the event of a crash.
How long does it take to cycle through Luxembourg
The time it takes to cycle through Luxembourg depends on your fitness level and the route you choose. The shortest route is about 50 kilometers, and it can be cycled in about 3 hours. However, there are also longer routes that can take up to a full day to cycle.
What is the monetary prize for the Ironman 70.3 in Luxembourg
The Ironman 70.3 Luxembourg offers monetary prizes for its participants. In 2023, the prize purse was 25,000 dollars, spots for the Ironman 70.3 World Championship, and valuable PTO ranking points.
Copy link