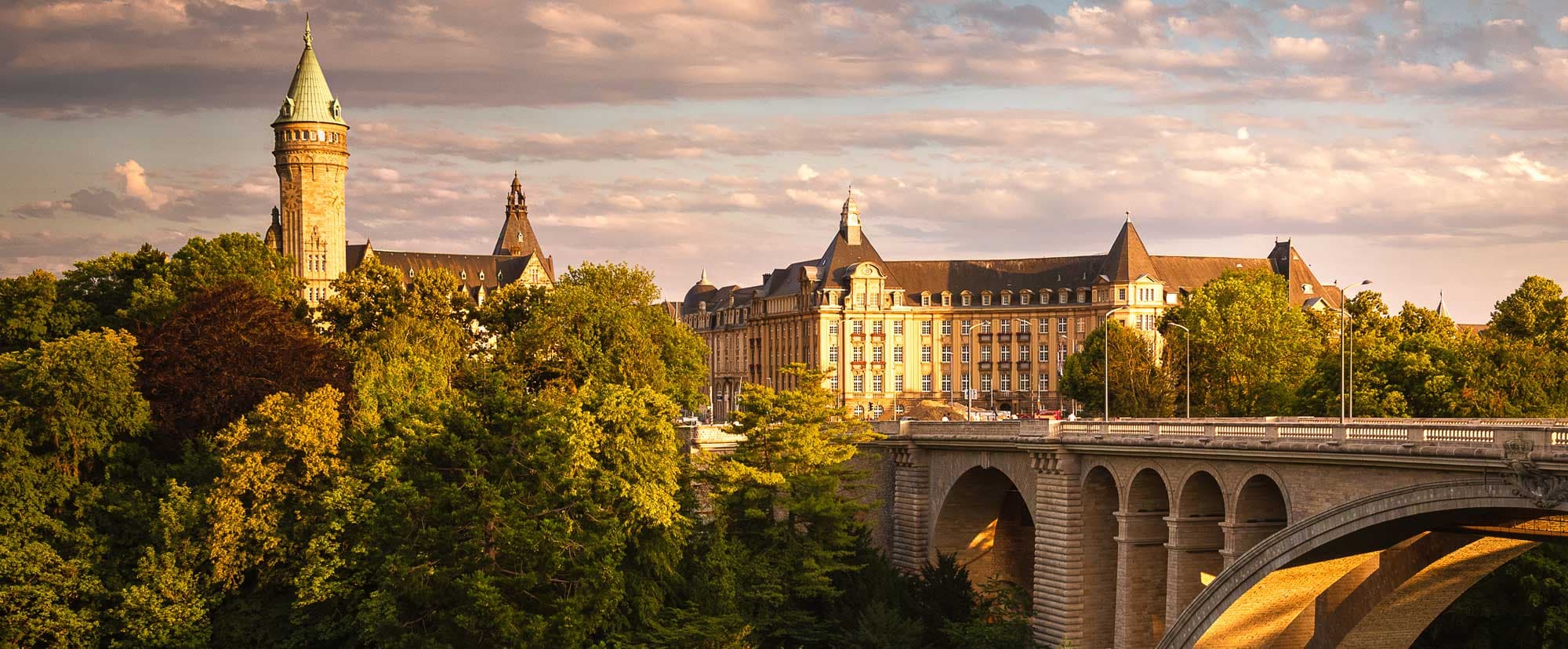 Kirchberg: Luxembourg's business hub
Nestled in Luxembourg City's northeast, Kirchberg is a bustling district known as the European Quarter. With its origins dating back to the 1950s and 1960s, Kirchberg has grown in tandem with the European Union's development, becoming an iconic business hub. However, it is much more than that. Kirchberg offers a unique blend of residential, cultural, and leisure opportunities, making it an attractive place to live, work, and explore.
In this article, we will delve into the attractions and cultural landmarks that define Kirchberg, offering insights into the district's dynamic character and the multitude of opportunities it presents. From its rich history intertwined with the EU's growth to its serene residential spaces away from the tourist crowds, Kirchberg stands as Luxembourg's vibrant and sought-after business hub.
Living in Kirchberg
Living in Kirchberg offers a unique experience shaped by its vibrant atmosphere and evolving urban landscape. With a population of 8,746 as of January 2022, the district boasts a diverse community, with the majority being foreign residents comprising 73.8% of the population. Despite being a significant business hub, Kirchberg aims to strike a balance between commercial and residential areas.
To achieve this there are several projects, one of which is the Op der Schleed project. Envisioning the construction of nearly in the northern part of Adenauer Boulevard, over the next 30 years, this development is expected to accommodate more than 10,000 additional residents.
Additionally, efforts are being made to reimagine public spaces and enhance the overall livability of the area.
Kirchberg attracts professionals and families seeking a vibrant yet tranquil environment. By day, the district bustles with activity, while in the evenings, visitors often retreat to neighboring Clausen, leaving behind a calm atmosphere for relaxation and unwinding.
Kirchberg district infrastructure in Luxembourg
This dynamic neighborhood is home to an array of educational establishments, healthcare facilities, efficient transportation networks, shopping centers, and business institutions. In this section, we will explore the various facets of Kirchberg's infrastructure that contribute to the district's reputation as a modern and well-connected community.
Schools, kindergartens and universities in Kirchberg
There are plenty of educational facilities, located in the district, which makes it more convenient for students, children in school and adults, who want to continue their their lifelong education.
European School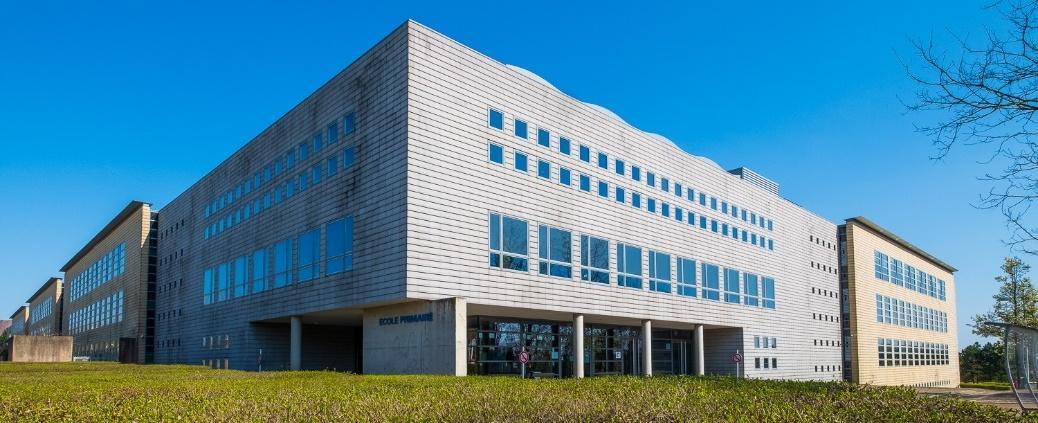 The European School, Luxembourg I, holds a significant place in the educational landscape of Kirchberg. Established in October 1953 and formally recognized as the first of the European Schools in April 1957.
With a commitment to delivering a broad and high-quality multilingual education, the European School, Luxembourg I, offers a comprehensive curriculum spanning from preschool to secondary education. Its primary goal is to prepare students for adulthood and lay a solid foundation for their continued learning.
Saint Sophie Private School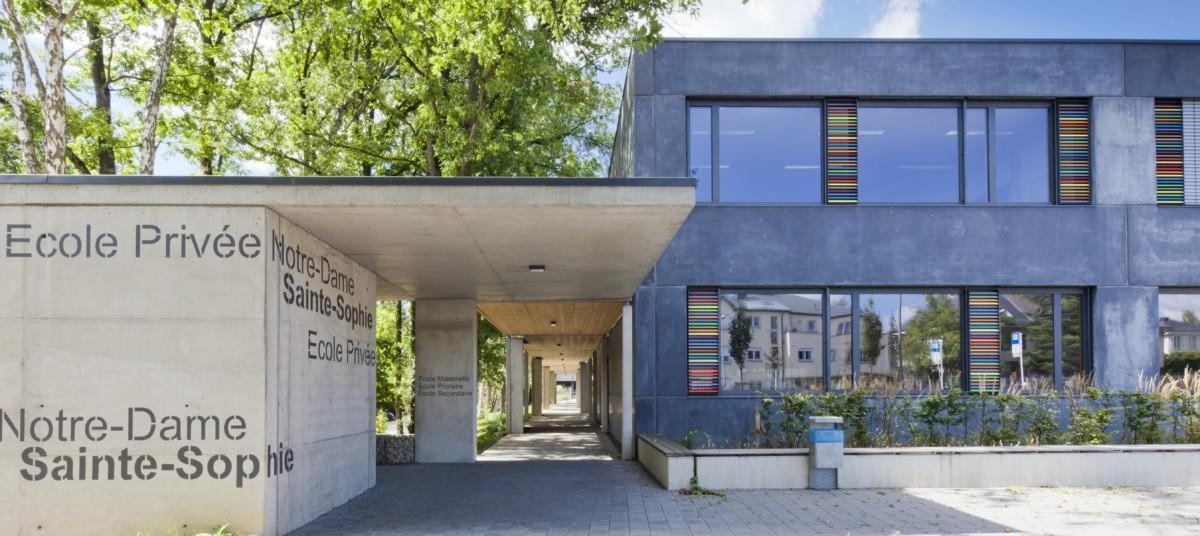 Sainte-Sophie is a multicultural private school that celebrates its rich diversity, fostering harmonious development among students of all nationalities, ranging from 3 to 19 years old within a single institution.
With an enrollment of 600 students, the school follows the strict curriculum set by French National Education programs, welcoming children from the age of 3 (kindergarten level) up to 11 years old (CM2).
The middle school section at Sainte-Sophie offers a French curriculum that facilitates potential integration into French colleges or high schools abroad. Taking advantage of Luxembourg's multicultural and multilingual environment, the school emphasizes the learning of German and English from the 6th grade onwards.
Additionally, one hour per week is dedicated to learning Luxembourgish language and culture, providing students with an immersive experience in the local community.
Technical College Du Centre (Annexe Kirchberg)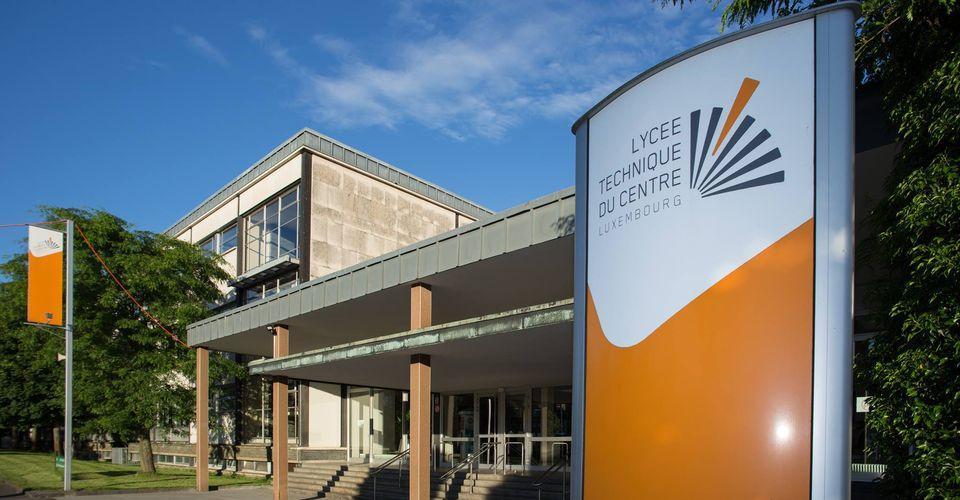 The Technical College Du Centre is a public secondary technical school situated in the Limptersberg neighborhood. With an annual enrollment of approximately 3,600 students, the LTC offers a wide range of educational opportunities: over 250 classes, supported by around 340 teachers.
They prepare students for the International Baccalaureate diploma, various sections of the technical program, three technician programs (chemistry, automotive mechanics, administrative and commercial), and most professional programs such as CATP, CITP, and CCM.
One of the campuses of the University of Luxembourg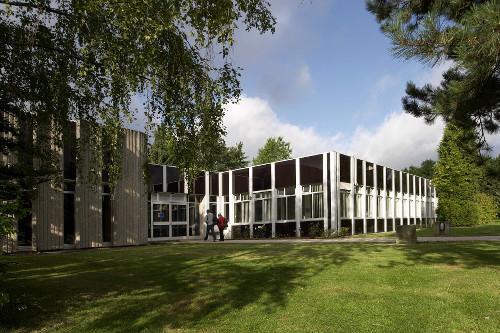 The University of Luxembourg, founded on August 12, 2003, is the only public university in the Grand Duchy of Luxembourg. The university boasts a diverse student body of approximately 6,800 students representing around 130 countries, while its faculty consists of 283 professors, assistant professors, and lecturers from 20 different countries.
The Kirchberg Campus is home to the Faculty of Science, Technology, and Communication.
The university offers a comprehensive range of academic programs, including 11 bachelor's degrees and 23 master's degrees on three campuses.
Kirchberg Hospital

The Kirchberg neighborhood in Luxembourg is fortunate to have two prominent healthcare establishments as part of the Hôpitaux Robert Schuman group: The Kirchberg Hospital and the Bohler Clinic.
With over 306 independent doctors and an average of 2,250 employees. Residents of the Kirchberg neighborhood can rest assured knowing that they have access to state-of-the-art medical facilities and a committed team of healthcare professionals.
Transport
Transportation in Kirchberg is highly accessible and well-connected. The neighborhood benefits from several bus lines that serve the area via Avenue Adenauer, providing convenient public transportation options. Additionally, the T1 tram runs along Avenue Kennedy, offering a direct connection to the Kirchberg district.
When it comes to reaching the city center from the Kirchberg neighborhood, there are several transportation options with varying travel times.
, the journey from Kirchberg Luxexpo, the last tram station, to the Hamilius stop in the city center takes approximately 18 minutes, and around 25 minutes to reach the train station. If departing from Kirchberg Philharmonie/Mudam, which is closer to the center, the tram ride to Hamilius takes approximately 10 minutes, and about 17 minutes to the train station.
For those who prefer , the travel time by car from Kirchberg to the city center ranges between 5 and 10 minutes, depending on traffic conditions.
is also a popular option, with bike commutes from Kirchberg to the center taking between 6 and 15 minutes.
Lastly, for those who enjoy a , walking from Kirchberg to the city center can take anywhere from 20 minutes to an hour, depending on the location within the neighborhood and the walker's pace.
Kirchberg shopping centers
In the vibrant Kirchberg neighborhood of Luxembourg, two prominent shopping centers cater to residents and visitors. We previously covered the best shopping centers in Luxembourg in our special featured article in the Knowlege library.
Infinity shopping center
On the other side of the neighborhood, the INFINITY Kirchberg Shopping Center, part of the Infinity real estate project, has been a welcome addition since its opening in late 2019. This new shopping center offers an exciting retail experience with a diverse selection of stores and services.
Some of the notable establishments found within the INFINITY Shopping Center include
Paul's Bakery, Cocottes, Sushi Side, Palms, L'Osteria, Lounge Act One, NM Hair & Beauty, BIL, and Tango, among others.
Kirchberg shopping center
The Kirchberg Shopping Center, located to the north boasts a delightful shopping gallery housing 50 boutiques and an array of dining options with 19 restaurants.
Additionally, within the complex, you'll find the Auchan shopping mall, a two-story hypermarket spanning an impressive 12,500 square meters. Auchan is renowned as one of the largest shopping malls in the eastern part of the capital, and visitors can take advantage of complimentary covered parking for up to two hours
With these two bustling shopping centers, Kirchberg provides residents and visitors with a fantastic array of retail options, ensuring a fulfilling and enjoyable shopping experience.
Kirchberg district business buildings
There are a lot of important business communication centers located in this district of Luxembourg City. A lot of glass modern buildings represent the whole mood of the innovative quarters.
👩‍⚖️ European Court of Auditors
In the Kirchberg district of Luxembourg, you'll find the impressive building that houses the European Court of Auditors. As the financial conscience of the European Union, the European Court of Auditors is an independent institution responsible for overseeing the Union's finances.
Its primary role is to monitor how EU bodies manage their revenues and expenditures, urging them to utilize available funds most economically and rationally possible.
Annually, the Court of Auditors publishes its comprehensive report, which provides an overview of its auditing activities and findings.
⚖️ Court of Justice of the EU
The Kirchberg district in Luxembourg is home to the iconic building of the Court of Justice of the European Union. As the seat of the Court of Justice, Luxembourg plays a crucial role in ensuring the consistent interpretation and application of European Union law across all member states.
National courts can refer questions to the Court of Justice for clarification on matters related to EU law. Furthermore, if the Court is approached, it assesses whether member states and EU institutions are fulfilling their obligations under EU law.
🏦 European Investment Bank
The Kirchberg district is also home to the headquarters of the European Investment Bank (EIB). Established in 1957 by the Treaties of Rome, the EIB serves as the financial institution of the European Union member states. Its primary objective is to borrow from financial markets to fund projects within the European Union.
💰 European Investment Fund
Established in 1994, the EIF plays a crucial role in supporting small and medium-sized enterprises (SMEs) by providing equity investments to venture capital funds and establishing agreements with banks that finance SMEs.
As an integral part of the Kirchberg district's business landscape, the European Investment Fund contributes to the promotion of entrepreneurship, innovation, and job creation.
Entertainment in Kirchberg: museums, cinemas, marathons, exhibitions
The Kirchberg neighborhood offers a vibrant entertainment scene with a variety of attractions and venues to cater to diverse interests. From cultural exhibitions to outdoor spaces and sporting facilities, there is something for everyone.
Museums like MUDAM and Musée Dräi Eechelen showcase art and history, providing enriching experiences for visitors.
The Philharmonie Luxembourg sets the stage for captivating musical performances, while the Kinepolis cinema theater offers the latest films for cinema enthusiasts. The Luxexpo Exhibition Centre hosts a range of events and exhibitions, attracting visitors from near and far.
The National Library and the Sports Centre d'Coque, known as the National Sports and Culture Centre, further contribute to the entertainment offerings in Kirchberg.
Additionally, the presence of several parks provides tranquil outdoor spaces for relaxation and recreation.
Luxexpo Exhibition Centre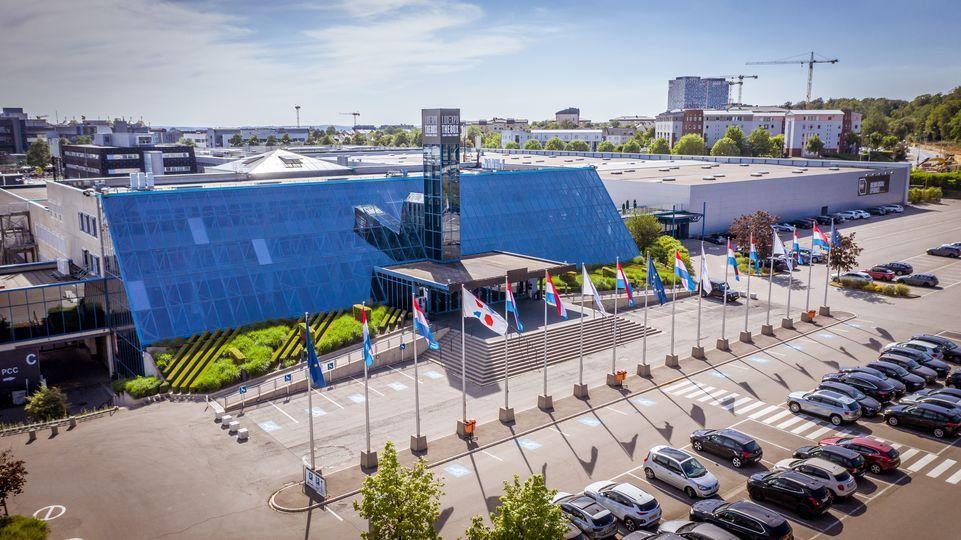 Luxexpo The Box, known before as Foires Internationales de Luxembourg (FIL), is a congress and exhibition center. With its state-of-the-art facilities, Luxexpo plays host to over 400,000 visitors annually, who attend the diverse range of around 100 events held within its premises each year.
Museums
As we have previously talked plenty about museums in Luxembourg in all detail, we will briefly discuss the available cultural hubs, that are located in the Kirchberg district.
MUDAM
The MUDAM, short for the Grand Duke Jean Museum of Modern Art, is a prominent museum of contemporary art. Housed in a stunning architectural masterpiece designed by renowned architect I.M. Pei, the museum showcases a diverse collection of modern artworks from internationally acclaimed artists such as Andy Warhol, Cindy Sherman, and Jeff Koons.
In addition to its impressive permanent collection, MUDAM presents a dynamic program of temporary exhibitions and installations.
Musée Dräi Eechelen
Discover the Musée Dräi Eechelen, an exceptional museum in Luxembourg dedicated to the history of Fort Thüngen. Build in the 18th century, the fort is of immense importance to the Grand Duchy.
Unlike traditional exhibitions of artifacts, the museum presents a compelling narrative that highlights the fort's importance in Luxembourg's history, territorial development and cultural identity.
Best of all, admission to all permanent and temporary exhibitions is free for all visitors.
Parks in Kirchberg
The Kirchberg district in Luxembourg is home to several beautiful parks that offer a serene escape from the bustling city. One of these parks is the 🌳 Arboretum du Kirchberg, a stunning arboretum located on the Kirchberg Plateau. Spanning over 30 hectares, it encompasses three distinct parks within the neighborhood.
Another destination for some nature in the busy center is 🌳 Parc Central: a tranquil setting with lush greenery and serene pathways. Another park is 🌳 Parc Réimerwee, offering a peaceful retreat with its scenic landscapes and relaxing atmosphere.
Lastly, there is 🌳 Parc Römerwegpark, a great place to enjoy nature's beauty, and accessible by car. Whether it's for a leisurely stroll, a picnic, or simply to unwind amidst nature, these parks in Kirchberg offer a rejuvenating experience for residents and visitors alike.
Philharmonie in Luxembourg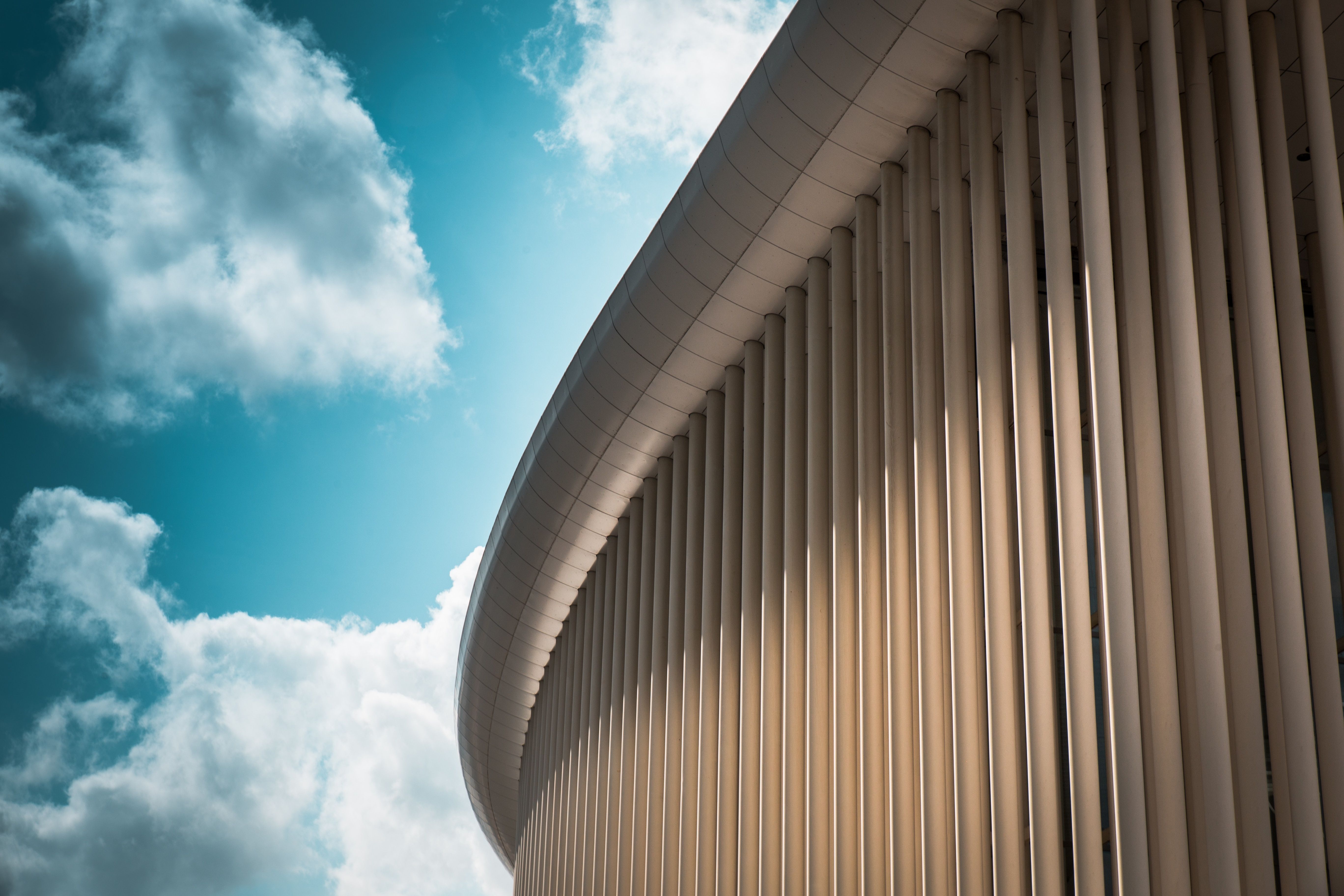 The Philharmonie Luxembourg, also known as the Grande-Duchess Joséphine-Charlotte Concert Hall, is a renowned concert venue located on the Kirchberg Plateau.
The Philharmonie Luxembourg boasts three concert halls, each with a unique seating capacity, ranging from 120 to 1,500. Its artistic program encompasses a wide range of musical genres, including classical, contemporary, jazz, and world music.
Cinema in Kinepolis Kirchberg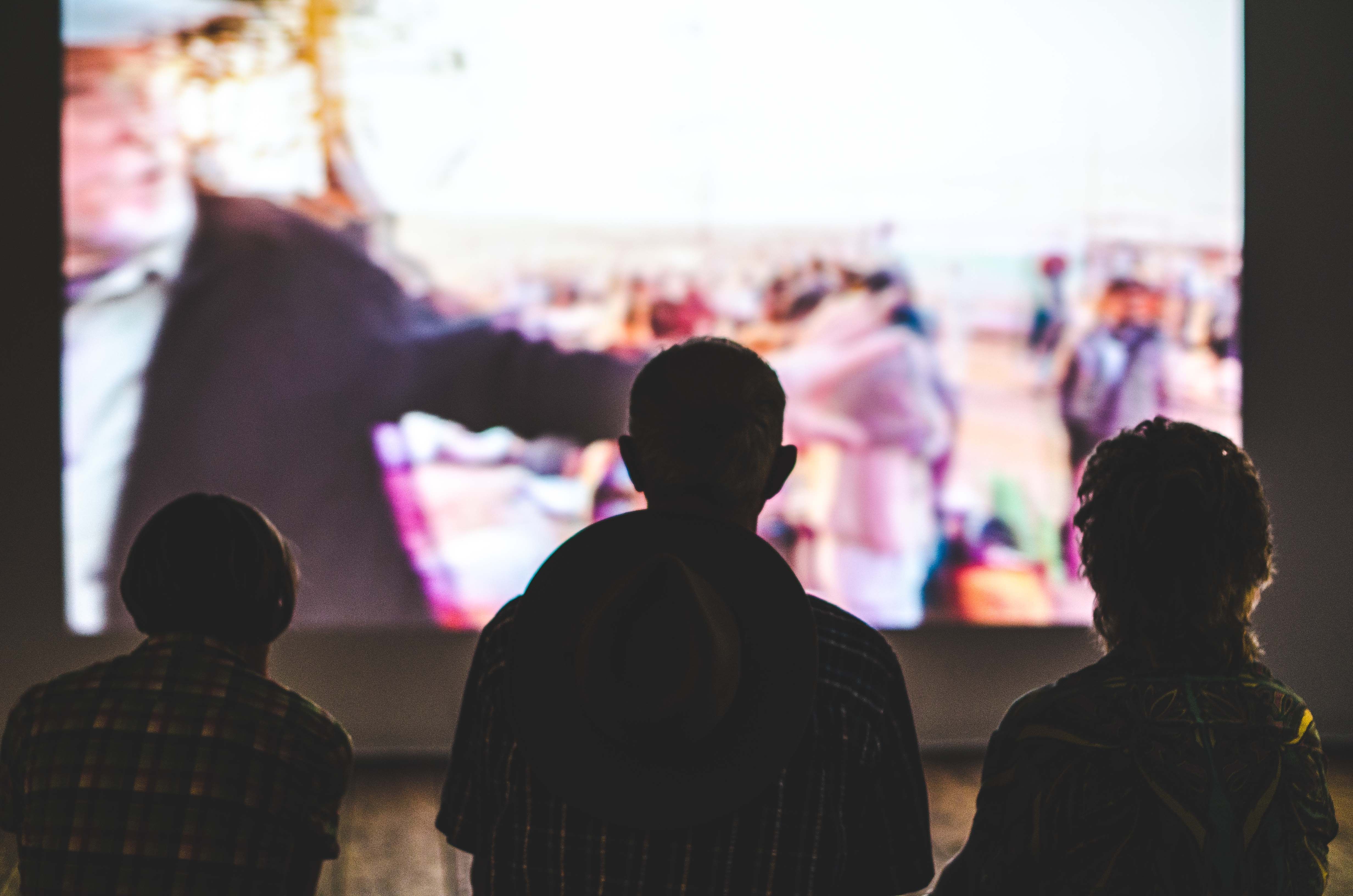 Kinepolis is a Belgian cinema chain with a significant number of establishments across Europe. In Luxembourg, it operates three cinema theaters, one of which is located in Kirchberg.
This Kinepolis cinema in Kirchberg offers a modern and immersive movie-watching experience for residents and visitors alike. With state-of-the-art technology, comfortable seating, and a wide selection of films, Kinepolis provides a popular destination for movie enthusiasts in the Kirchberg neighborhood.
You can check the movies currently playing and their schedules on the official Kinepolis website.
National Library of Luxembourg

The National Library, located in Luxembourg-Kirchberg, is a public institution open to all. It serves as the country's primary heritage, scientific, and research library.
With over 1.8 million publications in print and an increasing number of digital resources such as e-journals, e-books, and databases, the National Library provides its users with a comprehensive collection of knowledge.
Beyond being a study and documentation center, the National Library also fosters cultural engagement by regularly organizing conferences, exhibitions, and events on a wide range of topics.
Opening hours of the BnL are as follows:
Monday: 2 p.m. to 8 p.m.
Tuesday to Friday: 10 a.m. to 8 p.m.
Saturday: 10 a.m. to 6 p.m.
Sports centre d'Coque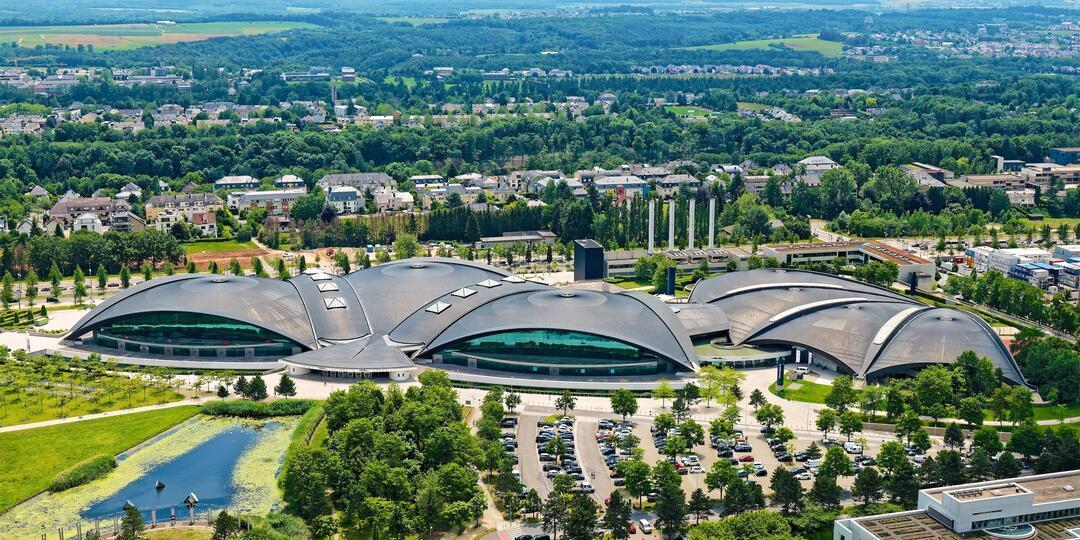 The National Sporting and Cultural Centre, better known as d'Coque, is a prominent indoor arena located in Kirchberg. Originally built as an extension to the Olympic-size swimming pool in the late 1990s, d'Coque has evolved into the largest sports venue in Luxembourg.
Over the years, d'Coque has hosted renowned personalities, including the Dalai Lama and Elton John, and has been the venue for prestigious events like the Fencing World Cup.
You can find detailed information about the swimming pool in this center in our dedicated article:
ING Night Marathon
The ING Luxembourg Night Marathon is an that draws a multitude of participants from diverse backgrounds. With over 100 nationalities represented, it creates a truly remarkable and Olympic-like atmosphere.
The marathon route is meticulously designed to showcase the rich tapestry of Luxembourg's landmarks, encompassing a mix of classic urban settings, picturesque river landscapes, and vibrant urban areas.
Kirchberg districts: renting and buying property
The Kirchberg district in Luxembourg, known primarily as a business and cultural hub, has now evolved into a thriving residential area. While the old Kirchberg district retains its charming "village" atmosphere, significant development projects are underway, particularly around Adenauer Avenue, to create a residential zone that will bring balance to the neighborhood.
Located near Weimerskirch in the north, Neudorf/Weimershof in the southeast, Clausen in the south, and Pfaffenthal in the east, Kirchberg enjoys a strategic position within Luxembourg.
When it comes to buying property, the average price per square meter in Kirchberg is around , which represents a 0.98% increase over the past year (March 2023 to March 2022). In comparison, the average price per square meter in Luxembourg City is slightly lower at 12,402 euros.
For those looking to rent in Kirchberg, the average price per square meter is around 31.50 euros, reflecting a significant increase of 12.86% over the past year (March 2022 to March 2023). Comparatively, the average rental price per square meter in Luxembourg City is 28.97 euros.
This shows that the rental market in Kirchberg is slightly higher than in the city center, possibly due to the neighborhood's desirable location and amenities. The combination of a residential and business environment, along with its convenient location and evolving infrastructure.
Historical overview
Kirchberg has a rich historical background, with its first mention dating back to a document from 1222. Originally part of the Weimerskirch section of the former commune of Eich, Kirchberg experienced significant developments over the years.
Initially, Kirchberg thrived on agriculture, but its urban development became closely intertwined with Luxembourg's role as the workplace for the European Coal and Steel Community, the precursor to the European Union, starting in 1952.
In 1961, the Kirchberg Plateau Urban Development Fund was established, which continues to be responsible for the ongoing development of Kirchberg. Today, Kirchberg stands as an important location for European, economic, cultural, and sporting institutions, as well as an attractive residential neighborhood.

Frequently Asked Questions (FAQ)
Are there residential areas in Kirchberg or is it solely a business district
Kirchberg is not solely a business district; it also offers a range of residential areas. While it has a reputation as Luxembourg's business hub, Kirchberg has undergone significant development to create a mixed neighborhood that caters to both professionals and residents.
In addition to the older Kirchberg district, which has maintained its charming village atmosphere, there are ongoing construction projects in the Adenauer Avenue area that aim to establish a residential community and bring a sense of balance to the neighborhood. As a result, Kirchberg is becoming a vibrant and diverse area, offering numerous advantages to its inhabitants.
Apart from being a business center, does Kirchberg in Luxembourg have entertainment and culture venues
Yes, Kirchberg is not just a business center. It offers a vibrant cultural scene with museums like the Mudam and entertainment venues like the Philharmonie Luxembourg. The area also features the National Library, which hosts exhibitions and cultural events. Additionally, Kirchberg's beautiful parks provide spaces for leisure and relaxation. With its blend of business, entertainment, and cultural attractions, Kirchberg offers a well-rounded experience for residents and visitors alike.
Is Kirchberg well connected to the rest of the city in terms of transportation
Yes, Kirchberg is well connected to the rest of the city in terms of transportation. The district benefits from an efficient public transportation network, with multiple bus lines serving various parts of Kirchberg and connecting it to other neighborhoods in Luxembourg City. Additionally, the Kirchberg district is served by the tram, providing convenient and fast transportation options for residents and visitors. The tram line connects Kirchberg to the city center, making it easy to access other parts of the city. Moreover, for those who prefer cycling, Kirchberg offers well-maintained bike lanes promoting a sustainable and active mode of transportation.
What is the cost of living in Kirchberg compared to other areas of Luxembourg
The cost of living in Kirchberg is generally higher compared to other areas of Luxembourg. Being a prime business and residential district, Kirchberg offers a range of modern amenities and services that contribute to a higher cost of living. Housing prices in Kirchberg tend to be relatively higher, both in terms of buying and renting, compared to other neighborhoods in Luxembourg. The average price per square meter for housing in Kirchberg is higher than the citywide average. Additionally, with its proximity to European institutions, international businesses, and cultural venues, Kirchberg offers a vibrant and convenient lifestyle, but it comes at a premium.
Sources: www.justarrived.lu, lequotidien.lu, www.euroschool.lu, saintesophie.lu, www.luxembourg-city.com, fr.wikipedia.org, thebox.lu, www.coque.lu, www.mudam.com
We took photos from these sources: European School website Saint Sophie website LTC Facebook page University of Luxembourg website Kircherg Hospital website Rodeo Project Management Software, Unsplash Luxexpo Facebook page Thibault Milan, Unsplash Il Vagabiondo, Unsplash Aneta Pawlik, Unsplash National Library Facebook page d'Coque website
Copy link