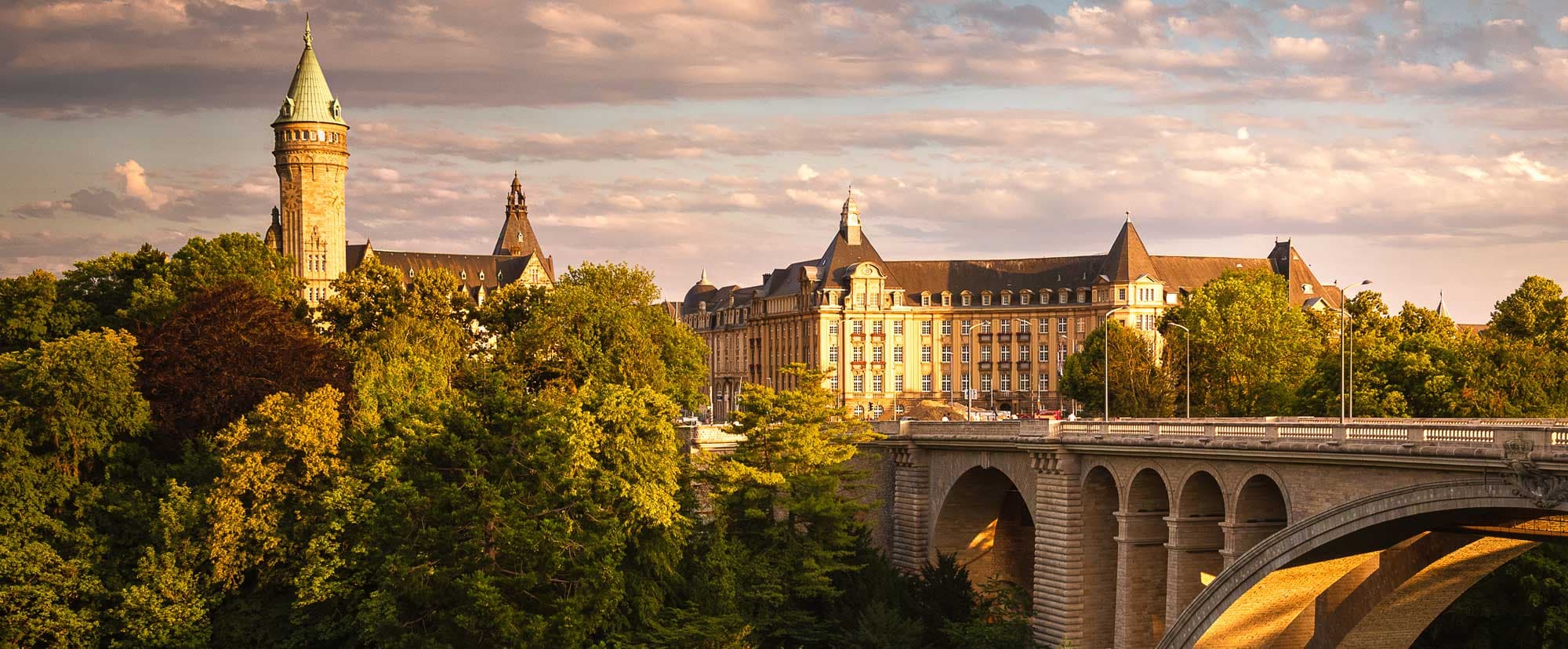 English bookstores in Luxembourg
Did you know that English is the second most-spoken language in the world, trailing just behind Mandarin? With over 840 million people speaking English as a first or second language, it's no wonder that it has become a global phenomenon. In fact, a staggering one-fourth of the world's population can converse in English to some extent.
English is a language that constantly expands its horizons. Each year, around 4,000 new words make their way into the dictionary, keeping us on our toes. So, don't be surprised if you come across some intriguing new words during your exploration of English bookstores in Luxembourg.
But it's not just spoken English that has a significant impact. In the digital realm, over 80% of the information stored on computers worldwide is in English. It seems like English has claimed its digital throne, reigning over the vast expanse of data and knowledge.
Now that we've set the stage with these intriguing tidbits, let's immerse ourselves in the enchanting world of English bookstores in the heart of Luxembourg.
Where to find English literature in the country
When you are looking for books in English, there are several options to choose from in the Grand Duchy. First, you can simply always buy a new book in one of many bookstores specializing in English-language literature.
Second, you can save a few trees and use library resources or some of many book-swapping initiatives. The third option is for those, who have in literature and are looking for particular books, that are hard to find on the shelves. Then, the only option is to buy English books online with delivery in Luxembourg.
The usual cost of the book in Luxembourg varies depending on the book itself, but as a rule, you can buy a hardcover book for , and soft pocket version English books will cost you around . Special editions and bestsellers can cost you 50 euros and more.
English language bookstores: online and offline
Luxembourg, a country known for its rich cultural heritage and love for literature, boasts a plethora of bookstores catering to English language enthusiasts.
It's no surprise that reading is a cherished activity among the Luxembourgish people, as evident from surveys conducted between 2008 and 2015 across 18 European countries.
While Estonia takes the crown for spending the most time reading per day, with an average of 13 minutes, Luxembourg finds itself in the middle of the chart, with an average of 6 minutes a day. Comparatively, countries like Romania, Austria, and Italy hover around the five-minute mark, while France falls at the bottom end of the charts, with a mere two minutes devoted to reading per day.
Despite the variations, the abundance of English bookstores in Luxembourg reflects the country's appreciation for the written word and provides ample opportunities for literary exploration both offline and online.
Ernster All English Bookstore: family business in the third generation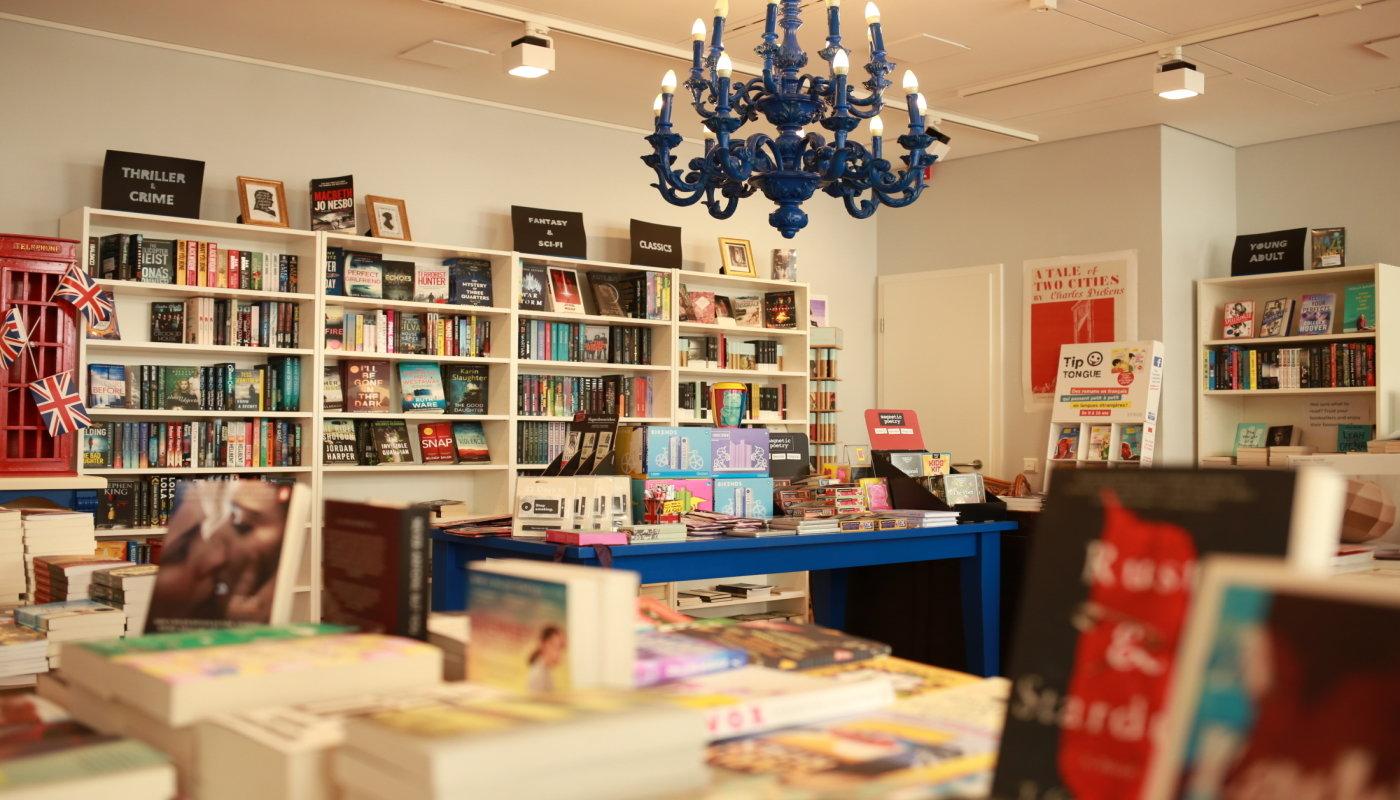 Among the 10 bookstores under the renowned Ernster group, the Ernster All English Bookstore stands as a treasure trove for those seeking books in the English language.
Opening its doors on May 30, 2015, this bookstore is dedicated solely to catering to the literary cravings of English language enthusiasts and while the other bookstores within the Ernster group offer an extensive selection of books in French, German, English, and Luxembourgish.
From classic literature to gripping bestsellers, from travel guides to young adult fiction, and captivating biographies to thought-provoking non-fiction history books, there is something for every reader's taste.
They also offer the convenience of online book ordering. Orders of 25 euros or more qualify for free shipping!
Librairie Alinea: books and coffee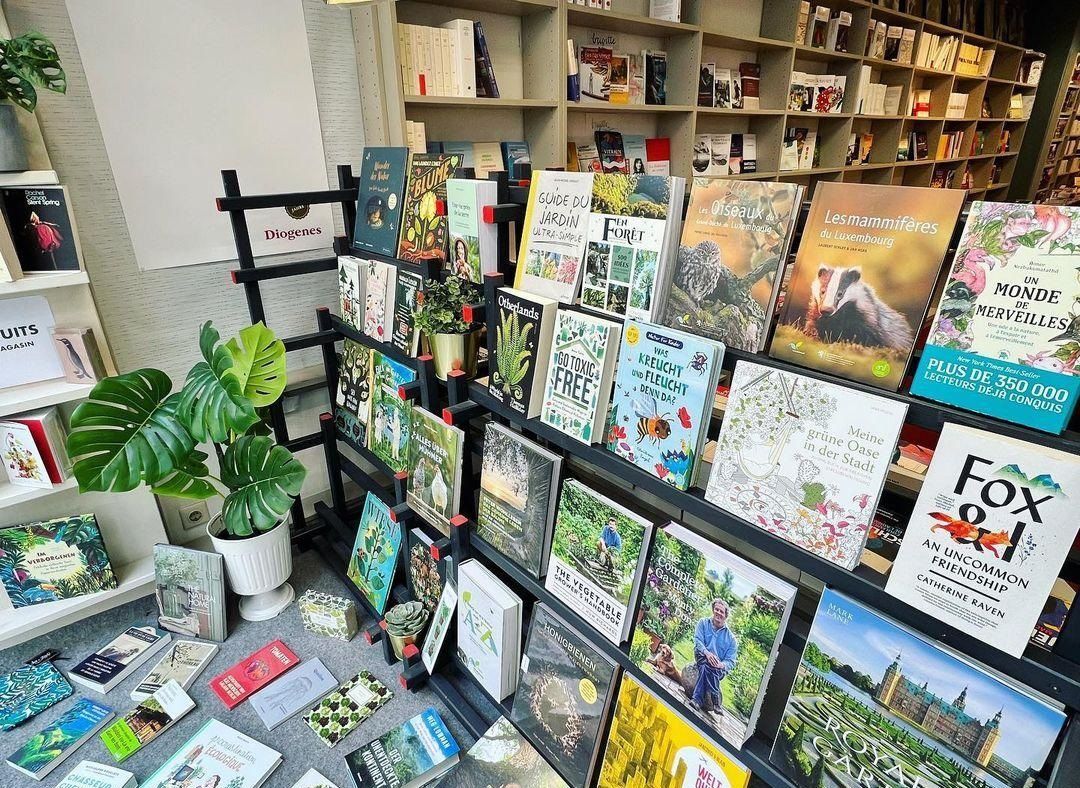 Founded in 1995, Alinéa is an independent bookstore in Luxembourg City. Spanning 300 square meters, this charming bookstore offers a wide variety of books, catering to diverse interests and tastes. Particularly noteworthy is their impressive selection of English books, encompassing both fiction and non-fiction titles.
At Alinéa, you can not only lose yourself in captivating reads but also enjoy their cozy reading corner equipped with a coffee machine. And if you have a passion for vinyl, you're in luck, as Alinéa is also a go-to place for picking up new records.
With reviews on Facebook, this bookstore has earned a remarkable 4.5 out of 5 rating from a base of 111 ratings.
Scarabeus: exoteric books in English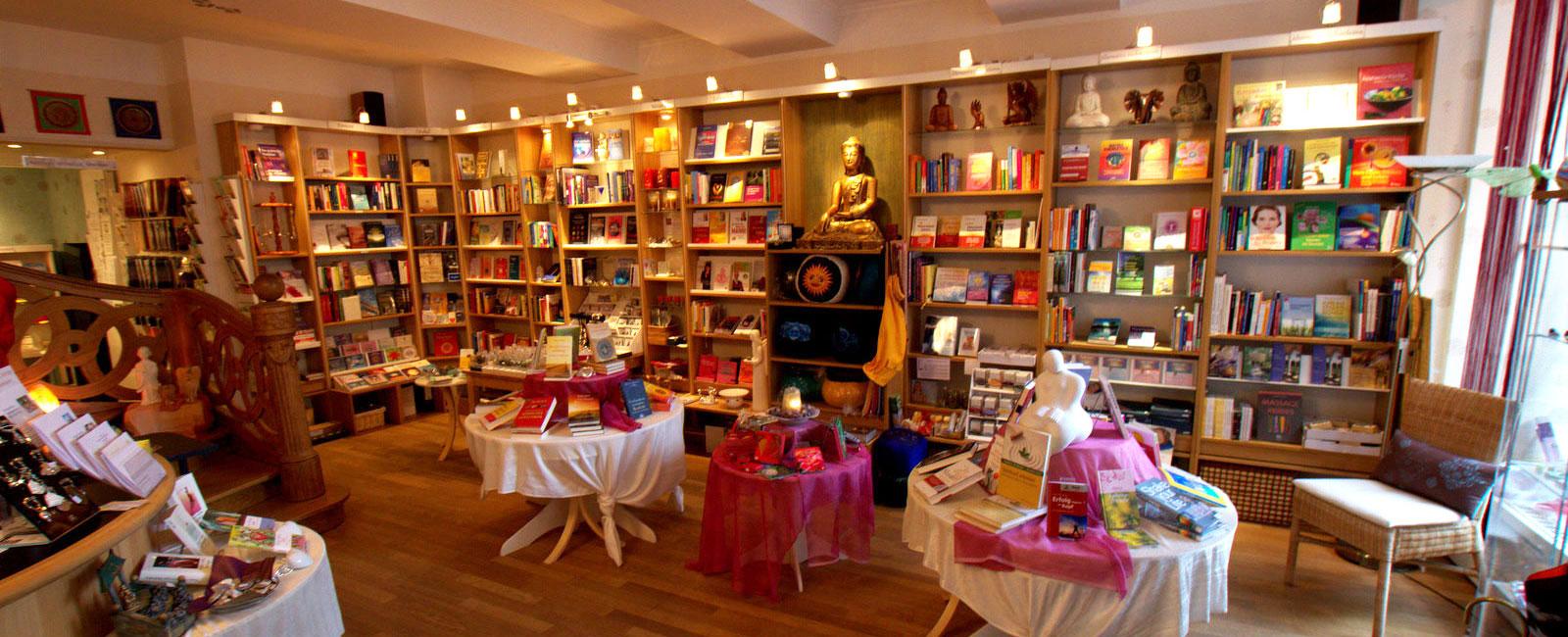 Scarabaeus Bookstore, located in the heart of Luxembourg's old town near the "fish market" and housed in a historic 16th-century building, offers a unique and tranquil haven. Its cozy rooms with high, decorated ceilings and wooden floors provide a serene escape from the daily grind. Specializing in books and accessories focused on health, well-being, and spirituality, Scarabaeus invites visitors to browse and explore a broad variety of transformative knowledge.
Beyond reading, the store organizes captivating events in its conference room, covering exciting topics that delve deeper into the realms of personal growth and enlightenment.
Little English Bookworm: independent bookstore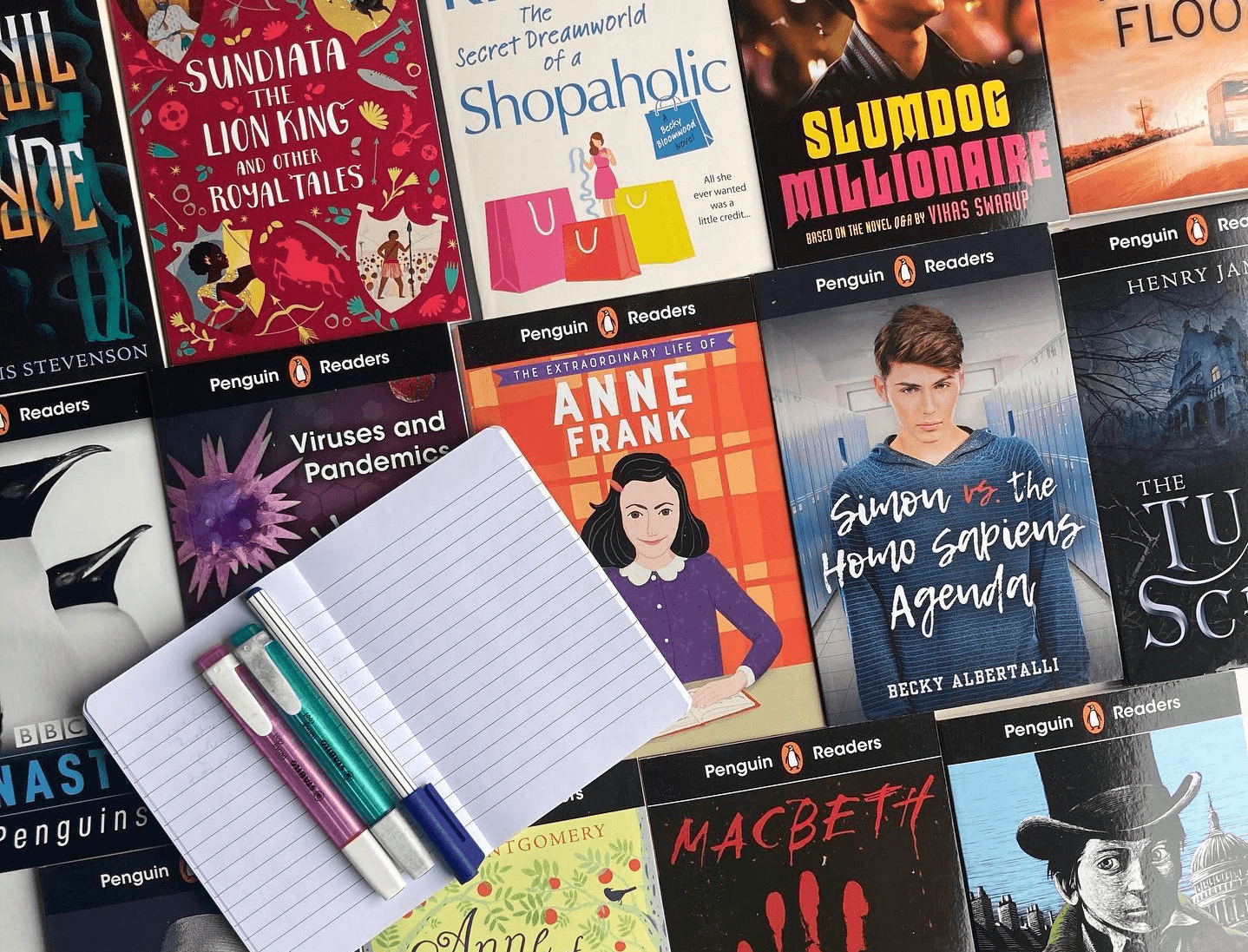 Founded in 2014 by Ophelia and her family, Little English Bookworm is an online bookstore dedicated to assisting children in their language acquisition journey. Drawing from their own experiences of living in various countries such as France, Spain, Germany, and Luxembourg, the founders understand the challenges children face when learning a new language and striving to build confidence in their language skills.
Additionally, Little English Bookworm goes beyond book sales, providing a range of private one-to-one lessons, reading support, and personalized book recommendations, all aimed at supporting children in their English development and fostering their enjoyment of the language.
As a testament to their commitment, they offer free shipping within Luxembourg, making it even more convenient.
Librairie des Lycées
For over 20 years, La Librairie des Lycées has been a specialized bookstore catering to school and extracurricular books. However, since its acquisition by a new owner in 2017, the store has undergone a revitalization.
From early-age children's books to more complex works for seasoned readers, this Luxembourg bookstore offers a wide selection of books for all ages with different books available for each subject and academic level. What's more, their books are available in multiple languages, catering to a diverse audience.
In addition to their extensive book collection, they go beyond textbooks providing access to over 450 press titles in various fields and languages, offering a wealth of knowledge and information. Moreover, the store also boasts a wide range of stationery items tailored to the needs of students.
You can also order online, and they offer free delivery within Luxembourg for orders exceeding 30 euros.
Libraries and second-hand English books in Luxembourg
In addition to purchasing books, Luxembourg offers a vibrant library scene where book enthusiasts can indulge in literary treasures. The National Library of Luxembourg, Cité Bibliothèque, and Il était une fois are just a few examples of the remarkable libraries available in the country. These libraries provide a multitude of options for book lovers, allowing them to explore a vast collection of books and other content on-site or borrow them for a few days, even taking them home.
It's important to keep in mind that the option of borrowing books for home use and accessing digital content is reserved for individuals residing in Luxembourg or the surrounding border areas.
National Library of Luxembourg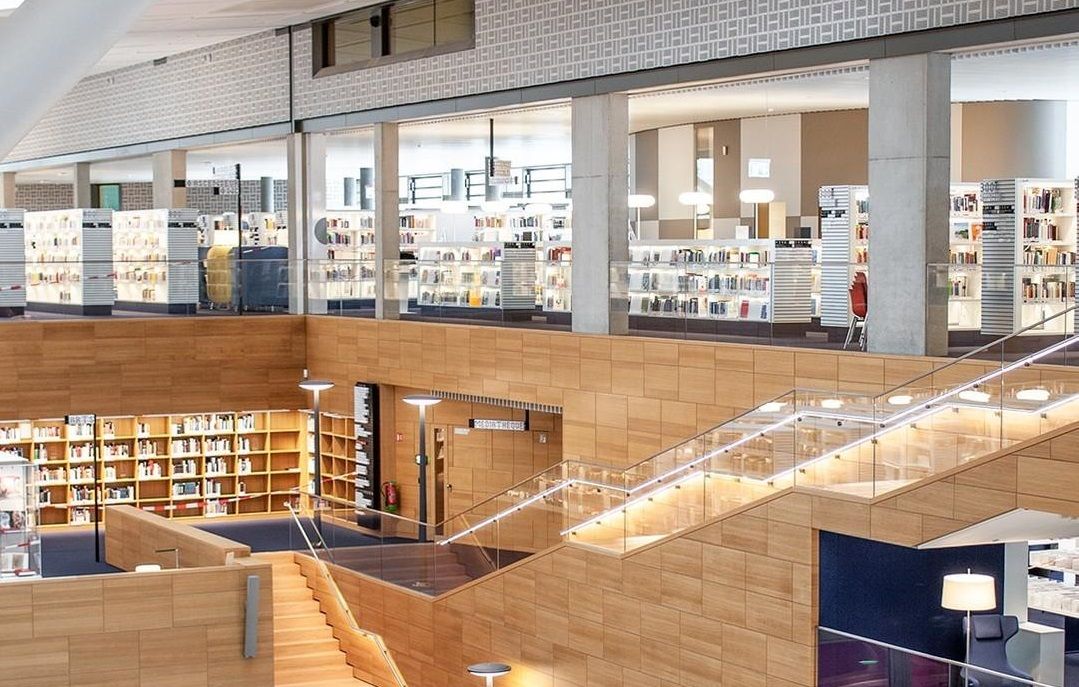 Located in the Kirchberg district, the National Library is a public institution open to all in Luxembourg. It serves as the country's primary heritage, scientific, and research library, offering a wide range of resources, and best of all, access is free.
With a collection of over 1.8 million physical documents covering various fields of knowledge and a good part of them in English, the National Library houses a wealth of information. These resources are available for borrowing, on-site consultation, or even online access.
🏫 On-site reading
You have the freedom to explore over 200,000 documents spanning diverse domains of knowledge and you can handpick materials from the shelves, peruse them, and read them.
🏡 Home borrowing
This option is reserved for readers aged 14 and above who reside in Luxembourg or neighboring regions. You can borrow up to 35 physical items at a time for a duration of 28 days and if the borrowed item is not reserved by another reader, there is also the option to extend the loan period.
What is Bicherbus?
Finally, for those residing in the communes outside of Luxembourg City, the Bicherbus offers a convenient and accessible option for accessing books and resources.
Bicherbus is a mobile library that covers the entire country with 15 weekly tours, serving over 80 Luxembourgish localities. With a collection of approximately 70,000 books, DVDs, and audiobooks for all age groups, the Bicherbus offers reading materials for leisure, continuous education, and cultural enrichment.
Stay updated with the Bicherbus schedule on the Bicherbus dedicated page and embark on a literary adventure brought right to your community.
The National Library of Luxembourg works on the following schedule:
Monday: 2 p.m. to 8 p.m.
Tuesday to Friday: 10 a.m. to 8 p.m.
Saturday: 10 a.m. to 6 p.m.
Cité Bibliothéque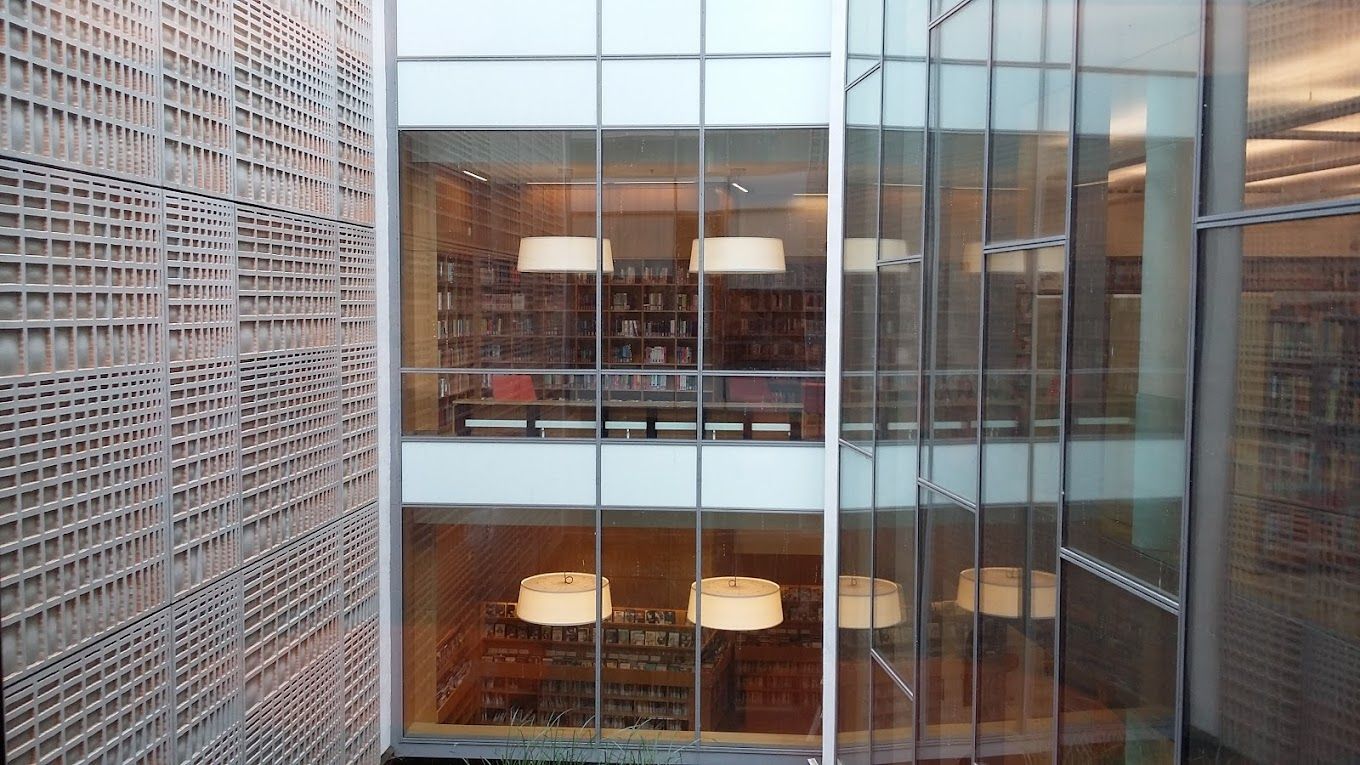 Since September 26, 2008, the Cité Bibliothèque has been a prominent public reading and leisure space located on Rue Genistre, near Place d'Armes. This municipal library transformed into the Cité-Bibliothèque offers a diverse range of documents and resources to its visitors.
At the Cité Bibliothèque, you can explore a vast selection of books and audiobooks including novels, crime fiction, non-fiction works, literature, and periodicals in four languages: English, Luxembourgish, French, and German.
Registration is free for residents of Luxembourg, granting access to borrow up to four books and two audiobooks for a month, while DVDs can be borrowed every week.
Bouquin Malin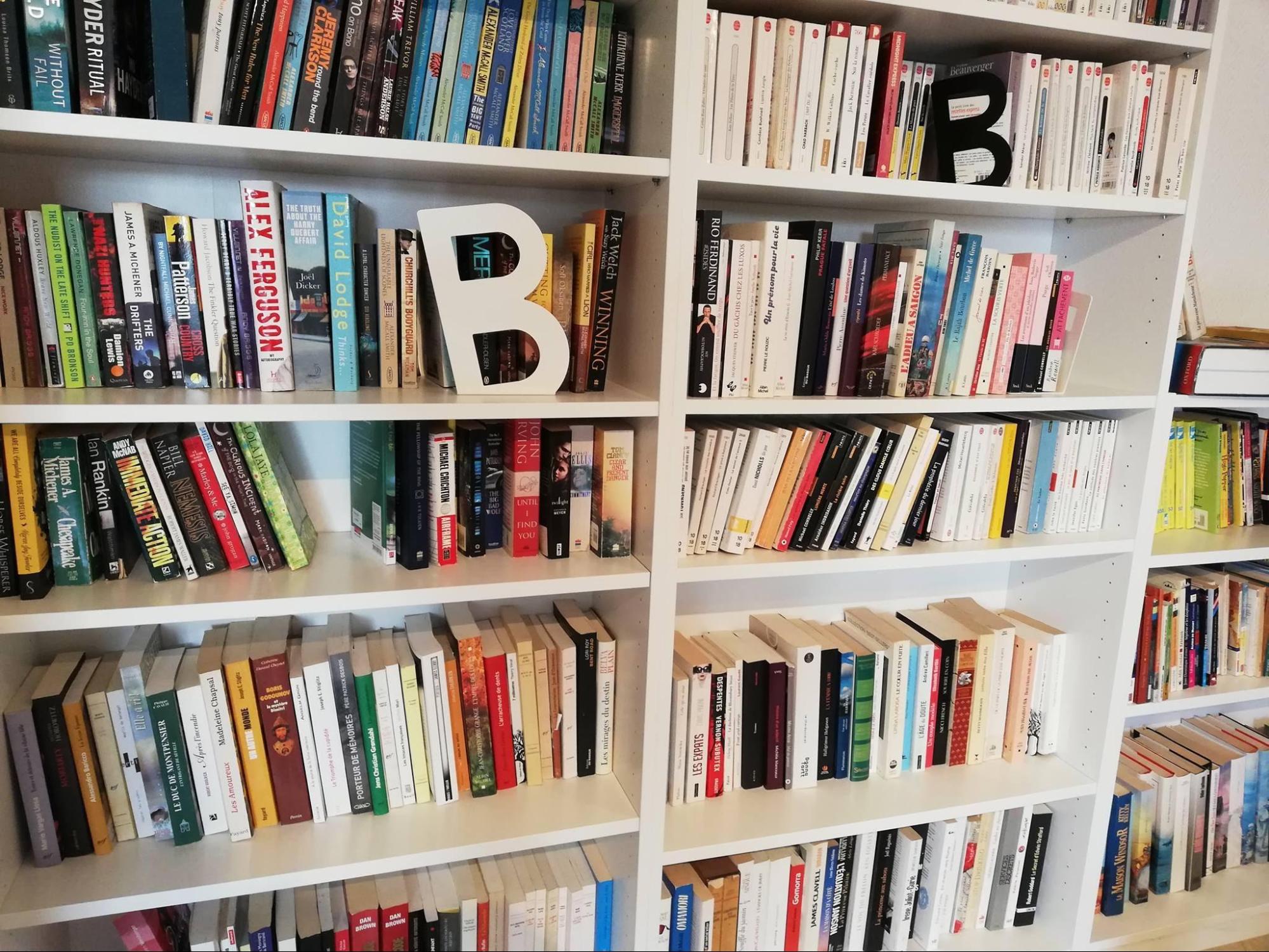 Bouquins Malins is an association dedicated to promoting reading and literacy. Their main initiative involves collecting and selling used books, with all proceeds from sales being donated to nonprofit organizations working for education worldwide.
With a focus on both English and French literature, Bouquins Malins offers a wide range of second-hand books at a flat rate of 3 euros per book. To make a purchase, simply visit their online store.
You have two options for paying and receiving your books:
Online payment for courier delivery with delivery fees and shipped within 5-9 days.
Online payment for hand-to-hand delivery with no additional fees. If you choose this option you need to contact them via email to arrange a convenient delivery location in Luxembourg.
Please note that if you have any specific inquiries about a book's condition, you can reach out to them directly.
Il était une fois…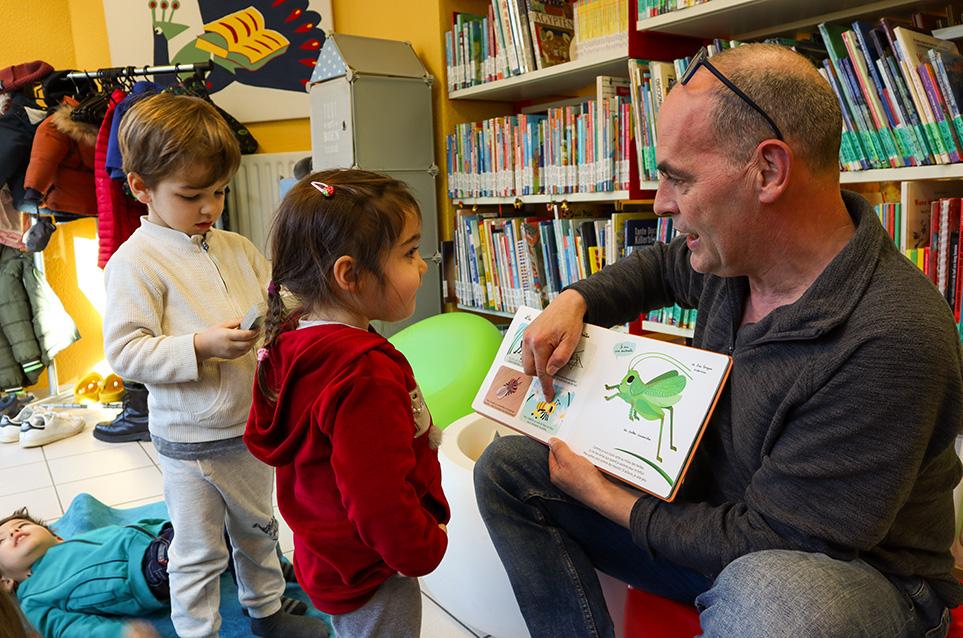 Il était une fois… is a captivating multilingual library catering to children aged 0 to 10 years old. With an impressive collection of 6,453 books in 36 languages, and a good part of them in English, this enchanting space fosters an inclusive and multicultural exchange for the public, nurseries, homes, and schools.
For a nominal fee of 30 euros, your entire family gains access to a virtual membership card which allows you to borrow books and attend their events.
It's worth noting that "Il était une fois…" operates as a non-profit organization and welcomes volunteers who share a passion for children's literature and promoting a love of reading.
Opening hours of this library are as follows:
Monday, Tuesday, Thursday, and Friday: 4 p.m. to 6 p.m.
Wednesday: 4 p.m. to 7 p.m.
Saturday: 2 p.m. to 6 p.m.
Bicherschaf: book-swap corners around the city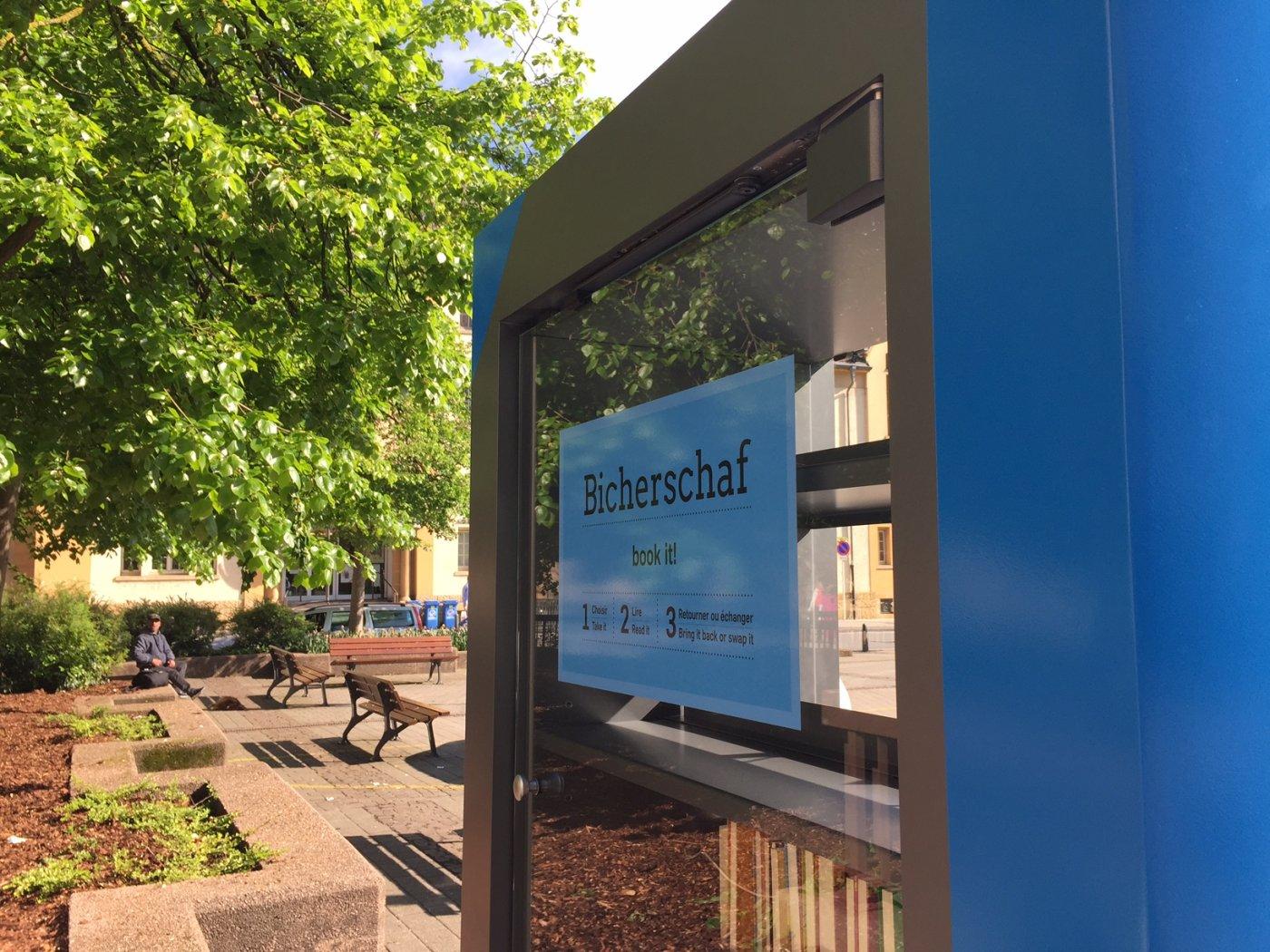 In the bustling streets of Luxembourg, you'll stumble upon the charming book-swap corners, a delightful initiative brought to life by the Capel department. These five book cabinets are accessible to everyone, young and old, 24/7 and completely free of charge, with no registration required.
You can find such corners in many parts of the country. Here are just a few of them:
Place du Théâtre (Ville-Haute)
How do book-swap corners work?
If you're captivated by a particular book, feel free to borrow it and enjoy its pages either on-site or in the comfort of your own home.
Once you've savored its contents, you can return it to the cabinet or choose to keep it.
In the spirit of sharing, you can also replace the book with another captivating read from your own collection.
These book-swap corners serve as a remarkable opportunity for book owners to "recycle" their beloved reads in a civic-minded manner, granting them a second life and offering residents and visitors alike the chance to acquire books at no cost.
Book fairs in Luxembourg and neighboring countries
Luxembourg and its neighboring countries offer a delightful array of book fairs, showcasing the love for literature and knowledge. Among the prominent events are the renowned Walfer Bicherdeeg, a cherished annual book fair held in Walferdange, and the internationally acclaimed Frankfurt Book Fair in Germany.
These vibrant gatherings bring together avid readers, authors, and publishers, offering a treasure trove of books across various genres and languages with a wide range of content in English.
Walfer Bicherdeeg
The Walfer Bicherdeeg, the largest book fair in Luxembourg and the Greater Region is a highly anticipated event that takes place in Walferdange the second or third weekend in November.
Since 1995, this book fair has been a haven for bibliophiles, offering a unique opportunity to explore new and used books, meet authors, publishers, and other literary figures, visit exhibitions, and participate in reading sessions, conferences, and concerts.
The fair is divided into multiple halls, each with its distinct offerings. One hall is dedicated to the bustling used book market. Here you can uncover hidden gems and novels to accompany them through cozy winter evenings by the fireside.
Another hall showcases publishers and authors. Here they are presenting their latest publications, providing a chance to interact with them and even have books signed.
Finally, there is a section called Books for Kids. In this section, beautifully decorated stands beckon visitors to explore a world of children's literature.
In addition to a wide range of readings for all age groups, the Walfer Bicherdeeg features numerous workshops for young book enthusiasts. The event is not only about books but also offers a convivial atmosphere for families and friends.
Frankfurt Book Fair
The Frankfurt Book Fair (Frankfurter Buchmesse) is the world's largest trade fair for the publishing industry. It's held annually for five days in mid-October in Frankfurt-am-Main in Germany, and the next edition will be from 18 to 22 October 2023.
This huge fair brings together approximately 300,000 visitors and 7,000 exhibitors from 100 different countries and has been a fixture in Frankfurt for around 500 years, making it a significant and longstanding event in the publishing world.
The announcement of the often takes place during the fair, adding to its importance and creating excitement among attendees and publishers alike.
During the first three days, the fair is exclusively accessible to trade visitors, while on Saturday and Sunday, it opens its doors to the public. The fair serves as a platform for publishers, authors, and industry professionals to showcase their latest works, discuss trends, and engage in networking opportunities.
Each year, the fair highlights a guest of honor, focusing on the literature of a particular country or region. This provides a special emphasis and recognition of the literary tradition and cultural richness of the chosen nation.
For example, in the upcoming fair of 2023, Slovenia has been designated as the Guest of Honour, offering a glimpse into its multilingual literary heritage and showcasing its attractions as a travel destination.
The Frankfurt Book Fair serves as a vibrant hub for the global publishing community, fostering international collaboration, literary exchange, and the exploration of new ideas and stories.

Frequently Asked Questions (FAQ)
Which bookstores in Luxembourg offer a selection of English books
Many bookstores in Luxembourg understand the diverse reading preferences of their customers and have dedicated sections or shelves specifically for English books. For example, Ernster, Scarabeus, Librairie des Lycées.
Another option is to use libraries, book fairs and book-swap corners in the city. So if you read in English, you can easily find a bookstore or library that offers a selection of English books to satisfy your reading needs.
Where can I attend author signings or literary events in Luxembourg
In Luxembourg, one of the prominent events where you can attend author signings and literary events is the Walfer Bicherdeeg. This annual book fair held in Walferdange brings together authors, publishers, and book enthusiasts for a weekend of book-related activities, including author meet-and-greets, book presentations, and discussions.
Another significant event to explore is the Frankfurt Book Fair, the largest book fair in the world held in Frankfurt, Germany. This renowned fair showcases a plethora of literary events, including author signings, book launches, panel discussions, and literary presentations.
Are there any bookstores in Luxembourg that have a dedicated children's section with English books
Yes, there are bookstores and libraries in Luxembourg that have dedicated children's sections with English books. One notable library is "Il était une fois…," which offers a multilingual library specifically designed for children aged 0 to 10 years old. With a collection of 6,453 books in 36 languages, including English, they provide a welcoming space for families, nurseries, homes, and schools to explore and borrow books.
Another bookstore in Luxembourg that specializes in English literature is the Ernster All English Bookstore. You can find literature for kids there too. From contemporary fiction to classic novels, non-fiction, and children's books, the Ernster All English Bookstore is a go-to destination for English book enthusiasts in Luxembourg.
Sources: www.ernster.com, www.scarabaeus.lu, www.littleenglishbookworm.com, www.librairiedeslycees.lu, bnl.public.lu, www.bibnet.lu, www.a-z.lu, bimu.lu, www.bouquinsmalins.com, www.iletaitunefois.lu, www.vdl.lu, bicherdeeg.lu, walfer.lu, www.buchmesse.de
We took photos from these sources: Ernster website Alinea Instagram Page Scarabeus website Little English Bookworm Facebook Page Librairie des Lycées Google Maps Photos National Library of Luxembourg Instagram page Cité Bibliothéque on Google Maps, photo by Johan Kristensson Bouquin Malin Facebook page Il était une fois Ville du Luxembourg website
Copy link