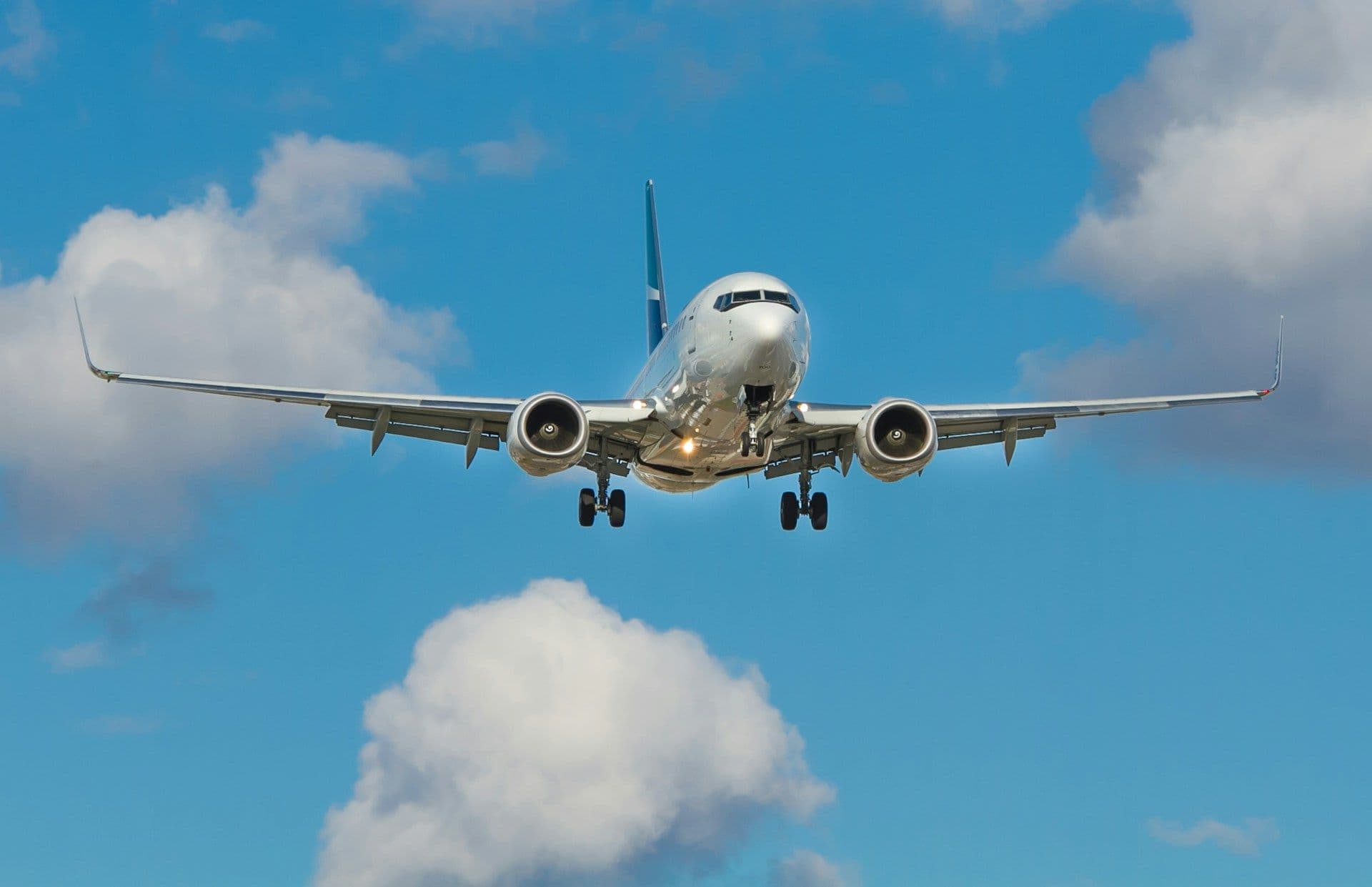 Luxair — national airlines of Luxembourg
In the pages that follow, we unravel the story of Luxair. This journey traces its humble beginnings, soars through its current status as a national aviation leader, and lands on the horizon of a sustainable future. With insights into the array of destinations Luxair serves, the unique features it offers, and the safety of its fleet, this article paints a comprehensive picture of Luxair's excellence.
Welcome to the world of Luxair, the flagship carrier of Luxembourg, nestled within the heart of Europe. With its operational hub stationed at Luxembourg-Findel Airport, Luxair stands as a testament to the nation's commitment to superior air travel. Boasting a fleet of 23 aircraft and an expansive route network, Luxair extends its wings to 93 destinations across Europe, northern Africa, and the Middle East, connecting diverse cultures and creating unparalleled opportunities.
Join us as we explore the skies with Luxair and discover the heights of travel innovation, destination diversity, and environmental responsibility that define this remarkable airline.
Beginning and growth of Luxair
Emerging from the legacy of Luxembourg Airlines Company, established in 1948, Luxair took flight in 1961 to fulfill the burgeoning demand for air connections between Luxembourg and other European capitals.
Inaugural flight
The inaugural flight of Luxair took off in 1962, marking the commencement of operations with the Luxembourg-Paris route using a Fokker F27 aircraft. The year 1967 witnessed the expansion of Luxair's fleet, which included three Fokker F27s and a Vickers Viscount. By 1970, Luxair made a significant leap by introducing its first jet aircraft, a Caravelle, replacing the Vickers Viscount.
Cargolux
Luxair's ambitious growth strategy saw the birth of its subsidiary, Cargolux, in 1970, followed by a pivotal milestone in 1977 with the acquisition of its maiden Boeing aircraft, a Boeing 737-200. Over the years, Luxair progressively incorporated additional jet and turboprop aircraft into its fleet, including Boeing 737-400, Boeing 737-500, Fokker 50 turboprops, and regional jets like the Embraer ERJ-135 and ERJ-145.
Fresh visual identity
The dawn of the 21st century brought transformative changes to Luxair's trajectory. In 2003, Luxair's fleet modernization agenda gained momentum with the procurement of new Boeing 737-700 aircraft in March, and an additional order for a third in August, marking a farewell to the older Boeing models. The year culminated with a fresh visual identity as Luxair introduced a new logo in December, bidding farewell to its 42-year-old emblem.
Fully jet-powered fleet
Steering toward a fully jet-powered fleet, Luxair retired its final Fokker 50 aircraft from service in April 2005. The years 2008 and 2009 posed challenges due to the economic downturn, yet Luxair exhibited resilience, making prudent investments despite the prevailing difficulties. Amidst this backdrop, Luxair acquired its first Boeing 737-800 in October 2008, and though its net profit in 2008 was lower than the preceding year, LuxairGroup recorded a positive outcome of 8.47 million euros.
In 2009, Luxair's operational excellence garnered recognition, earning it the title of the most punctual regular operator at London City Airport in 2008. By 2011, Luxair had already solidified its presence, having transported 1,302,771 passengers this year and subsequent years saw further growth with the integration of two new Boeing 737-800 aircraft in 2013 and 2014, culminating in the retirement of the last Boeing 737-500 from service.
As of 2023, Luxair's fleet size amounts to over 23 aircraft, serving 93 destinations.
Luxair national airlines today
Amidst a landscape of constant evolution, Luxair stands as a dynamic force in the aviation industry. As 2023 unfolds, Luxair continues to propel its progress by embracing modernization, exemplified by the acquisition of four cutting-edge Boeing 737-8 Max aircraft.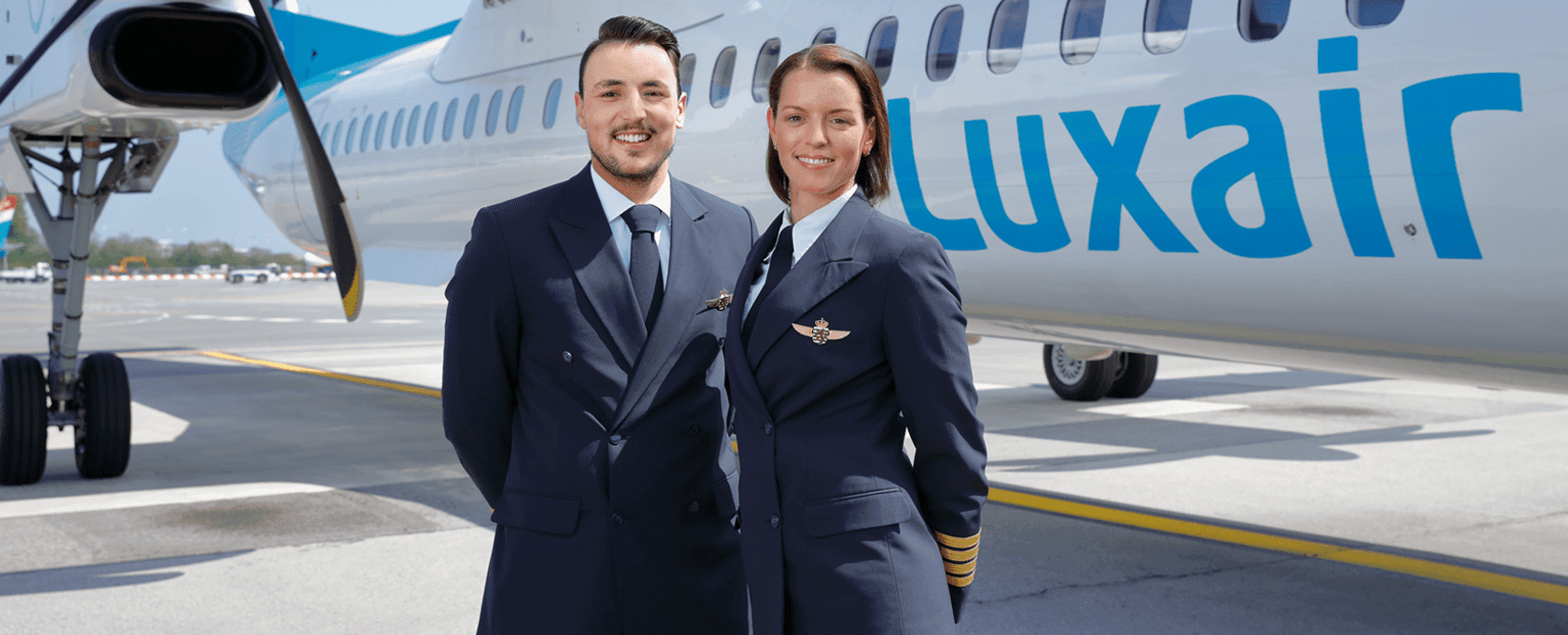 Available Luxair destinations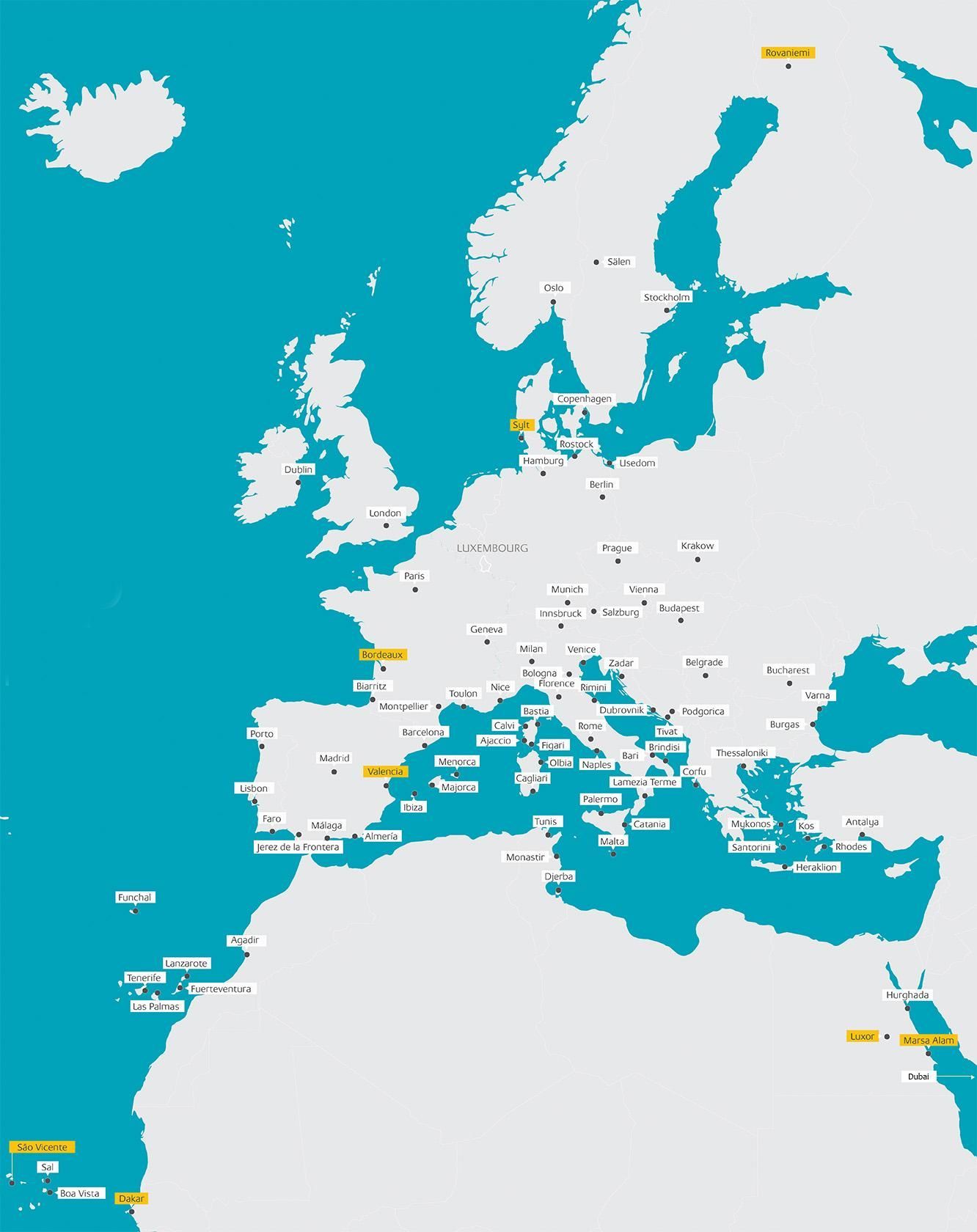 Luxair currently opens the door to an expansive network of approximately 90 distinct destinations. This airline's reach extends across most European nations, Mediterranean havens, and Middle Eastern hubs, with new routes in Luxair being added year after year.
While the complete list of destinations remains in constant flux due to seasonal variations, discontinuations, and ongoing additions, the precedent picture provides a glimpse of the available destinations at the outset of 2023, granting you a window into the possibilities that await.
For precise information on whether your desired destination is embraced by Luxair's offerings, we recommend consulting the destinations page, ensuring you embark on your journey with clarity and anticipation.
If you hate layovers and prefer to take direct flights, we suggest you take a look at our article on direct flights.
Baggage allowance in Luxair — cabin and in-hold baggage
Luxair has implemented a clear and precise cabin baggage policy designed to make flying more convenient for its passengers. Here is a summary of what travelers need to know before boarding a Luxair flight.
Passengers in Economy Class are permitted to bring one cabin bag on board.

Those flying in Business Class can enjoy the privilege of carrying two cabin bags.
Regardless of travel class, the maximum dimensions for cabin bags must be 55x40x23 cm and the weight should not exceed 8 kg. Passengers are encouraged to pack light, as they may need to carry their cabin bags a considerable distance through some airports.
If a passenger's hand baggage exceeds the allowed size or weight, or if they are carrying more items than their fare includes, they will be charged an additional fee of 75 euros at the gate.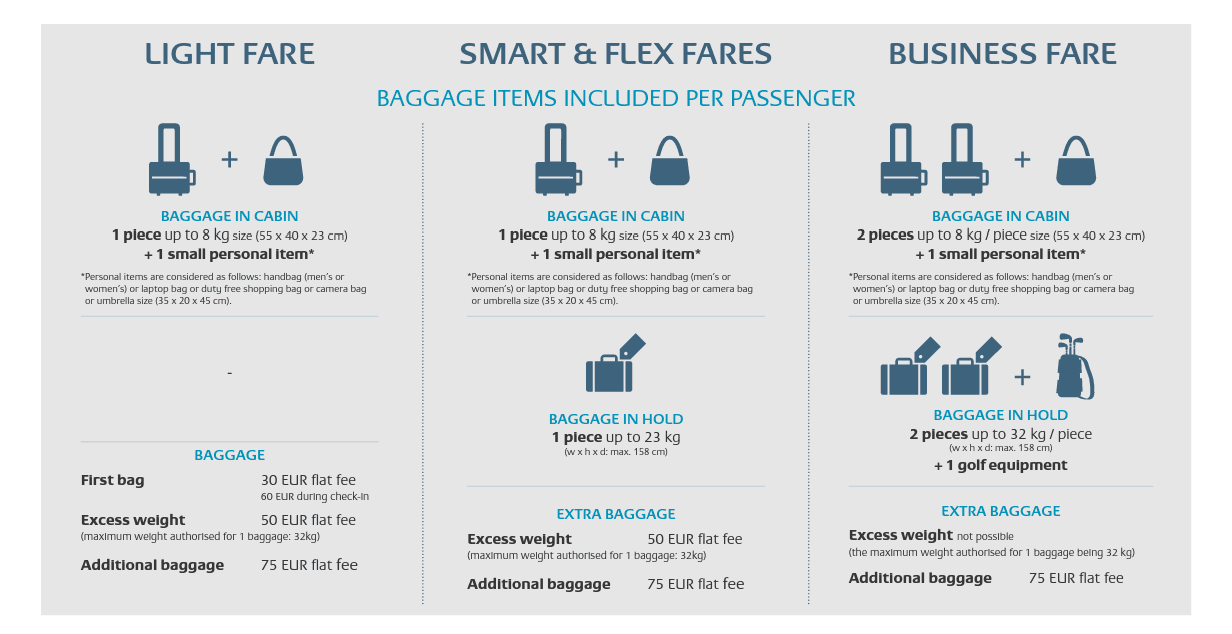 When it comes to in-hold baggage, the one that you check in at the airport at the flight registration desk, there are a few rules and policies. They come with fares, that are covered with special fees and categories.
There are three fares, depending on your luggage: for those traveling light, economy class and business class. When you travel light, you can take only cabin luggage.
Economy class fare includes one piece of baggage up to 23 kg in addition to cabin items.

Business class allows you to travel with two pieces of baggage 32 kg each and golf equipment in addition to 2 cabin baggage pieces.
Use the information on the screenshot or official website information to navigate Luxair baggage policy correctly depending on your flight class.
Features and special loyalty programs
Luxair has ingeniously crafted a versatile pricing structure to cater to a diverse array of travelers, from those journeying light with budget considerations to those seeking the comforts of business class. Complementing this tailored pricing approach, enticing promotions in Luxair are presented consistently, complemented by a loyalty program that offers a host of exclusive advantages. This concerted effort aims not only to enhance the allure of their offerings but also to acknowledge and reward the loyalty of customers who make Luxair their preferred choice.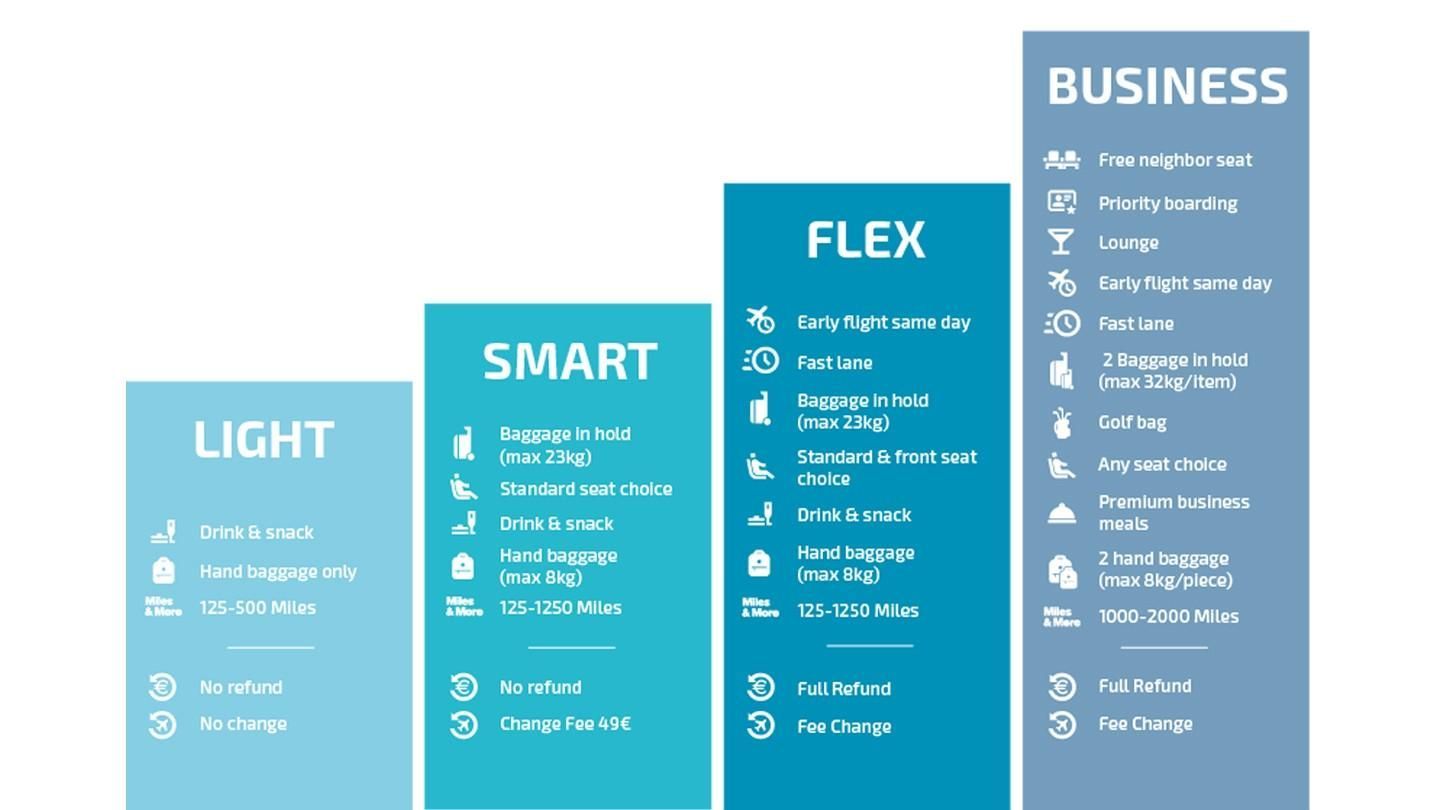 Pricing Structure
Luxair's offerings are thoughtfully segmented into four distinct categories, each offering unique features and benefits: Light, Smart, Flex, and Business. This tiered approach enables passengers to choose the level of service that aligns perfectly with their preferences and requirements.
Promotions and Offers
Continuously in motion, Luxair unveils a tapestry of offers, with ticket prices starting as low as 89 euros to diverse destinations. These opportunities evolve regularly, urging prospective travelers to keep a keen eye on Luxair's website for the latest openings and deals that can transform their travel aspirations into reality.
Loyalty Program
Embedded within Luxair's legacy is its affiliation with Lufthansa, which once held a 13% stake in the airline. This collaboration extended to Luxair's participation in the renowned Miles & More loyalty program initiated by Lufthansa on January 1, 1993. Though Lufthansa divested its Luxair stake to the Luxembourgish state in 2015, the partnership endures, allowing Luxair passengers to benefit from the substantial Miles & More rewards ecosystem.
Company's profile
Luxair, Luxembourg's primary airline, has been a prominent player in the Grand Duchy for over 50 years. The company's operations span across passenger flights, tour operations, airport services, and air freight handling.
Luxair as a major employer in Luxembourg
As an employer, Luxair has policies in place that focus on the professional development of its workforce. The company offers flexible working conditions, aiming to accommodate the diverse needs of its employees.
"In 2022, Luxair employees staged a morning strike, marching to the Ministry of Transport. Their demands included the abolition of partial unemployment, the implementation of a job retention plan, provisions for early retirement for a specific age group, a salary unfreeze from January 1, 2023".
Following negotiations, the airline management agreed to these demands. This event highlighted the ongoing dialogue between Luxair and its employee unions.
The 2022 Annual Report states, that the company employs more than 3000 people of more than 58 nationalities, and strives for an inclusive and diverse environment at the workplace. They regularly offer well-being practices, like healthy food and fitness classes for their workers.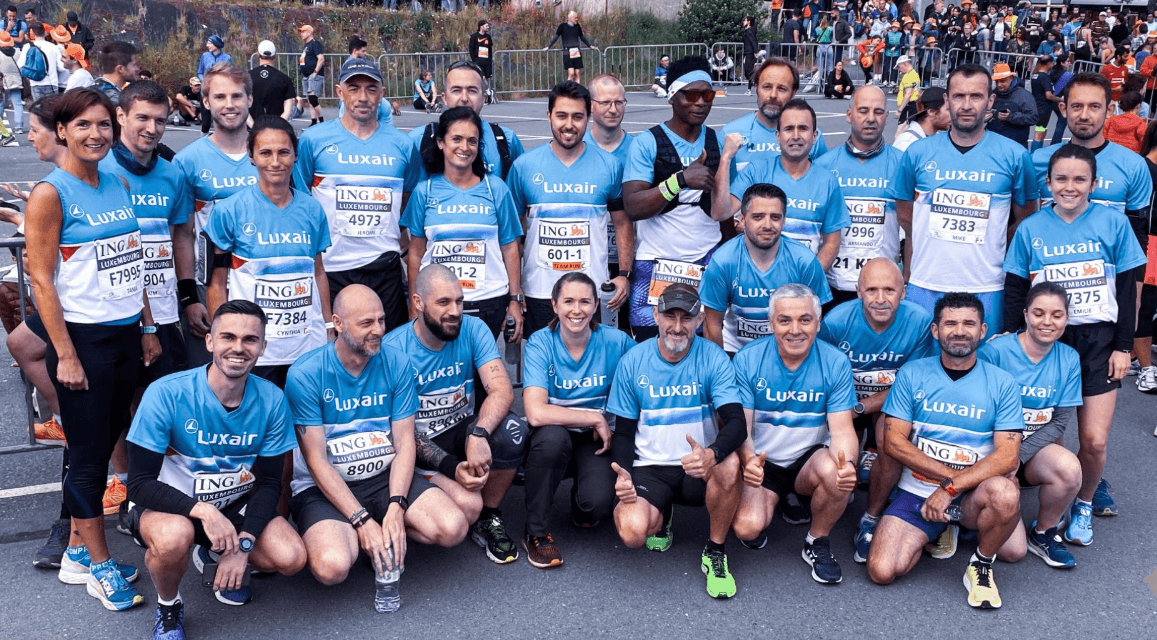 Luxair also answers to social projects and has partnerships with NGOs such as Caritas and the Luxembourgish Red Cross. The company supports LGBTQ+ pride, raises awareness among its workers, and supports different initiatives.
Sustainability and Luxair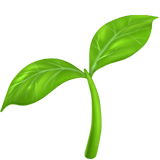 Luxair's unwavering dedication to environmental stewardship was powerfully demonstrated at the 2022 Aviation Summit in Toulouse, where the airline endorsed the "net-zero carbon by 2050" commitment. Embracing its social and environmental responsibilities, Luxair launched a groundbreaking carbon offset program for business class and LuxairTours Excellence flights.
Starting March 27, 2022, Luxair began offsetting CO2 emissions from these flights with carbon credits, allowing passengers to contribute to sustainable air travel. Luxair's contributions support certified projects fostering sustainable forests, renewable energy, and community well-being. The airline's careful selection of initiatives, including the Katingan Peatland Restoration, Delagua East Africa Public Health Program, and Asahan Hydroelectric Power Project, mirrors its alignment with the United Nations' sustainable development goals.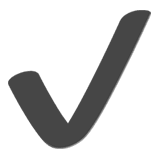 Curbing gas consumption by 15%
In addition, and in concert with Luxembourg's energy-saving directives of 2022, Luxair takes a progressive stand in curbing gas consumption by 15% between August 2022 and March 2023 across its properties. With an unwavering social conscience, Luxair has taken robust measures, including the adoption of energy-efficient practices in heating and electricity, since September 2022.
With civil aviation responsible for 13.4% of EU transport CO2 emissions, the Parliament's endorsement of an emissions trading system revision in April 2023 marks a pivotal moment. This revision extends the system's coverage to all flights originating from the European Economic Area, regardless of their destinations, underscoring a more comprehensive approach to addressing aviation's environmental impact.
Passenger testimonials and safety
Luxair's strong commitment to safety and service quality has fostered a reputation that resonates with passenger opinions. The airline's emphasis on punctuality and overall passenger experience finds validation through the voices of its users, notably reflected in platforms like TripAdvisor, where Luxair boasts an impressive rating of 4.0. This symbiotic relationship between safety and passenger satisfaction underscores Luxair's dedication to ensuring a seamless and secure travel experience.
Have there been any accidents with Luxair Airlines
Luxair's safety record stands testament to its unwavering focus on safeguarding passengers and aircraft alike. Throughout its history, the airline has encountered minor incidents with no casualties, alongside four notable accidents, all of which, fortunately, resulted in no fatalities.
Instances include a Vickers Viscount collision with accumulated snow during landing, an aircraft veering off the runway due to landing complications, a Bombardier Q400 landing with retracted landing gear, and an Embraer ERJ-145 runway excursion.
However, Luxair did face a tragic accident on November 6, 2002, when a Fokker 50 aircraft crashed near Niederanven village during an approach to Luxembourg International Airport, claiming the lives of 20 passengers and crew members.
This unfortunate incident marked Luxair's first accident in its 40-year history, serving as a somber reminder of the airline industry's inherent challenges. Despite such incidents, Luxair's overall safety record remains commendable, indicative of its continuous efforts to uphold the highest safety standards in aviation.
Luxair passengers' testimonials
In the realm of passenger sentiment, Luxair's positive impact becomes evident through the prism of traveler reviews. The airline's TripAdvisor rating of 4.0, derived from 1,729 reviews, amplifies the resonance of its quality service and dedication to customer satisfaction.
Here are some TripAdvisor reviews:
5
Flying like a member of the same family. Luxair is a small but well-managed airline. I have been flying with them often during the last 6 years and have never been disappointed, which is rare these days... To keep things short: When traveling we expect punctuality, reliability, friendly and effective service, if possible a desk to turn to in case of a problem and being treated personally - not a phone number to call that is not responding. This is what I experienced. Had to change a flight? Sorted out with no hassle for a little fee. Being late once due to a problem at the destination airport for 3hrs10 minutes - received the compensation without delay and lame excuses. Always friendly, good sandwiches and beverages, clean and tidy. A selection of daily newspapers in the plan and all for no extra money. What else can you ask for?


Frequently Asked Questions (FAQ)
How big is Luxair's route network
Luxair offers a diverse network covering approximately 90 destinations. These span across Europe, Mediterranean regions, and the Middle East, catering to a wide range of travel preferences.
What initiatives has Luxair undertaken for sustainability
Luxair has embraced sustainability by participating in carbon offset programs, offering passengers the opportunity to contribute to more environmentally friendly flights. The airline's commitment to sustainable practices is underscored by its involvement in certified projects that support sustainable forests, renewable energy, and local communities.
How safe is Luxair
Luxair maintains a robust commitment to passenger safety, reflected in its commendable safety record. While the airline has experienced minor incidents, it has managed to address them without casualties. Notably, Luxair's history includes a tragic accident in 2002, with 20 deaths highlighting the inherent challenges of aviation.
Nevertheless, Luxair's unwavering dedication to safety, vigilant operational practices, and adherence to industry standards underscore its commitment to ensuring secure and reliable travel for all passengers.
Copy link