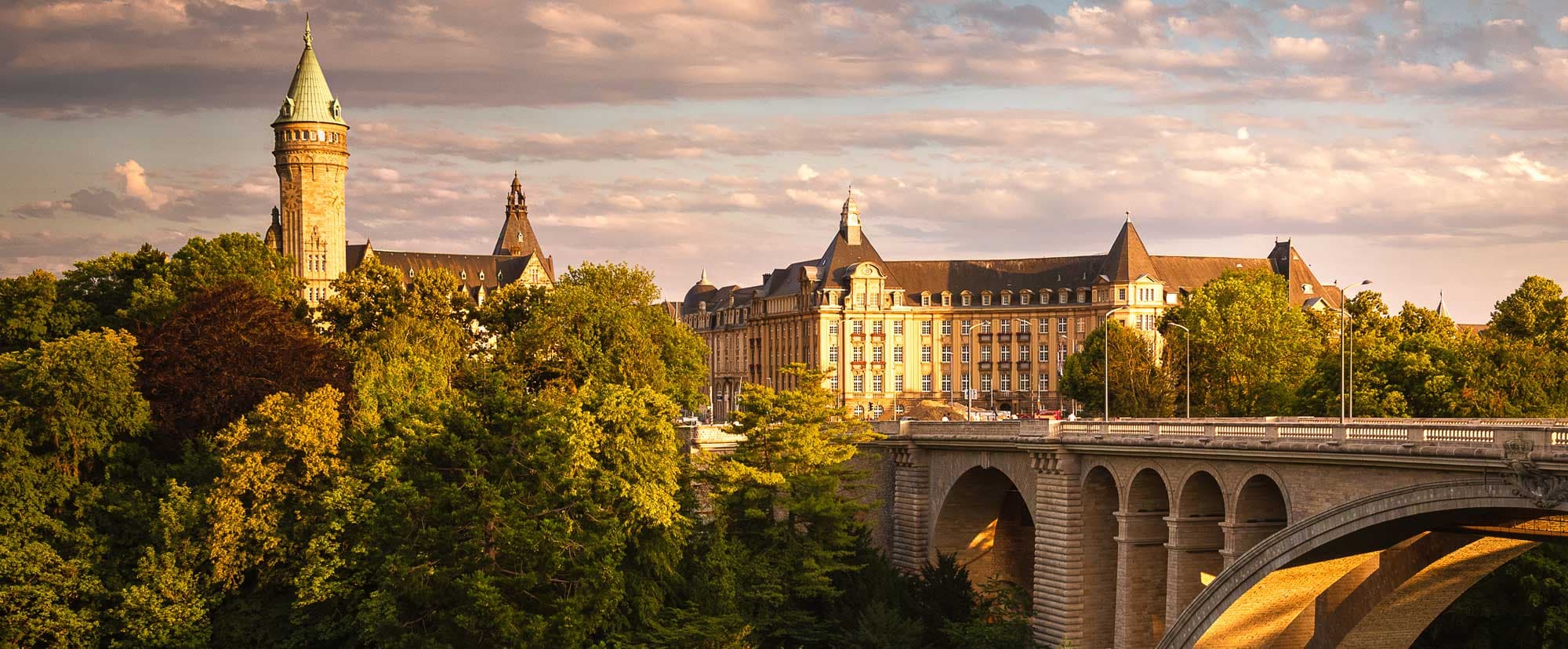 Luxembourg passport: advantages for holders and visa-free travel
For over two decades, holders of Luxembourg passports have enjoyed unparalleled travel advantages, traversing borders with ease. In this comprehensive article, we demystify the distinction between a passport and an ID card, shedding light on the unique roles each document plays in facilitating international travel.
If you have ever wondered how to obtain this document, worry not, as we guide you through the step-by-step process of acquiring a Luxembourg passport.
Luxembourg recognizes dual citizenship. This means that if you become a citizen of Luxembourg, you can keep your original citizenship in your home country.
ow strong is the Luxembourg passport
Various indexes gauge the strength of passports, and among them, the 🏆 Henley Passport Index stands as one of the most significant. Spanning 18 years of historical data, this index relies on information from the International Air Transport Authority (IATA) and is updated quarterly.
Another influential passport ranking is the 🏆 Passport Index from Arton Capital, a Canadian consulting company and, according to its creators, is updated in real-time.
Here we will analyze the ranking of the Luxembourg passport using these two indices as a basis, which allows us to get a general idea of the strength of the Luxembourg passport. However, there are considerable differences between the two due to their notation criteria, update frequency, and information sources among other possible variables.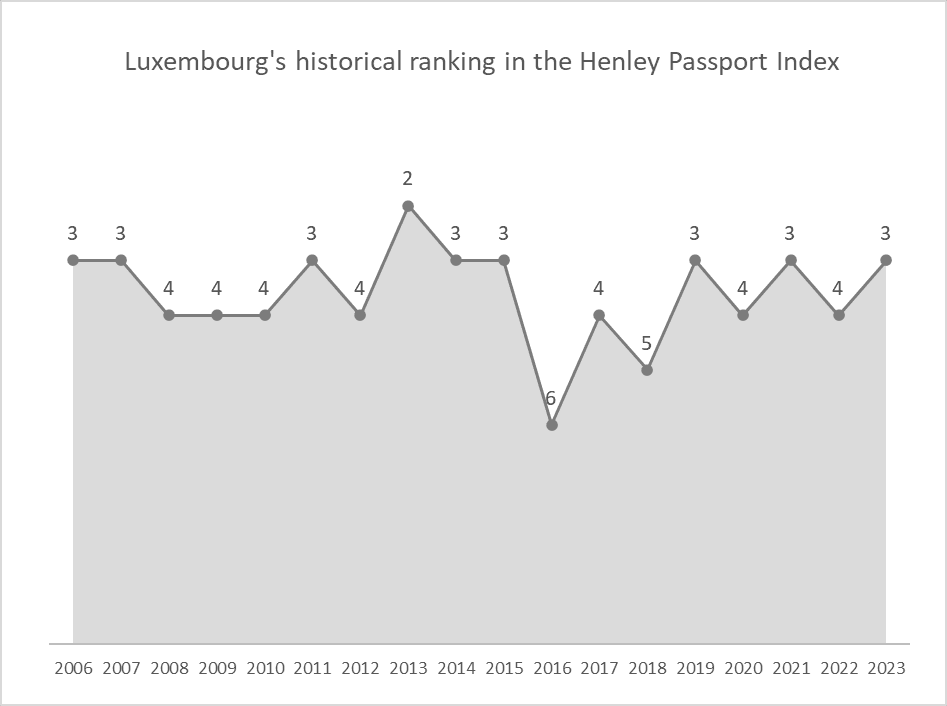 As per the latest Henley Passport Index rankings, Japan, which had long held the top spot, yielded its position to Singapore, leading to several European countries ascending in the ranks. Luxembourg, standing strong as one of the top performers, moved from 4th to 3rd place, sharing this position with six other nations: Austria, Finland, France, Japan, South Korea, and Sweden.
According to this Index, the Luxembourg passport grants its holders access to 189 countries, and remarkably, Luxembourg has consistently been in the top four since 2017 and has never fallen below the sixth position since the index's inception in 2006.
Regardless of the index, it is clear that the Luxembourg passport is one of the strongest in the world and it offers its holders a multitude of advantages, including free visa traveling across numerous countries, unrestricted residence and work permissions within the Grand Duchy, access to the EU job market, and free movement within the EU.
All these advantages and more distinguish the Luxembourg passport from a mere residence permit. We will examine this subject in more detail in the next section.
Passport and ID card: what is the difference
In the Grand Duchy, residents and citizens commonly use an ID card, as their primary identifying document, this ID card can be a Luxembourgish identity card or a residence permit. Let's see what these cards are and how they differ from a passport.
The Luxembourgish identity card is an identification document for Luxembourg nationals, which means that it is linked to Luxembourg citizenship. It serves as an identity document in Luxembourg and the EU but does not serve as international identification.
The residence permit grants the right to stay in the country for a specific period, and in some cases, it allows individuals to work as well. Acquiring a residence permit doesn't require Luxembourg citizenship but involves meeting certain requirements and applying for consideration.
A passport, as well as the Luxembourg identity card, is intrinsically tied to one's citizenship, as it represents the nationality of a particular country.
While the residence permit functions as an identification document within Luxembourg and the EU, the passport extends its purpose to facilitate seamless global travel.
The Luxembourg passport, issued by the Ministry of Foreign Affairs, serves as an international travel document, establishing one's identity in the eyes of governments and international entities.
Although all these documents allow you to live in Luxembourg, there is an important difference between the Luxembourg identity card or passport which imply Luxembourg citizenship, and a residence permit.
Luxembourg citizens possess the right to vote in national, local, and European elections.
Citizens enjoy greater protection against deportation compared to residents.
Luxembourg citizenship opens the door to a wider range of social benefits, including eligibility for certain government jobs and the opportunity to obtain a Luxembourg passport.
You can go to numerous visa-free countries with a Luxembourg passport.
Citizenship imparts a deeper sense of identity and belonging to the country, which can hold significant importance for individuals.
Although the Luxembourg passport is exclusively available to Luxembourg nationals, obtaining one is still possible through the process of naturalization. By following this procedure, you can acquire Luxembourg citizenship and subsequently obtain a Luxembourg passport. However, it is important to keep in mind that specific requirements must be met to be eligible for naturalization.
What Luxembourg Passport looks like
The Luxembourg passport showcases an elegant design both on the cover and inside its pages. Adorned with the iconic Luxembourg Coat of Arms on the cover, it embodies national pride.
Inside, the Luxembourg passport contains several pages dedicated to personal information such as the holder's name, date of birth, photograph, and signature. The document incorporates advanced security features like watermarks and special printing techniques to prevent counterfeiting, ensuring its authenticity.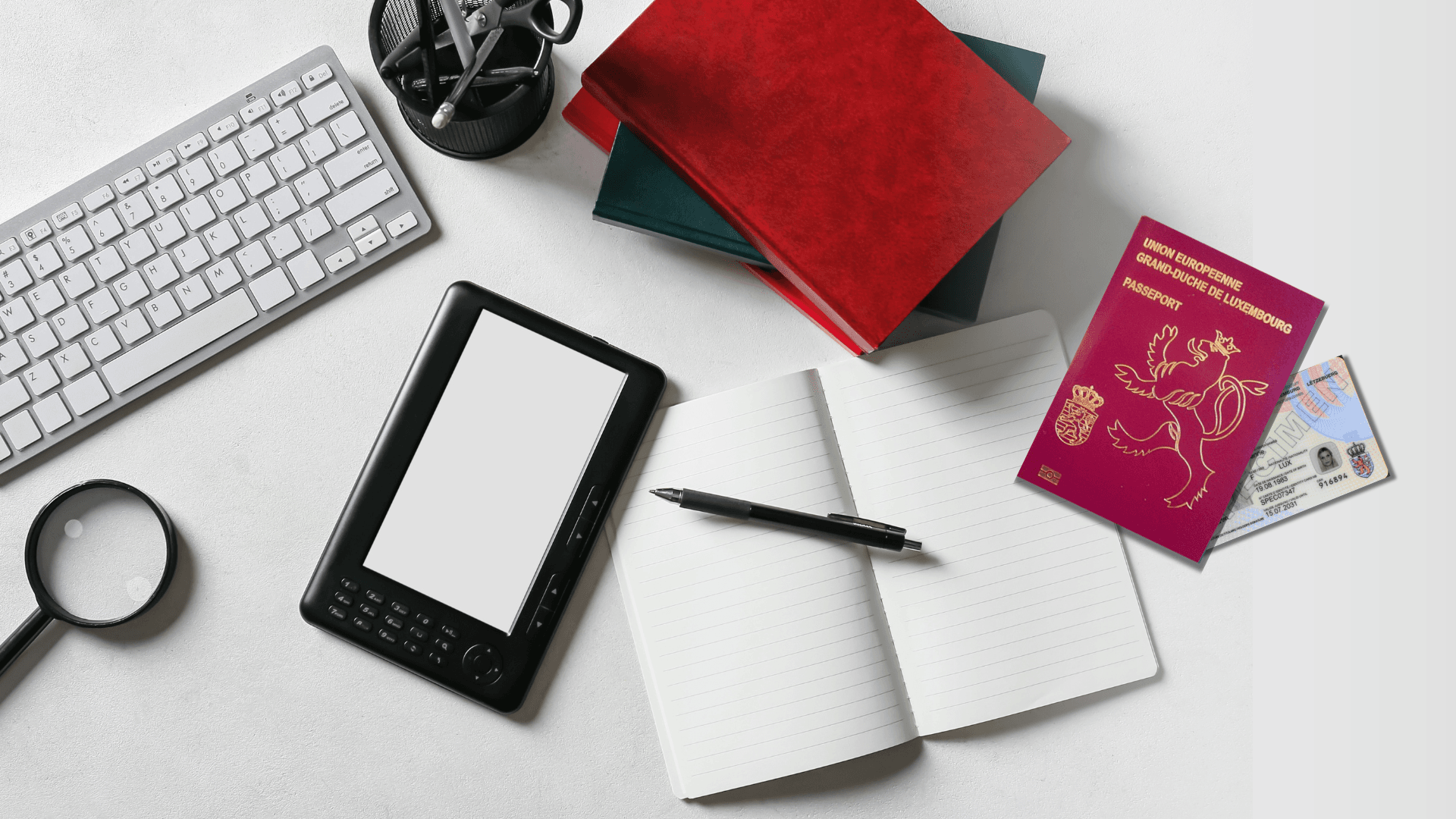 Visa requirements for Luxembourg passport holders
The Luxembourg passport opens doors to visa-free travel in a considerable number of countries. While various institutions may provide differing information on this matter, for this section, we will rely on the reputable and regularly updated index by Arton Capital.
To ensure certainty regarding the entry conditions of a particular country, we strongly advise consulting with the consular authorities of that country.
Visa-free countries
The first list encompasses countries that welcome Luxembourg passport holders with open arms, allowing entry without the need for a visa or any other additional documentation.
| | |
| --- | --- |
| Europe | Albania, Andorra, Armenia, Austria, Belarus, Belgium, Bosnia and Herzegovina, Bulgaria, Croatia, Cyprus, Czech Republic, Denmark, Estonia, Finland, France, Georgia, Germany, Greece, Hungary, Iceland, Ireland, Italy, Kosovo, Latvia, Liechtenstein, Lithuania, Malta, Moldova, Monaco, Montenegro, Netherlands, North Macedonia, Norway, Poland, Portugal, Romania, San Marino, Serbia, Slovakia, Slovenia, Spain, Sweden, Switzerland, Türkiye, Ukraine, United Kingdom, Vatican City |
| Asia | Brunei, Hong Kong, Israel, Japan, Kazakhstan, Kyrgyzstan, Laos, Macao, Malaysia, Mongolia, Palestinian Territories, Philippines, Singapore, Taiwan, Tajikistan, Thailand, Timor-Leste, United Arab Emirates, Uzbekistan |
| Africa | Botswana, Cape Verde, Eswatini, Gabon, Gambia, Lesotho, Mauritius, Morocco, Namibia, Sao Tome and Principe, Senegal, South Africa, Tunisia, Zambia |
| America | Antigua and Barbuda, Argentina, Bahamas, Barbados, Belize, Bolivia, Brazil, Chile, Colombia, Costa Rica, Dominica, Dominican Republic, Ecuador, El Salvador, Grenada, Guatemala, Guyana, Haiti, Honduras, Jamaica, Mexico, Nicaragua, Panama, Paraguay, Peru, Saint Lucia, St. Vincent and the Grenadines, Suriname, Trinidad and Tobago, Uruguay, Venezuela |
| Oceania | Fiji, Kiribati, Marshall Islands, Micronesia, Palau, Samoa, Solomon Islands, Tonga, Tuvalu, Vanuatu |
Countries requiring special procedure
The second list will highlight countries where entry is visa-free but requires specific procedures to be followed. These procedures may include applying for an expedited visa upon arrival or obtaining an electronic travel authorization (eTA) before departure.
| | |
| --- | --- |
| Europe | Azerbaijan |
| Asia | Bahrain, Bangladesh, Cambodia, India, Indonesia, Iran, Iraq, Jordan, Kuwait, Lebanon, Maldives, Nepal, Oman, Pakistan, Qatar, Saudi Arabia, South Korea, Sri Lanka, Viet Nam |
| Africa | Angola, Burkina Faso, Burundi, Comoros, Dem. Rep. Congo, Cote d'Ivoire, Djibouti, Egypt, Equatorial Guinea, Ethiopia, Guinea, Guinea-Bissau, Kenya, Madagascar, Malawi, Mauritania, Mozambique, Nigeria, Rwanda, Seychelles, Sierra Leone, Somalia, South Sudan, Tanzania, Togo, Uganda, Zimbabwe |
| America | Canada, Cuba, USA |
| Oceania | Australia, New Zealand, Papua New Guinea |
How to obtain a Luxembourgish Passport
A passport becomes a necessity when you intend to travel to foreign countries outside the European Economic Area, as most of them require this travel document.
If you're looking to obtain a passport, you can follow the straightforward steps outlined below:
Gather the necessary documents.
Pay the issuance fees.
Submit the application.
We will examine each step in more detail below, however, to be sure to obtain updated and much more detailed information, we recommend you visit directly the pages dedicated to this procedure on Guichet for both resident and non-resident nationals.
Required documents
The following are the documents within the visa requirements for Luxembourg citizens and residents. Basic documents that are always required, non-dependant on the nationality, are:
An identity document
The previous passport if you have one or, if you have lost it, the declaration of theft or loss established by the police
The payment receipt of the issuance fee
A photo complying with ICAO standards
Additional documents for non-resident nationals include:
A residence permit issued in the country of residence.
In the event of marriage abroad a copy of the marriage certificate.
Issuance fees for passport
The cost of the passport varies according to the duration of the passport and the delivery delay.
Although the standard duration of the passport is 5 years, it is possible to apply for a passport with a duration of only 2 years for children under 4 years of age.
| | | |
| --- | --- | --- |
| Passport validity period | 7 days of delivery delay | 3 days of delivery delay |
| 5 years | 50 euros | 150 euros |
| 2 years (for children <4 years old) | 30 euros | 90 euros |
Payment can be made in different ways:
By bank card directly at the Passport, Visa and Legalisation Office (BPVL)
By deposit or transfer to the BPVL's post office account (IBAN: LU 46 1111 1298 0014 0000 / BIC: CCPLLULL).
Application process
To apply for a passport, you must go to one of the following establishments with all the required documents.
If you live in Luxembourg
The population office of the communal administration of your commune of residence.
The Passport, Visa and Legalisation Office (BPVL).
If you live abroad
The Luxembourg consulate or embassy in your place of residence.
A Belgian diplomatic or consular mission representing Luxembourg in consular matters in those countries where Luxembourg has no diplomatic or consular mission.
When you make the request, you must indicate where you want to recover the passport, it can be at the BPVL of Luxembourg City or the same office but in your commune of residence.
Finally, when the processing period is over, you must go in person to receive your passport.

Frequently Asked Questions (FAQ)
What are the advantages of Luxembourg passport
Holding a Luxembourg passport comes with a myriad of advantages. Firstly, it offers visa-free access to an extensive list of countries, granting the freedom to travel with ease and convenience.
Luxembourg passport holders can enjoy seamless living and working opportunities within the Grand Duchy, with unrestricted residence and work permissions. This prestigious travel document also provides access to a wider range of social benefits, including eligibility for certain government jobs and the ability to participate in national, local, and European elections.
Moreover, the Luxembourg passport represents a profound sense of national identity and belonging, making it an invaluable asset for those seeking to explore the world and embrace new opportunities.
How many countries can I visit visa-free with a Luxembourg passport
The information about the number of countries that Luxembourg passport holders can visit visa-free varies depending on the passport index used and its specific criteria. Notably, rankings can differ due to factors such as update frequency and information sources.
As per the latest Henley Passport Index, the Luxembourg passport grants access to 189 countries, placing it among the top performers. Similarly, the Arton Capital index places Luxembourg in the second spot alongside 10 other nations, with visa-free access to 175 countries.
For accurate and up-to-date information about a specific country, it is advisable to consult reputable sources and consular authorities to ensure accurate travel planning and preparations.
Can I obtain a Luxembourg travel passport if I am not a citizen
Yes, it is possible to obtain a Luxembourg passport even if you are not a Luxembourg citizen. The process of acquiring a Luxembourg passport involves applying for Luxembourg citizenship through a procedure called naturalization.
By meeting specific requirements set by the Luxembourg government, individuals from various nationalities can become eligible for naturalization. However, it is crucial to note that the criteria for naturalization may vary and typically include residency requirements, language proficiency, and integration into Luxembourg society.
Copy link