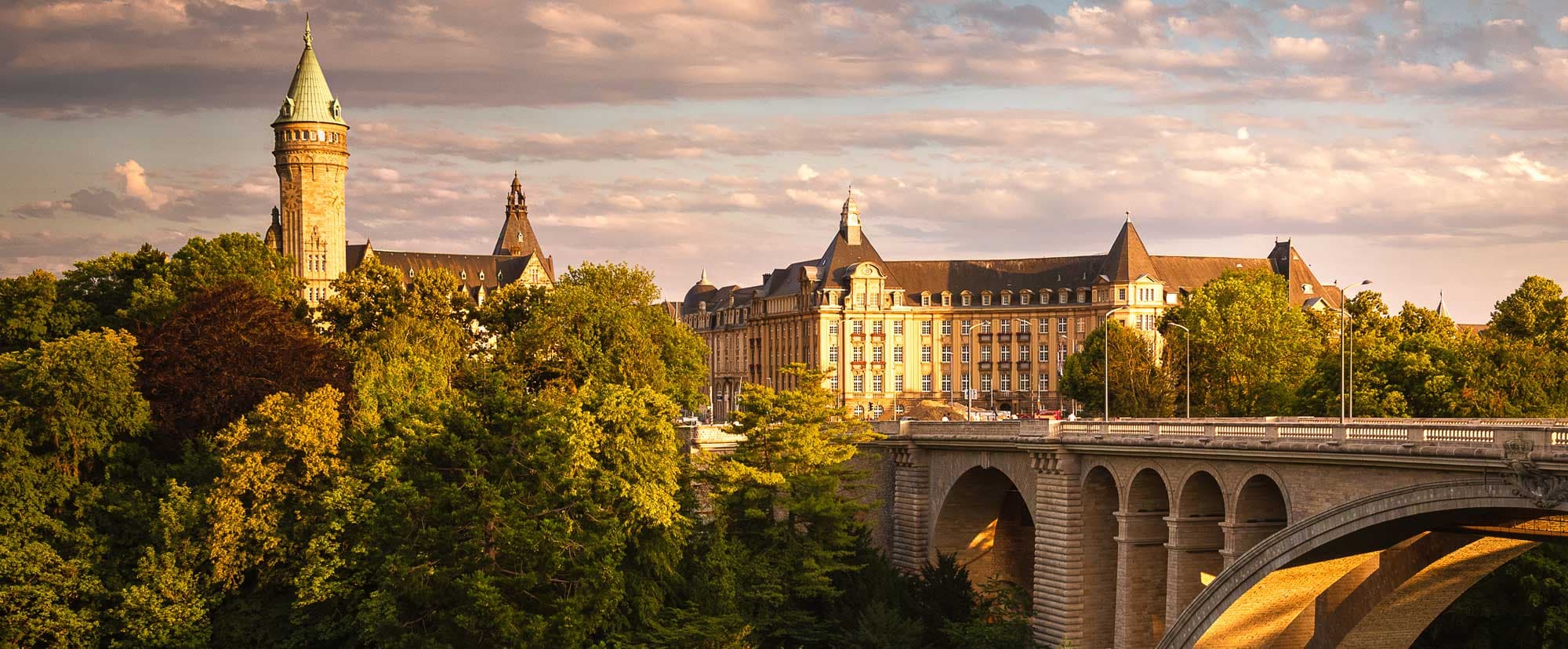 Visa to Luxembourg — a complete guide
In this article we will explore who needs a visa to travel to Luxembourg, what types of visas are available, and how to apply for the documents.
Luxembourg belongs to the Schengen Area, the visa-free community of EU countries. EU citizens and residents can visitLuxembourg without a visa. And tourists holding a Schengen visa can enter the Grand Duchy even if their visa was issued by another country.
The word "Schengen" comes from the name of the Luxembourg commune of Schengen. This is where an agreement was signed to create a free movement zone — the Schengen Area.
In addition to EU countries, there are other countries whose citizens do not need a visa to enter Luxembourg. Therefore, before visiting the country, find out if you need a visa. If you do, check what type of visa you need. Read on to find out how.
Do you need a visa for Luxembourg
Let's look at an example. If you are a citizen of a non-EU country (with a few exceptions) and intend to visit Luxembourg, you must have a travel document with a visa issued by the consulate of one of the Schengen countries. However, if you have a valid residence in an EU country, you won't need a visa.
The visa will allow you not only to enter Luxembourg, but also to travel freely throughout the Schengen Area, which includes Austria, Belgium, the Czech Republic, Denmark, Estonia, Finland, France, Germany, Greece, Hungary, Iceland, Italy, Latvia, Liechtenstein, Lithuania, Luxembourg, Malta, the Netherlands, Norway, Poland, Portugal, Slovakia, Slovenia, Spain, Sweden, Switzerland.
Countries whose nationals require a Luxembourg visa in 2023
Despite the long list of exceptions, citizens of most countries in the world need a visa to visit Luxembourg. The same is true for the simple majority of the world's population, as a visa is required for Indians and the remaining citizens of almost all of the most populous countries on our planet, such as China, Indonesia, Nigeria, Pakistan.
Countries whose nationals do not require a Luxembourg visa in 2023
In addition to its EU neighbors, Luxembourg enjoys visa-freestatus with many other countries. The largest of these are the USA and Brazil.
Albania, Andorra, Antigua and Barbuda, Argentina, Australia, Austria, Bahamas, Barbados, Belgium, Bosnia and Herzegovina, Brazil, Brunei, Bulgaria, Canada, Chile, Colombia, Costa Rica, Croatia, Cyprus, Czech Republic, Denmark, Dominica, East Timor, El Salvador, Estonia, Finland, France, Germany, Greece, Grenada, Guatemala, Honduras, Hong Kong, Hungary, Iceland, Ireland, Israel, Italy, Japan, Kiribati, Latvia, Liechtenstein, Lithuania, Macao, Macedonia, Malaysia, Malta, Marshall Islands, Mauritius, Mexico, Micronesia, Moldavia, Monaco, Montenegro, Netherlands, New Zealand, Nicaragua, Norway, Palau, Panama, Paraguay, Peru, Poland, Portugal, Romania, Saint Lucia, San Marino, Saint Kitts and Nevis, Saint Vincent and the Grenadines, Salomon Islands, Samoa, Serbia, Seychelles, Singapore, Slovakia, Slovenia, South Korea, Spain, Sweden, Switzerland, Taiwan, Tonga, Trinidad and Tobago, Tuvalu, United Arab Emirates, United Kingdom, United States, Uruguay, Vanuatu, Vatican, Venezuela.
Please remember that without a visa, you can legally stay in the Schengen Area for a maximum of 90 days out of 180, counting the day of your arrival as the first day of your visit.
If you plan to stay in Luxembourg and/or other Schengen countries for more than 90 consecutive days (or more than 90 days out of 180), you will need a different type of visa, a long-stay one.
Visa types in Luxembourg
Basically, there are three types of visas: transit visa, short-stay visa and long-stay visa. They are identified by the letters A, C and D respectively.
Transit visa
Transit visa is issued for travelers who use Luxembourg flight connections without leaving an airport. However, if you are a citizen of a country that does not have a visa-free regime with Luxembourg, it is still possible that you do not need a transit visa to connect here.
Сitizens of the following countries require a transit visa to make a connection in a Schengen Area country in general:
Bangladesh,
Democratic Republic of the Congo,
Eritrea,
Ethiopia,
Ghana,
Iran,
Iraq,
Nigeria,
Pakistan,
Somalia,
Sri Lanka,
Western Sahara.
And citizens of the following countries require a transit visa to connect specifically in Luxembourg:
Guinea,
Guinea Bissau,
Nepal,
South Sudan,
Sudan,
Syria,
Togo.
Short-stay visa
For short-term stays of up to 90 days within a 180-day period, a type C Schengen visa is commonly required.
A type C visa is not suitable for employment in the country.
If you plan to take up a job in Luxembourg during your short stay, you will need a visa D, even if you will be working for less than 90 days. You must also apply for a work permit at the Immigration Directorate (Direction de l'Immigration).
This type of visa is the most common because it includes the top reasons for traveling to the EU and Luxembourg, namely:
Tourism, sightseeing, vacation, trips.
Business, visiting professional partners, negotiating and concluding contracts, attending board of directors' meetings and general meetings, providing services within your international business group, etc.
Participating in events, conferences (conference speakers and university lecturers), exhibitions, fairs or shows.
Visiting and spending time with friends and/or relatives.
Long-stay visa
For stays longer than 90 days. Valid for up to 365 days and may be extended. The possible purposes are:
Work, such as trainee, employee (including workers posted by a company established outside the EU and workers on an ancillary basis), self-employed (independent), highly qualified worker, au pair (live-in work with a host family), sportsperson.
Studies, for pupils, students, researchers.
Family reunification for third-country nationals wishing to join a family member who is an EU citizen.
How to apply for a Luxembourg visa
To obtain any type of visa, you will need to provide the following documents to the consular mission of Luxembourg in your country:
an application form for Schengen visa;
recent photos (2 copies, professionally made for visa);
your international passport or ID card that is valid in the Schengen Area and expires no sooner than 3 months after the approximate end of your visa period.
A specific visa type may require additional documents. Everything you submit with your visaapplication must be in one of the official languages of the Grand Duchy: English, German, French or Luxembourgish.
All documents in other languages must be accompanied by a certified translation.
Even if you plan to stay mainly in Luxembourg, you can legally apply for a Schengen visa of the first Schengen country you enter.
Luxembourg is statistically one of the most loyal countries in the Schengen Area, meaning it rarely refuses to issue visas to applicants — 10.5% rejected in 2022, ranking 6th most welcoming country in the EU.
Applying for short-stay visa in Luxembourg — A and C
Where to apply? You can apply for A and C visas at the Luxembourg embassy in your country. Or, if Luxembourg doesn't have diplomatic mission in your country, you can ask any local embassy of a Schengen country if they are authorized to issue Luxembourg visas.
Aditional documents. To apply for an A or a C visa, here's what else you'll need over and above the basic requirements:
a return ticket;
medical insurance valid for the entire trip.
To apply for an A visa specifically attach the following as well:
a visa issued by the country of your destination, if you require a visa;
payment receipt for the visafee.
If you intend to transit through more than one airport within the Schengen Area, you are no longer eligible for an Airport Transit Visa. Instead, you should apply for a regular Schengen visa (type C).
To apply specifically for a C visa, you will also need the following documents:
a hotel booking in Luxembourg;
any documental proof of legal residence in your country;
an official letter of invitation (if traveling for business purposes);
proof of sufficient funds for the duration of the travel, such as bank statements or cash.
Visa invitation
The last point may not be obligatory (but it definitely increases your chances) if you are invited by a Luxembourg citizen or resident who has submitted a financial statement of support to prove that he/she can afford your visit.
In this case, the person inviting you must submit the following documents to the Passport, Visa and Legalization Office:
The last three salary slips or other document proving income;
A copy of the inviting side passport or national ID card;
A copy of your passport;
Luxembourg residence permit (for non-citizens).
The guarantor must also have his or her signature on the form officially notarized in his/her commune of residence. A financial statement of support is valid for 6 months from the day the application is submitted.
We have previously covered how to write a letter of invitation for your friends and family in Luxembourg to increase their chances of receiving the document.
Type D visa
You can only apply for a D visa at the Luxembourg embassy in your country. If there is no official Luxembourg diplomatic mission or consulate in your country, you can contact the Belgian embassy. Their staff is authorized to issue Luxembourg visas in such cases.
Non-EU nationals must first obtain a temporary authorization to stay from the Immigration Directorate of the Luxembourg Ministry of Foreign and European Affairs (ministère des Affaires étrangères et européennes).
Depending on the purpose of your visit, the embassy may require additional documents and evidence.
If you're invited by a Luxembourgcitizen/resident, he or she must submit the financial statement to the Immigration Directorate.
Children's visas for Luxembourg
Children are issued the same visas as adults. However, you will need additional documents to apply for a child's visa.
A certified copy of the child's birth certificate;
Certified copies of the IDs or passports of either the single or both parents/guardians; the copies are needed even if the child will be traveling with only one of the parents/guardians or neither of them;
A certified copy of the child's international passport and/or ID card (if the child already has one or both of these documents);
A letter from a school or day care center confirming that the child is enrolled in such an institution (if applicable);
A family court order (if only one parent has custodial rights);
an applicationform signed by both parents/guardians (if there are two);
A written letter of consent to travel from the parents/guardians if the child is traveling without them; if he/she is traveling with only one parent/guardian of the two, a written letter of consent of the other is required;
An insurance that covers the entire trip and protects the child in the event of a medical emergency.
How much does it cost to obtain visa for Luxembourg
Nationals of the following countries are entitled to a reduced visa fee:
Albania,
Armenia,
Azerbaijan,
Bosnia-Herzegovina,
Georgia,
Moldova,
Montenegro,
Republic of North Macedonia,
Serbia,
Ukraine.
| | | | |
| --- | --- | --- | --- |
| Category | Transit A visa | Short-stay C visa | Long-stay D visa |
| Adults and children over 6 years old entitled to reduced fee | 35 euros | 35 euros | 35 euros |
| Adults and children over 12 years old not entitled to reduced fee | 80 euros | 80 euros | 50 euros |
| Children from 6 to 12 years old not entitled to reduced fee | 40 euros | 40 euros | 40 euros |
There are also several categories of applicants for whom the visa fee is waived in general:
children under the age of 6;
pupil or student groups on educational or school trips (including accompanying adults);
scholars traveling for research purposes;
charity organizations members under the age of 25 who are traveling to participate in charity-related events;
certain categories of nationals of Albania, Armenia, Azerbaijan, Bosnia-Herzegovina, Cape Verde, Georgia, Moldova, Montenegro, Republic of North Macedonia, Serbia and Ukraine;
family members of an EU/EEA national.
EEA stands for the European Economic Area. It is a community of Iceland, Liechtenstein, Norway and all EU countries. Switzerland is technically, but not legally, a member of the EEA.

Frequently Asked Questions (FAQ)
What is the Luxembourg visa processing time
The procedure typically takes no longer than 15 days, although it can extend up to 45 days in some cases. It is possible to submit a Schengen visa application as early as six months prior to your intended travel date.
How much does a Schengen visa cost in Luxembourg for an adult
An individual who is 12 years of age or older and wishes to apply for a Schengen visa in Luxembourg must pay a fee of 80 euros.
How much does a Schengen visa cost in Luxembourg for a child
Schengen visa applications are free of charge for parents applying on behalf of children under the age of 6. Children between the ages of 6 and 11 must pay a visa fee of 40 euros.
Copy link