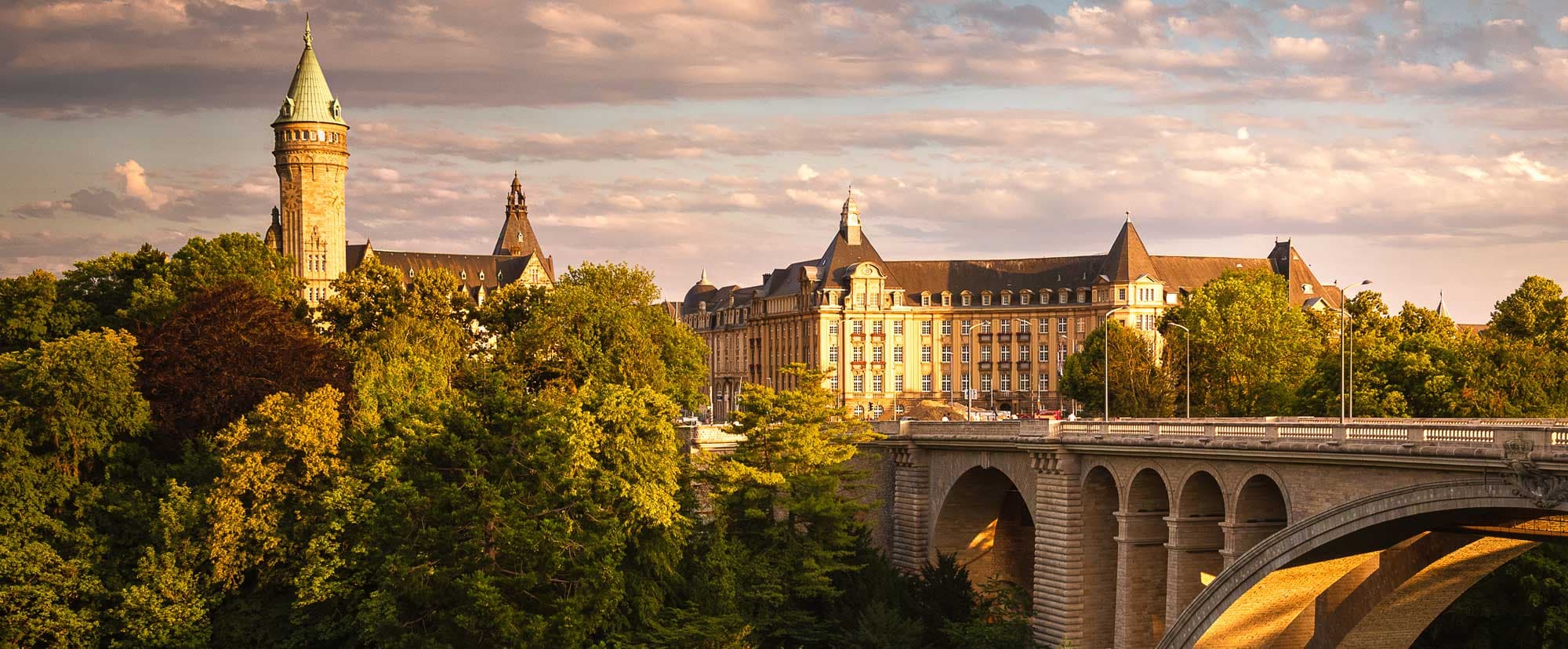 Healthcare for children and pediatrics in Luxembourg
Luxembourg, a vibrant European gem, makes the health of its residents a top priority, especially its youngest inhabitants. From the early stages of pregnancy through birth and into young adulthood, Luxembourg is committed to providing the finest healthcare services to its children.
In this article, we will explore the complexities of pediatric healthcare in Luxembourg, both the public and private sectors, routine check-ups, and immunizations, and highlight the best children's hospitals in the country.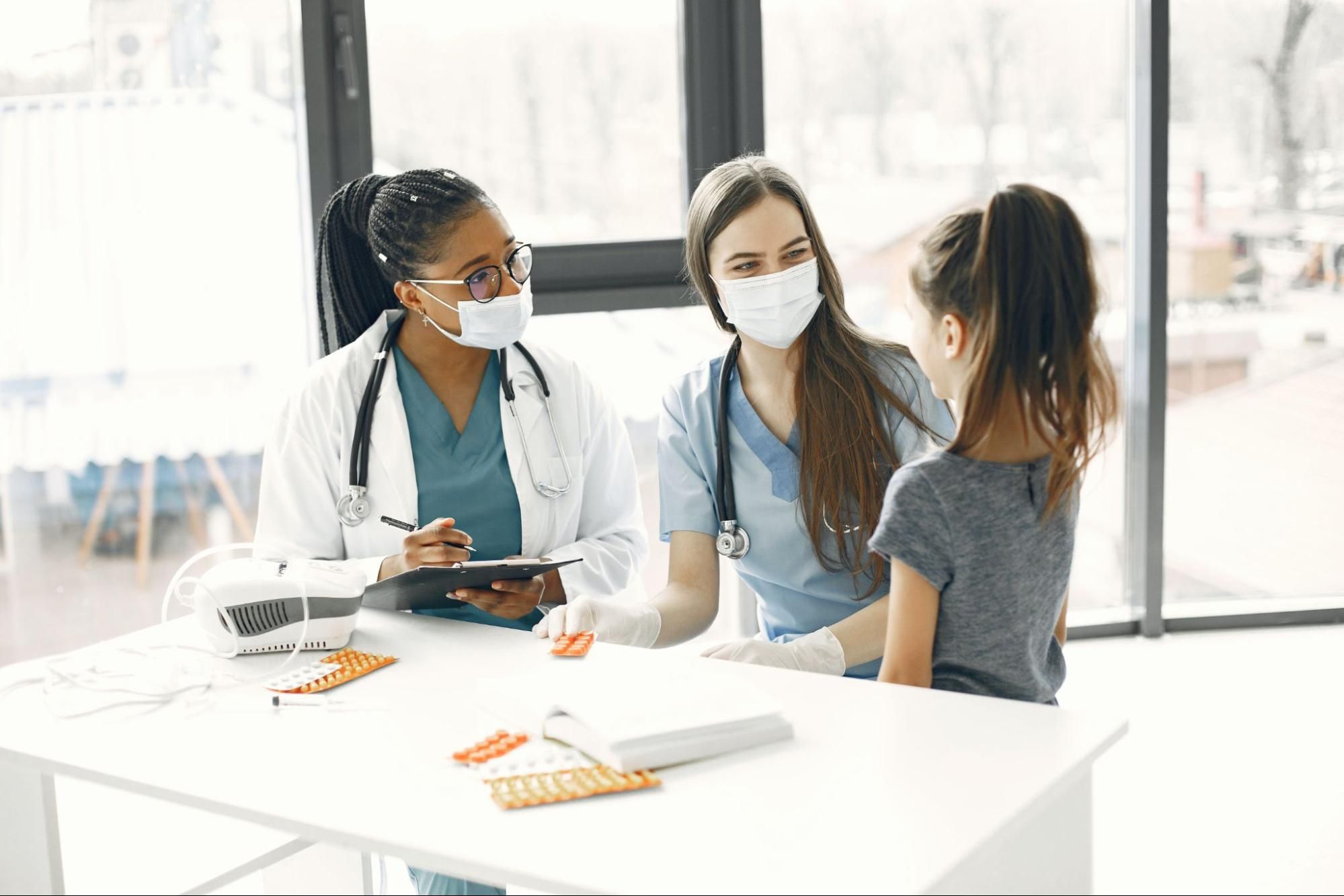 Pediatrics in Luxembourg: general health and numbers
In Luxembourg, the standard of healthcare for children is commendable, encompassing a range of services that are available at no cost. Navigating the landscape of healthcare services for children in Luxembourg can be a concern for families relocating to the country.
The nation boasts an exceptional public healthcare system, a fact affirmed by its seventh-place ranking on the 2018 Euro Health Consumer Index and its also remarkable 12th place of 167 countries for healthcare in the 2021 Legatum Prosperity Index.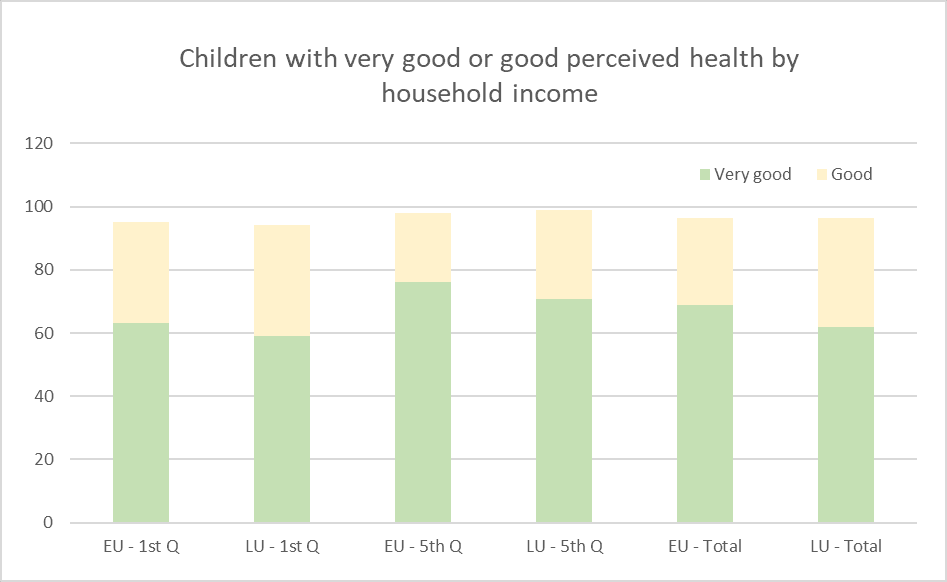 The health statistics for children reveal that 70% of families with high income and 59% of families with low income enjoy very good health. These figures align closely with the European Union averages of 76.1% and 63.2% respectively. When considering the broader population in general an impressive 96.5% of individuals report being in very good or good health, mirroring the European Union's overall health status.
In the realm of unmet healthcare needs, only a minimal 1–2% of children in Luxembourg encounter challenges accessing healthcare services, a figure that surpasses the EU average slightly.
Finally, it is worth mentioning that the 2021 EU health profile for Luxembourg highlights the nation's excellence in terms of physical activity and childhood vaccinations. However, while the country excels in these aspects, it falls below the EU average concerning childhood obesity and smoking.
Pediatricians in Luxembourg: what they do and how to find one
As described in the pediatrician job description, it is a medical professional specializing in the healthcare of infants, children, and adolescents. Their expertise spans various aspects of young patients' well-being, including physical, emotional, and developmental health. Finding the best pediatrician for your child's needs is a crucial step in ensuring their health and growth.
The optimal way to connect with a qualified pediatrician in Luxembourg is by reaching out to the Luxembourg Pediatric Society (La Société Luxembourgeoise de Pédiatrie). This society serves as a unifying platform for pediatricians and other healthcare practitioners dedicated to the well-being of children and adolescents, both in private practice and hospital settings.
Their website offers a comprehensive directory that details all the pediatricians practicing in Luxembourg. This resource simplifies the search for the right healthcare professional for your child.
Below, we provide you with a table showcasing some of the pediatricians available in different communes and neighborhoods in Luxembourg.
| | | |
| --- | --- | --- |
| Name | Address | Phone number |
| Dr. Agustsson Sigurlaug | 4 Allée Léopold Goebel, Luxembourg | (+352) 4 48 90 80 |
| Dr. Amado Simôa | 15 Rue Michel Rodange, Differdange | (+352) 58 22 09 |
| Dr. Bache Manon | 4 Rue Barblé, Luxembourg | (+352) 44 11 31 47 |
| Dr. Beck Peter | 96 Rue G.-D. Charlotte, Wiltz | (+352) 95 96 96 |
| Dr. Blommaerts Jan | 27, Rue Du Commerce, Mamer | (+352) 27 99 65 04 |
| Dr. Bretz Robert | 51, Rue Marie-Adelaïde, Luxembourg | (+352) 26 02 82 |
| Dr. Büsser Frank | 10 Rue De Godbrange, Junglinster | (+352) 26 78 27 53 |
Children healthcare insurance
In Luxembourg, the national health insurance system, known as the Caisse Nationale de Santé (CNS), takes center stage in ensuring the well-being of residents. This organization manages the public health insurance framework and extends coverage to all individuals residing within Luxembourg's borders.
To secure state health insurance within Luxembourg, prospective beneficiaries need to embark on a registration process with the Social Security Center (CCSS).
When enrolling, individuals are prompted to include any dependents within their family unit on the policy. If circumstances change and a child enters the family after initial registration, you need to notify social security services.
Notably, children can avail themselves of predominantly cost-free healthcare resources under their parents' or guardians' insurance coverage until reaching the age of 18. This provision extends until the age of 27 for children engaged in full-time studies.
Public and private medicine for children: pros and cons
In Luxembourg, the distinction between public and private healthcare providers differs from the conventional approach seen in many European countries. While most medical professionals operate within private practices, a significant number maintain contracts with the CNS, thus offering state-funded healthcare services. It's worth noting that a subset of doctors and specialists solely practice within the private domain.
Residing in Luxembourg renders you and your children beneficiaries of state health insurance. Pediatric consultations are comprehensively covered under this system. However, the option to choose private health insurance exists, catering to private-only professionals or services not encompassed by public insurance.
Private health insurance introduces an array of elements that are not covered by public health insurance, such as
alternative therapies,
cosmetic procedures,
personalized conveniences.
For example, osteopathy, a therapeutic approach is not covered by state health insurance and may hold significance in specific cases. To preempt potential financial constraints, considering private insurance for these services, which can cost between 80 and 100 euros per consultation, is advisable.
How much private healthcare plan cost in Luxembourg
The landscape of private insurance is diverse, each offering unique coverage. Some policies may extend supplementary benefits tailored for children, underscoring the importance of comparing different options before finalizing a choice.
Monthly premium costs can vary significantly, ranging from a modest few tens of euros to upwards of 100 euros.
For non-residents of Luxembourg who yet reside in EU member countries, the European Health Insurance Card (EHIC), issued by the health authorities of their respective countries, enables access to healthcare within Luxembourg.
For those not holding residency in Luxembourg and embarking on short visits, procuring private health insurance is imperative to ensure comprehensive medical coverage during their stay.
Routine health check-ups and immunization for children in Luxembourg
Luxembourg implements a structured regimen of child health assessments spanning the formative years and school-age period. Beyond routine medical check-ups in school for children, vaccinations play an essential role in safeguarding their health and warrant utmost consideration.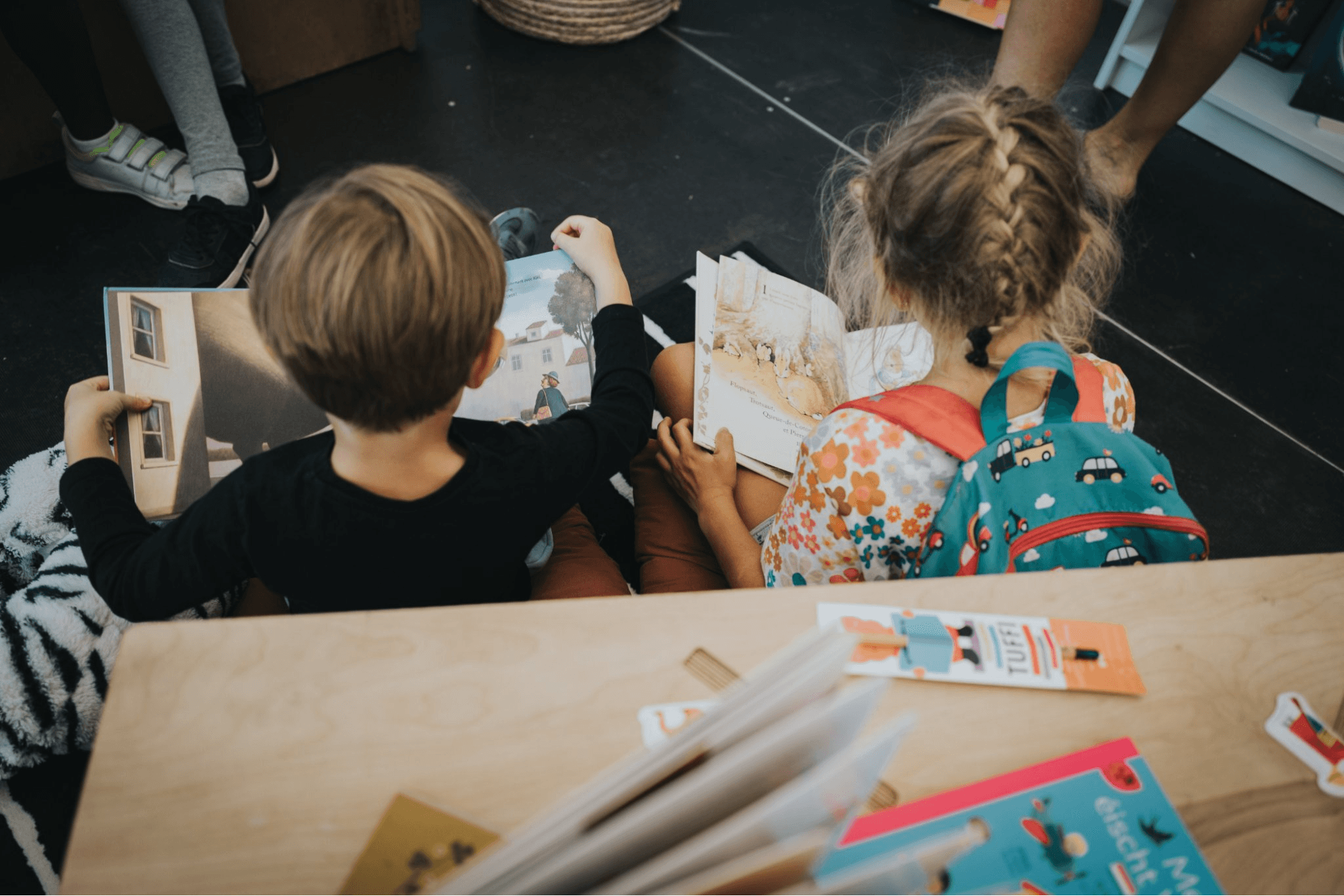 Health check-ups and back-to-school medical check
In Luxembourg, a comprehensive system of child health check-ups underscores the nation's commitment to children's well-being. This regimen mandates 2 perinatal examinations and an additional 4 subsequent medical assessments until the child reaches the age of 2 years old.
The perinatal examinations are conducted either at the maternity ward of birth or in a pediatric hospital unit, while the subsequent assessments can take place in a pediatric hospital unit or medical practice.
It is advisable to consider supplementary assessments between the ages of 2 and 4 to maintain a comprehensive understanding of your child's health. These health evaluations encompass a range of vital checks and include:
Neonatal blood tests conducted within the first 3 days of birth,
Ongoing monitoring of height and weight,
Hearing screenings carried out at 2 days old and at 30 months old,
Vision tests administered between 10 and 40 months of age,
Evaluation for language or communication disorders at 30 months old,
Vigilant monitoring of motor skills, cognition, and behavior.
For children aged 4 to 13 years, a regime of regular check-ups is recommended. In the early years, semi-annual medical examinations are preferable.
As your child progresses in age and health, a yearly routine check-up, ideally conducted before the commencement of the school year, suffices to ensure their ongoing well-being.
During every visit to the doctor, parents are required to present the child's health record. This vital document is issued during the process of registering the child's birth by the relevant government authority.
Immunizations schedule
While routine vaccinations for children are not obligatory in Luxembourg, their significance cannot be underestimated, as some of them hold utmost importance. In the Luxembourg context, a vast majority of parents opt to vaccinate their children.
The Ministry of Health strongly advises parents to have their children immunized against vaccine-preventable diseases listed in the national vaccination schedule.
These vaccinations are free and play a crucial role in shielding children from potentially perilous and even fatal diseases. The list below provides a concise overview of the vaccination calendar for children in Luxembourg.
2 months
1st dose of the combined vaccine (D, T, aP, Hib, IPV, Hep B) protecting against diphtheria, tetanus, pertussis, invasive Haemophilus influenzae type b infections, polio, and hepatitis B.
1st dose of rotavirus vaccine, protecting against rotavirus gastroenteritis.
1st dose of pneumococcal vaccine, protecting against invasive pneumococcal infections.
4 months
3rd dose of the combined vaccine (D, T, aP, Hib, IPV) with the same protection as above.
2nd dose of pneumococcal vaccine.
3rd dose of rotavirus vaccine.
12 months
1st dose of the combined vaccine (RORV) protecting against measles, mumps, rubella, and chickenpox.
3rd dose of pneumococcal vaccine.
13 months
4th dose of the combined vaccine (D, T, aP, Hib, IPV, Hep B) with the same protection as above.
Vaccination against invasive Meningococcal C (MenC) infections.
Best children's hospitals in Luxembourg
In times of medical need, finding the best care for your child is paramount. In this section, we will tell you where to go to get the support you need, and we will guide where to seek urgent assistance for your child's well-being.
Kannerklinik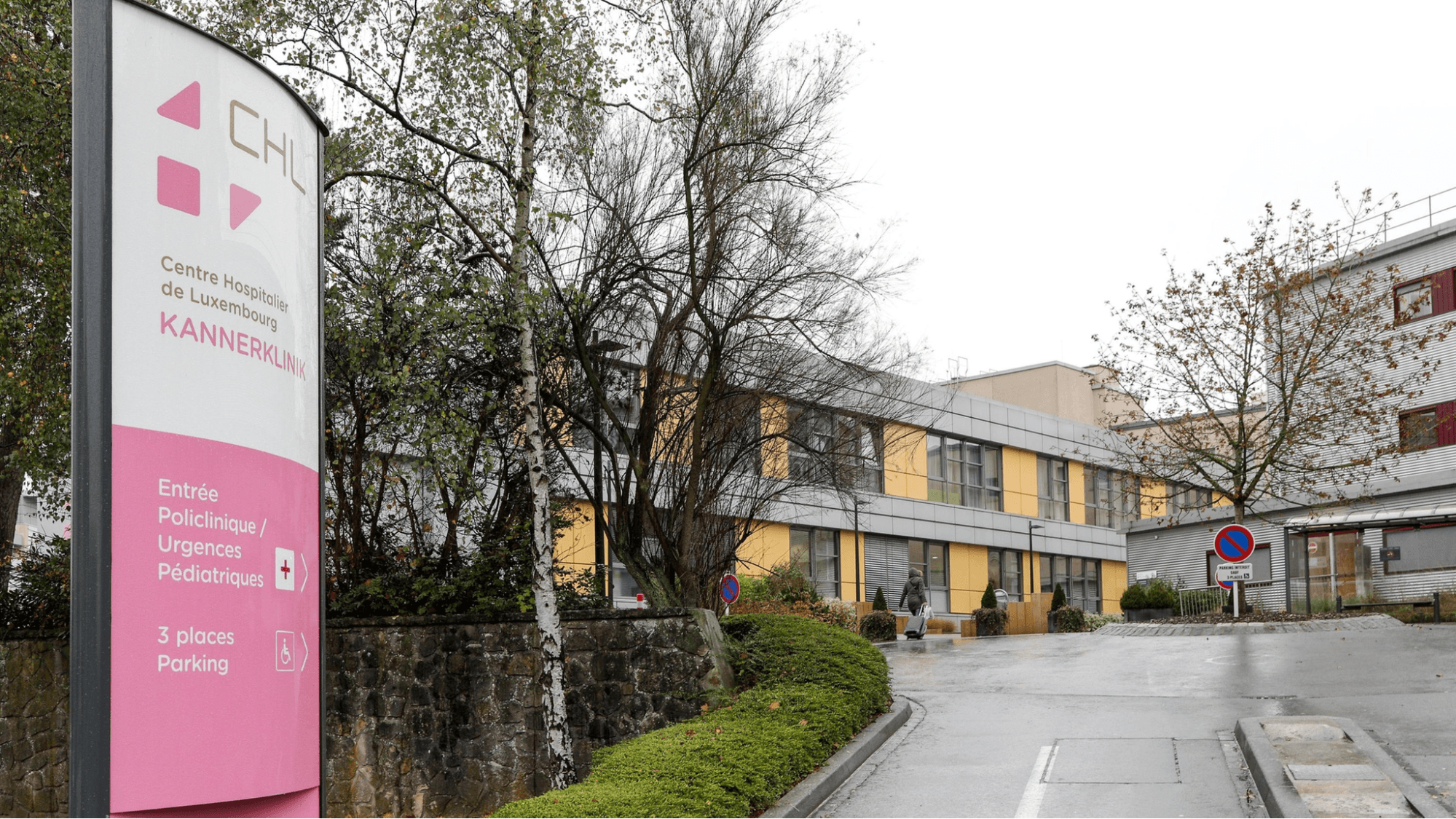 For residents of Luxembourg, the Kannerklinik Center is the primary destination for pediatric healthcare. This center, an integral component of the Center Hospitalier de Luxembourg (CHL), the public hospital of Luxembourg, is dedicated to delivering optimal healthcare solutions for children from infancy through adolescence. As part of the broader Center Hospitalier de Luxembourg, this center ensures a comprehensive spectrum of medical services and specialties.
Urgent help for children in Luxembourg
In situations demanding urgent medical attention for children, having a clear understanding of accessible options is of paramount importance. Luxembourg's well-structured healthcare system ensures that swift and effective aid is readily accessible when required.
In cases of immediate urgency, always
For situations that require urgent attention but allow for personal transport, two primary options are available.
Emergency Service at KannerKlinik
The first option resides within the KannerKlinik Center, which encompasses two distinct units catering to urgent medical needs: the Pediatric Emergency Service and the Pediatric Medical House.
The Pediatric Emergency Service attends to children aged 0 to 15 who necessitate immediate medical or surgical intervention. In contrast, the Pediatric Medical House accommodates children in need of urgent medical attention outside their regular pediatrician's consultation hours, offering non-hospital care.
The Pediatric Emergency Service within KannerKlinik operates round-the-clock.
Emergency Pediatric care in Clinic Bohler Kirchberg
Another avenue for urgent pediatric care is the Pediatric Emergency Service at the Private Clinic Dr. E. Bohler, a division of the Kirchberg Hospital. This service operates 24/7, ensuring continuous access to immediate medical attention for children.
Pediatric dentistry and children's dentists in the country
Recognizing that children, like adults, encounter dental concerns, specialized oral healthcare services tailored exclusively for this age group are imperative. Ensuring children's dental well-being is paramount, with regular checkups advised every 6 to 12 months.
The first dental appointment is typically recommended between the ages of 2 and 3 years old.
However, experts often suggest scheduling this inaugural visit between the child's first and second year when primary teeth begin to emerge.
Many dentists concur that the initial visit should not involve any treatments. Instead, its primary purpose is to foster a sense of comfort in the child and lay the foundation for future treatments, should they be necessary. This strategic approach aims to mitigate the development of dental anxiety or phobia, ensuring a positive association with dental procedures in the future.
The following table will give you a glimpse of some recommended dentists for kids in Luxembourg but there are many others. You can find more at, for example, Center Medico Dentiare of Luxembourg.
| | | |
| --- | --- | --- |
| Doctor | Address | Spoken languages |
| Dr. Elisabetta Vazzana | 25c, bd Royal - Forum Royal entrée C - 6e étage, L-2449 Luxembourg-Centre Ville | English, French, German, Italian, Luxembourgish |
| Dr. Roxana Matracaru | 7A rue de Bonnevoie, L-1260 Luxembourg | English, French, Romanian |
| Dr. Ana Carolina Ramos Trabulo | 7A rue de Bonnevoie, L-1260 Luxembourg | English, French, Portuguese, Spanish |
| Dr. Sarah Gregor | 2-2a Rue Joseph-Leydenbach, L-1947 Luxembourg-Kirchberg | English, French, German |
| Dr. Mercedes Rios Rodenas | 41 Route De Longwy, 8080 Bertrange | English, French, Spanish |
| Dr. Joenice Chasme | 41 Route De Longwy, 8080 Bertrange | English, French |
| Dr. Camille Ducrocq | 211, Rue Des Romains, 8041 Bertrange | English, French |
Learn more about dental care in Luxembourg with our dedicated article: what are the prices, what to do in emergency situations, how to choose a professional in Luxembourg.

Frequently Asked Questions (FAQ)
Are vaccinations for children mandatory in Luxembourg
Routine vaccinations for children are not mandatory in Luxembourg; however, they are strongly recommended. The national health system provides a comprehensive vaccination schedule to protect children from preventable diseases, contributing to the overall health and well-being of the population. Parents are encouraged to adhere to the recommended vaccination schedule to ensure the best possible protection for their children and the community at large.
Is healthcare for children covered by insurance in Luxembourg
Yes, healthcare for children is covered by the national health insurance system in Luxembourg. The system ensures that children have access to essential medical services, including check-ups, treatments, and vaccinations, without incurring substantial out-of-pocket expenses.
Where to go for urgent medical help for children in Luxembourg
In situations requiring urgent medical attention for children, Luxembourg offers prompt and reliable assistance. For immediate emergencies, dialing 112 will summon an ambulance to the location.
How can non-residents access healthcare for their children in Luxembourg
Non-residents from EU countries can use the European Health Insurance Card (EHIC) for healthcare access, while short-term visitors should consider private health insurance.
Copy link