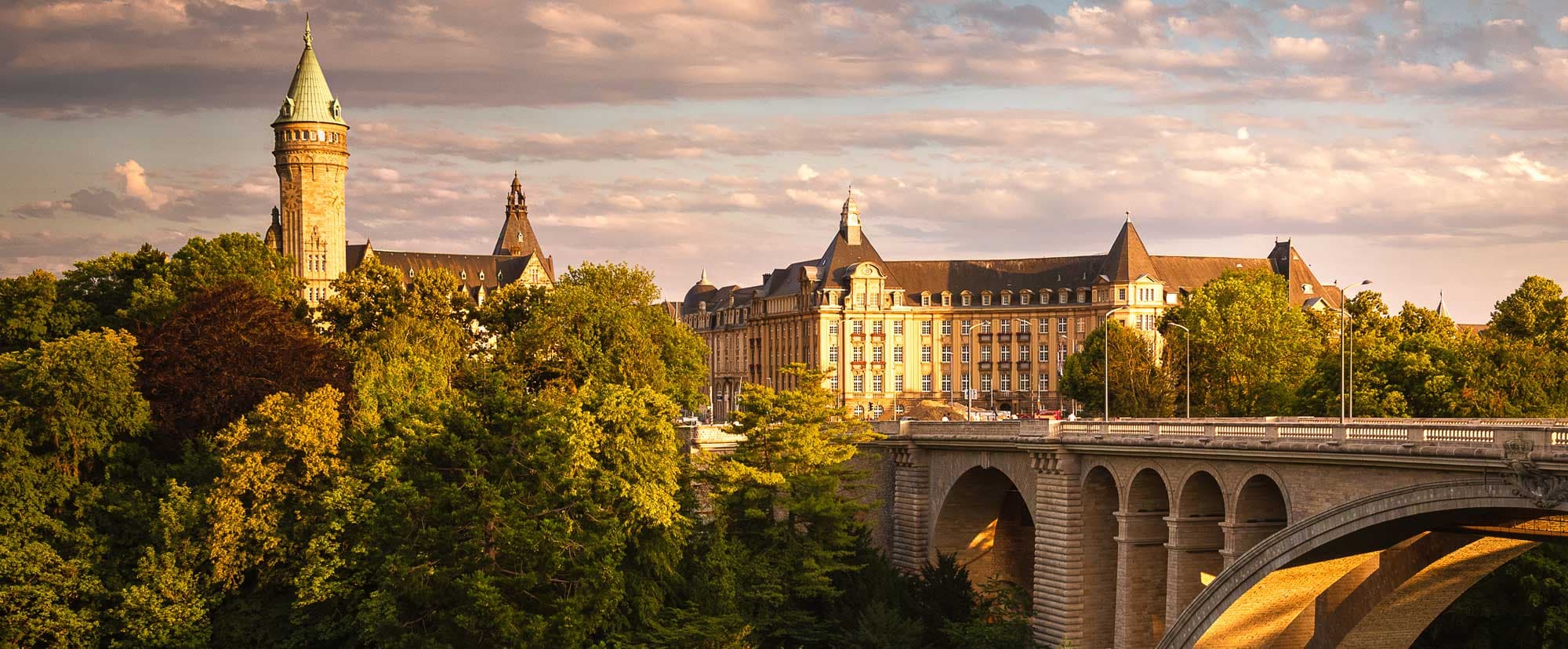 Traditional food and national cuisine in Luxembourg
Luxembourg is not only known for its beautiful landscapes and rich history but also for its unique national cuisine. Influenced by neighboring countries like France, Germany, and Belgium, Luxembourg's culinary scene offers an amazing fusion of flavors and a diverse range of dishes.
In this article, we will take a tour of dishes that define Luxembourg's national cuisine and also explore the country's noteworthy beverages that perfectly complement these delectable dishes.
Luxembourgish national dishes
Traditional Luxembourgish cuisine is a hearty and flavorful blend of various European influences. It is also characterized by the use of locally-sourced ingredients, such as potatoes, meat, and dairy products.
Judd mat Gaardebounen, Smoked pork with beans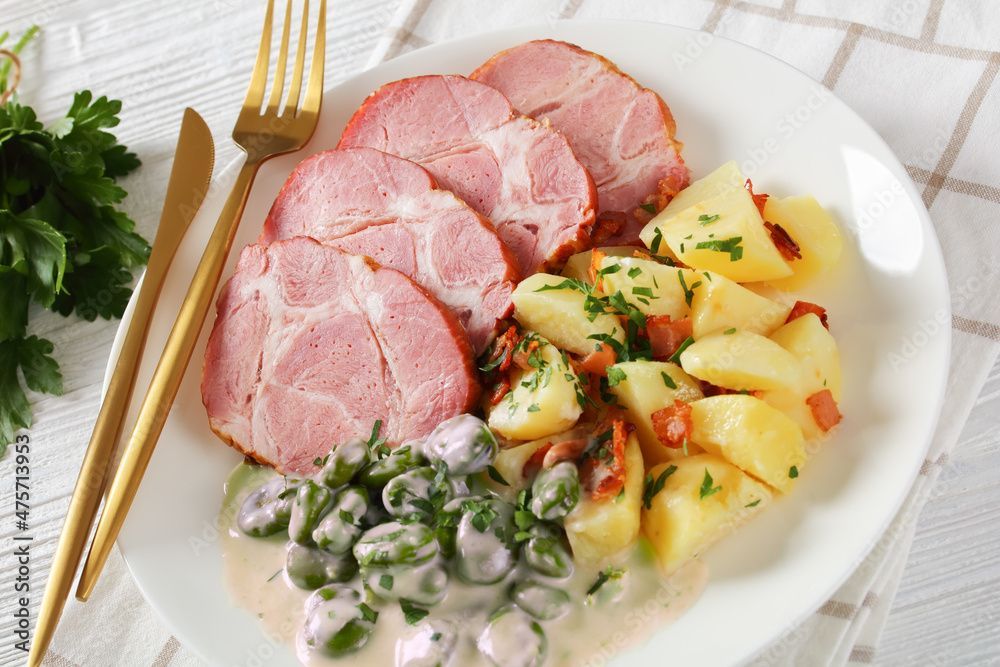 Judd mat Gaardebounen is a typical Luxembourgish dish that originated in traditional country kitchens. This savory and hearty dish features a smoked pork collar served with a rich broad bean stew. The pork is slowly smoked to give it a distinctive flavor, while the beans add a delicious earthy taste.
To experience this culinary delight, head to the restaurant Um Dierfgen in Luxembourg City, where you can enjoy the authentic flavors of Judd mat Gaardebounen, prepared using time-honored techniques. The price of this delicious dish is 27,50 euros.
Bouneschlupp, Green bean soup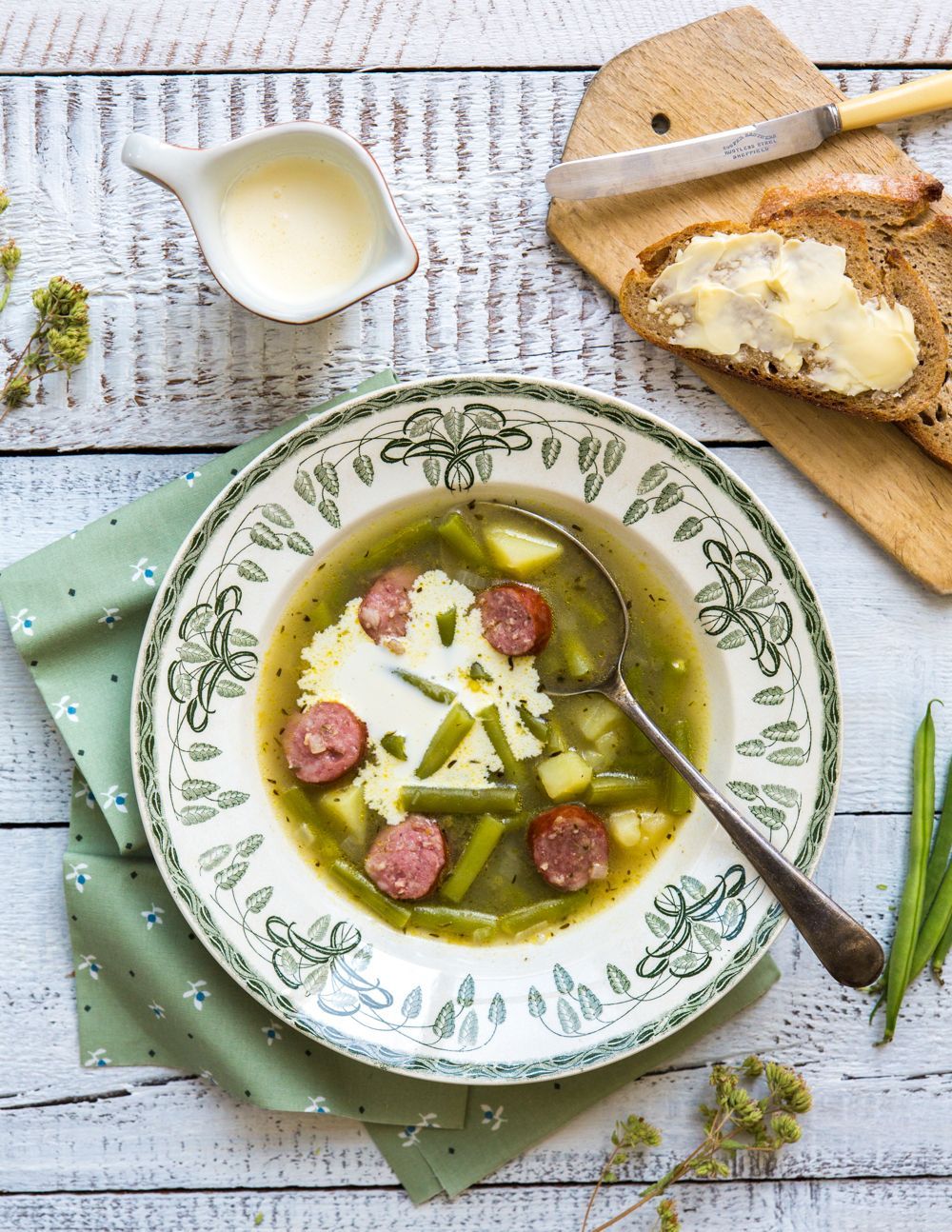 Bouneschlupp (also spelled Bounenschlupp or Bounschlupp) is a traditional Luxembourgish food made with green beans, potatoes, smoked bacon, and onions. It is a rich and flavorful soup that is often served with another national dish – gromperekichelchen (potato pancakes).
If you want to try Bouneschlupp, consider visiting Am Tiirmschen in Luxembourg City. It is a restaurant with a beautiful view of the city that serves a traditional soup made with green beans and smoked sausage. The price of this gastronomical experience is just 12 euros.
F'rell am Rèisleck, Trout in Riesling sauce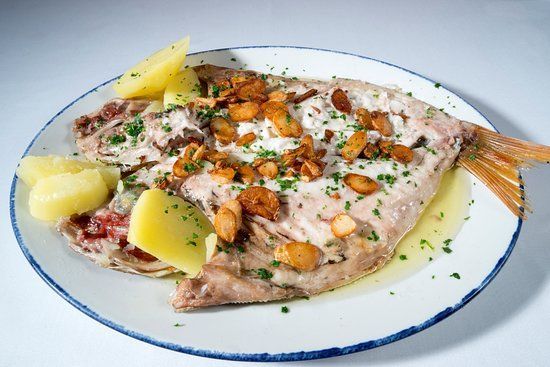 F'rell am Rèisleck is a Luxembourgish dish made with trout, Riesling wine, cream, and herbs. It is a delicate and flavorful dish that is often served as a main course.
De Feierwon in Kirchberg has an unusual twist on Luxembourgish recipes and offers f'rell am rèisleck in a modern way. All ingredients are organic and locally produced. The price of f'rell am rèisleck there is 26 euros.
Kuddelfleck, Tripe with Mustard Sauce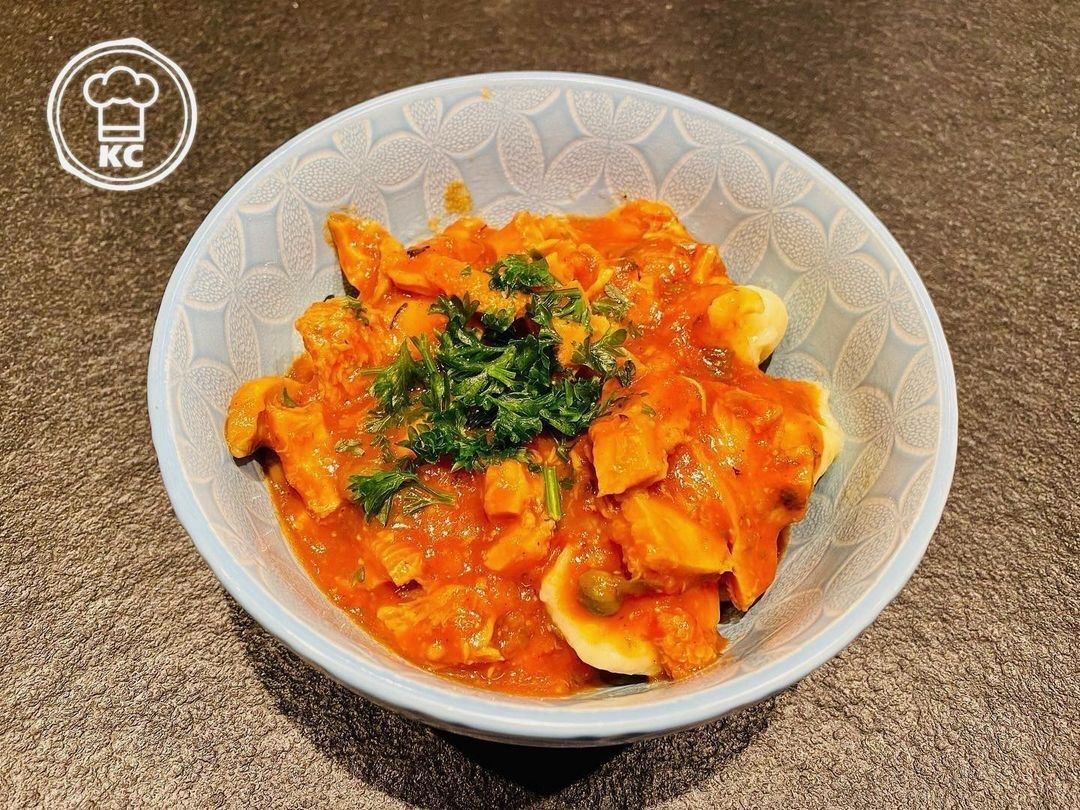 Kuddelfleck is a traditional Luxembourgish meal made with tripe coated in breadcrumbs, fried, then served with one of two sauces: white wine sauce or spicy tomato sauce. The sauce is typically flavored with thyme, bay leaves, and nutmeg.
For the traditional taste of kuddelfleck, head to Mont Chalet Bistro located in Dudelange. It is a traditional bistro that serves a variety of classic dishes, as well as some more modern options. They also have a wide selection of beers on tap, as well as wines and cocktails. The price of a delicious kuddelfleck in mustard sauce is 9,8 euros.
Bouchée à la Reine, Queen's Morsel or Filled Puff Pastry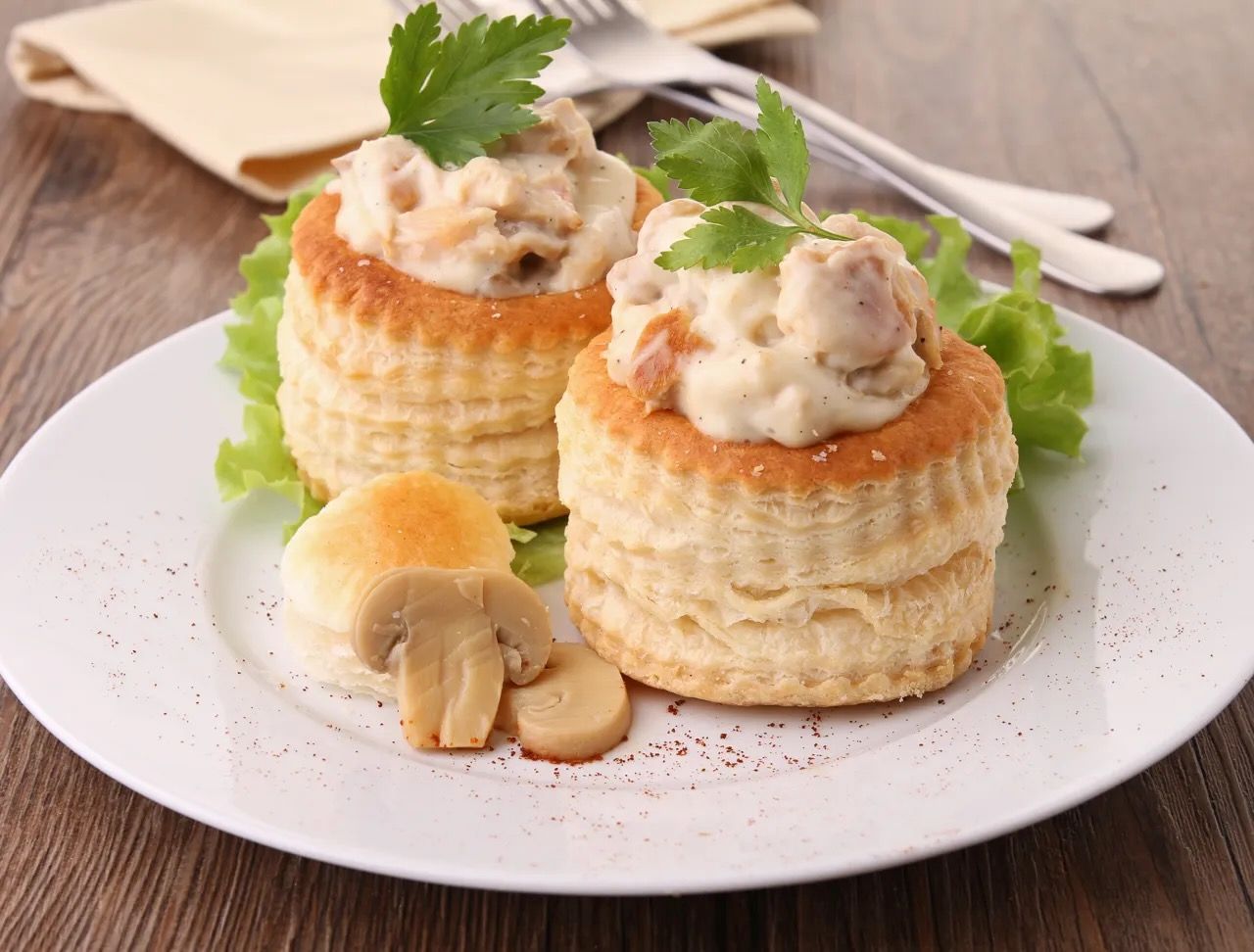 Queen's Morsel, also known as bouchée à la Reine, is a traditional dish in Luxembourg. It is a buttery vol-au-vent puff pastry filled with chicken and mushrooms mixed together in a creamy or béchamel sauce.
If you want to try Bouchée à la Reine, we recommend Brasserie du Cercle, a restaurant located in the heart of Luxembourg City. The restaurant serves a variety of popular Luxembourgish dishes, as well as some Italian and French options. Bouchée à la Reine is made there from scratch and comes with French fries and a salad for the price of 23,5 euros.
Traditional pastries and desserts to try in Luxembourg
Besides main dishes, that can fill and warm you up, there are plenty of baked goods. There is always a place for dessert, and Luxembourgish people know that. In this small country, the locals truly appreciate the importance of indulging in a delightful dessert.
Want to enjoy desserts and the wonders of Luxembourgish cuisine with your friends? Read our special article about perfect spots to do so – Sunday brunch and lunch places in Luxembourg.
Verwurelter, donuts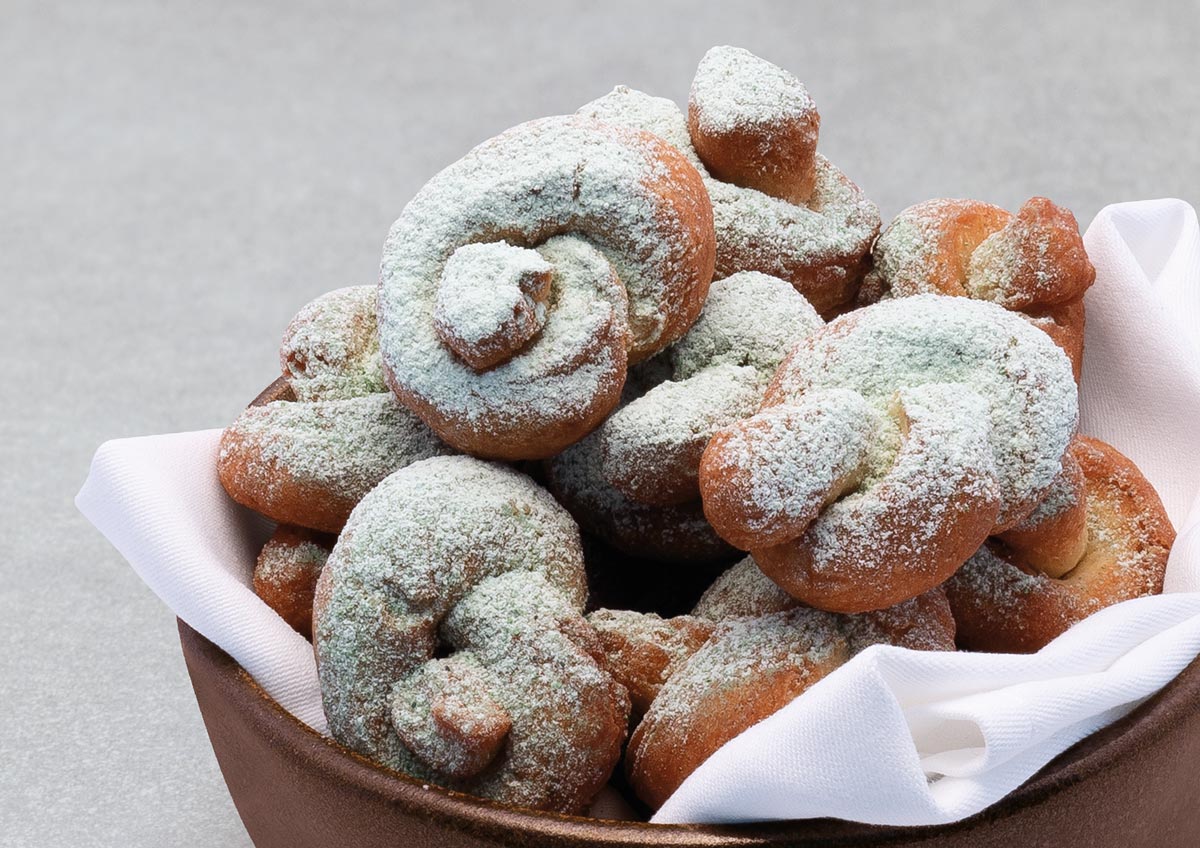 Traditional Luxembourgish donuts are called verwurelter. They are made with a simple dough of flour, butter, yeast, milk, sugar, eggs, and salt. The dough is shaped into knots and then deep-fried. They are typically dusted with powdered sugar and served warm.
Verwurelter is traditional carnival food in Luxembourg. They are typically eaten during the Fuesent, the annual celebration in February. Learn more about national holidays in the Grand Duchy in our special article – Luxembourg holidays: bank holidays and traditions.
But if you don't want to wait for Feusent, you can check out Boulangerie-Pâtisserie Jos&Jean-Marie. They have 17 stores throughout the country, and they are known for their high-quality, traditional baked goods.
Mummentaart, Apple pie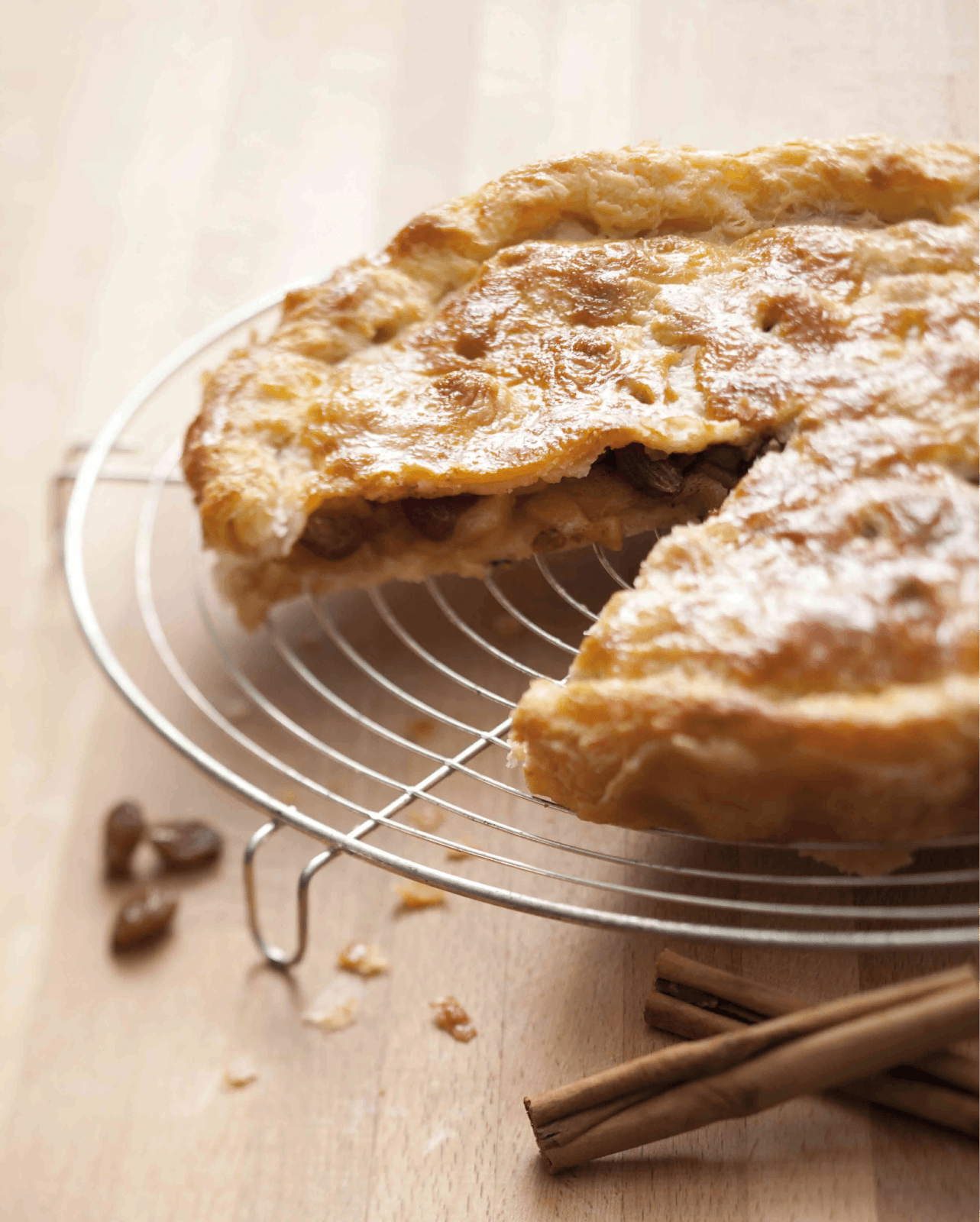 Another popular Luxembourgish dessert is Mummentaart which is made with a sweet pastry crust and a filling of apples, raisins, and cinnamon. It is often glazed with egg yolks before baking which gives it a shiny finish.
If you want to try mummentaart in Luxembourg, head to Confiserie Namur, a traditional Luxembourgish bakery that has been around for over 100 years. They make their apple pie with fresh, seasonal apples and a flaky pastry crust. The price range from 15 to 19 euros depending on the size of the pie.
Wäffelcher, waffles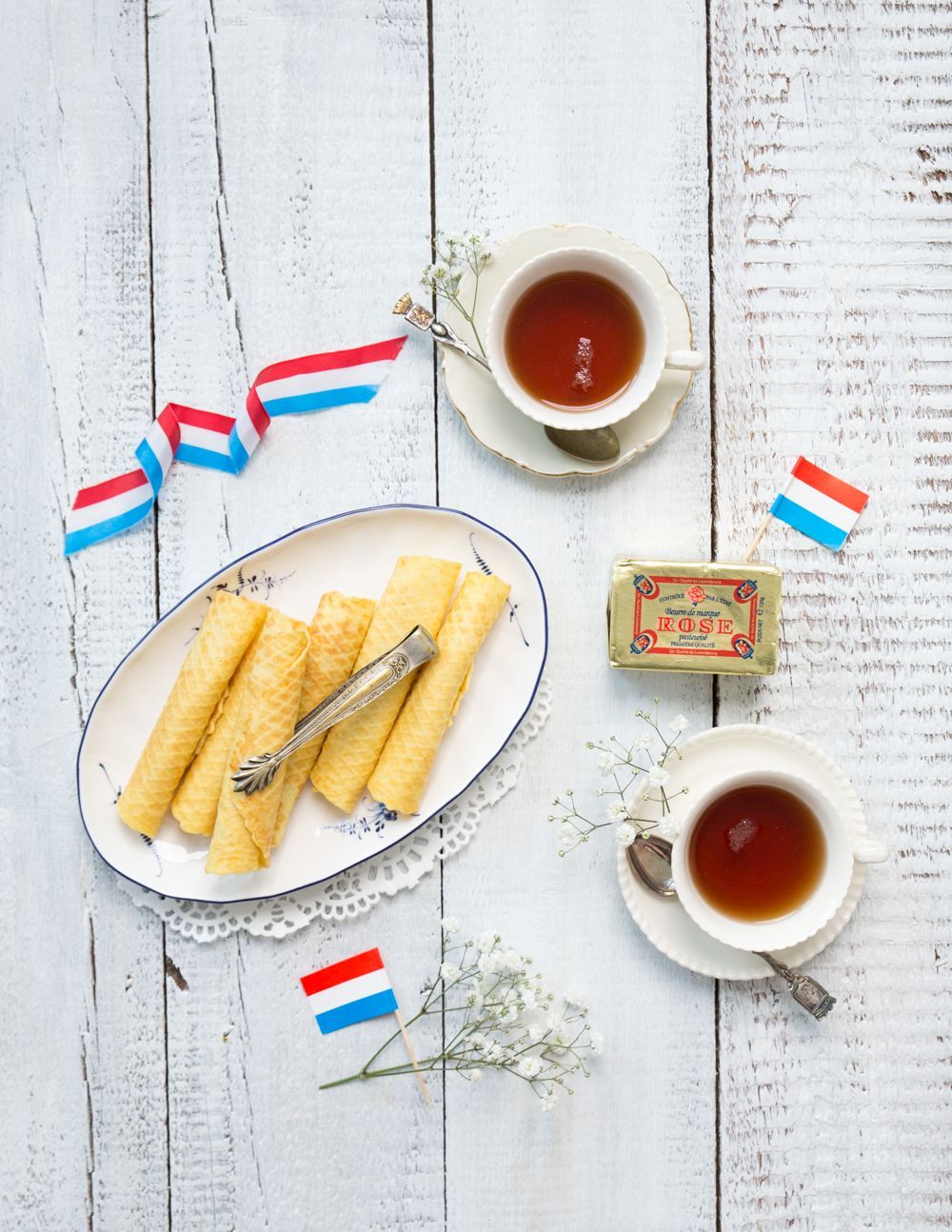 The last dessert we want to recommend is wäffelcher, a traditional Luxembourgish foodthat is made with a thin, crispy batter. These waffles are typically served with powdered sugar or a sweet sauce, such as chocolate or caramel sauce. Wäffelcher can also be filled with whipped cream, ice cream, or fruit.
For homemade, mouth-watering, and delicious wäffelcher, we recommend taking a road trip to Berdorf. There you can find Berdorfer Eck, a boutique slash restaurant slash bed-and-breakfast located in a middle of a beautiful forest.
Traditional beverages: Luxembourgish local wines
To complement the exquisite flavors of Luxembourg's national cuisine, it is essential to explore the country's notable beverages. Luxembourg offers a wonderful variety of drinks that represent the rich culture of this country.
In winter it is common to drink warming Glühwein or mulled wine, while in summer a real Luxembourger will almost never say no to a cold glass of local sparkling wine or beer.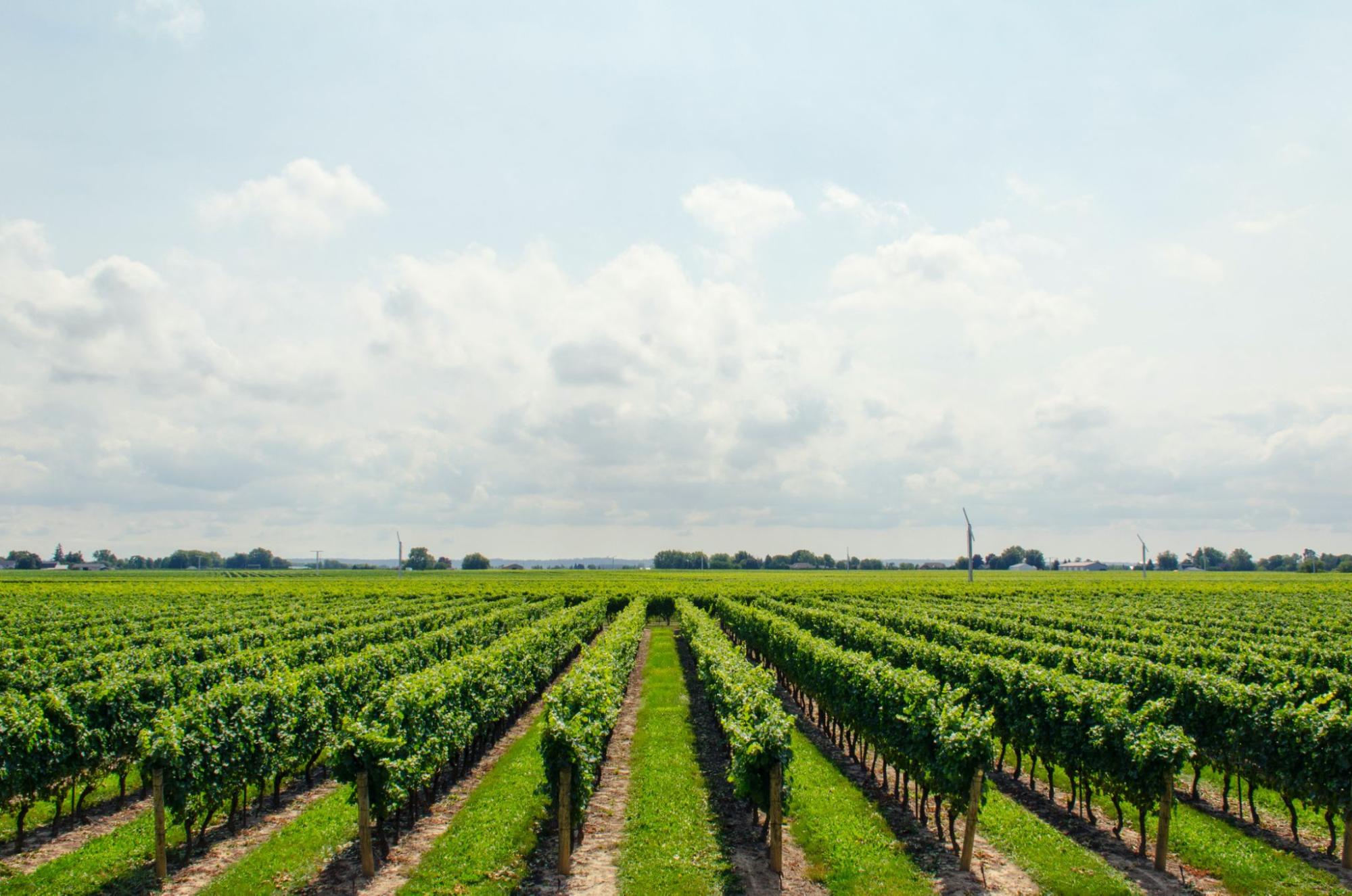 Luxembourg has a thriving wine culture, producing exceptional white and sparkling wines. Crisp Rieslings, aromatic Gewürztraminers, and elegant Crémants are among the favorites.
The Moselle wine region, located along the scenic Moselle River, offers breathtaking vineyards and wine-tasting experiences. Don't miss the opportunity to sample some of Luxembourg's locally brewed beers, such as Bofferding or Battin
The most common varieties of grapes that are grown in Luxembourg for the production of wine are:
Riesling
Pinot
Auxerrois
Gewürztraminer
Rivaner
Elbling
From intimate and cozy wine bars to elegant stores stocked with a curated selection, Luxembourg's wine establishments are characterized by a commitment to quality and a celebration of diversity. Here are a few places for you to visit, whether you seek an intimate evening with a glass of exquisite local wine or a curated collection to elevate your personal cellar.
Caves St Martin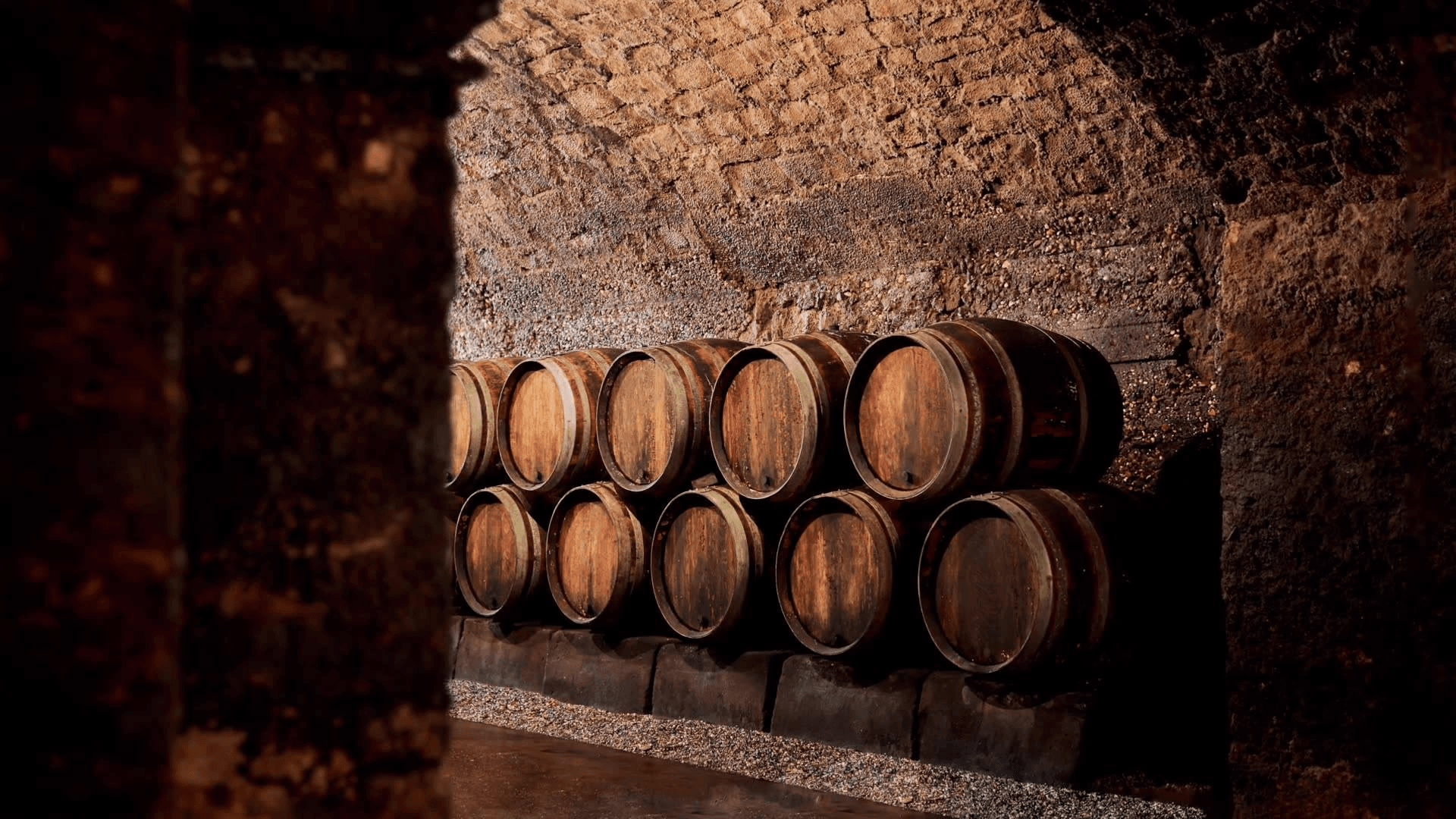 Caves St Martin is a winery located in the Moselle Valley. It is one of the oldest and most respected wineries in the country and has been producing wine since 1872.
They produce a wide variety of white wines, including Riesling, Pinot Gris, and Gewürztraminer.
The wines from Caves St Martin are made using traditional methods, and the winery is committed to sustainable viticulture. The winery's vineyards are located in the Moselle Valley, which is a UNESCO World Heritage Site. The soils in the Moselle Valley are ideal for growing Riesling, and the climate is cool and temperate.
A bottle of classic Riesling or Pinot Noir will cost you around 10 euros. Find out more about their products and guided tours on the website.
Dipso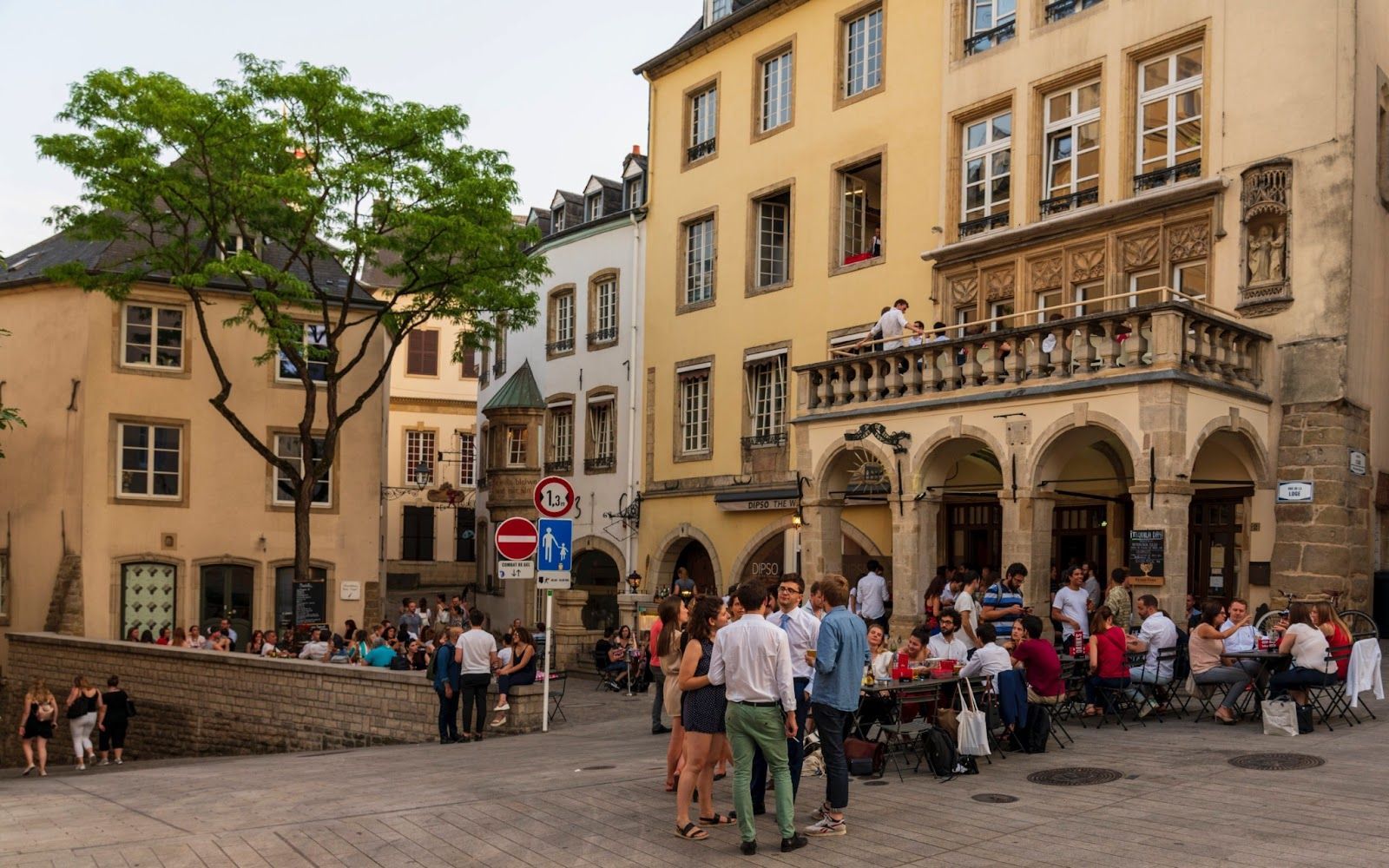 Dipso is a wine bar located in the heart of Luxembourg City. It is a popular spot for both locals and tourists and is known for its extensive wine list and delicious food. The wine list at Dipso features over 300 wines from around the world, with a focus on wines from Luxembourg and the surrounding region.
The price of delightful wine in this bar ranges between 6 to 16 euros for a glass.
Vins Fins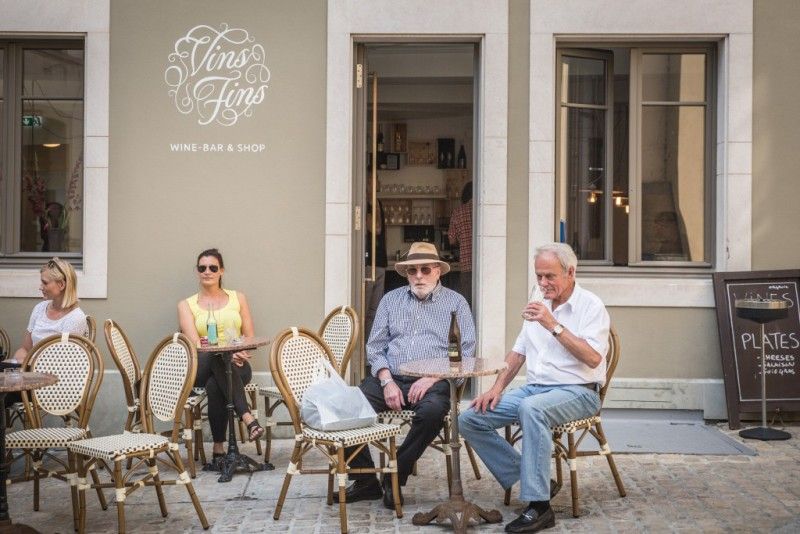 Vins Fins is a wine bar and restaurant located in the Grund district of Luxembourg City. They specialize in natural, organic, and biodynamic wines from around the world.
The wine list at Vins Fins features over 200 wines, with a focus on small-production wines from lesser-known regions.
The staff is knowledgeable and passionate about wine and can help you choose the perfect wine to pair with your meal. All wines from red to white cost around 7 to 12 euros per glass.
The food menu at Vins Fins features a variety of small plates and charcuterie, as well as a few larger dishes. The dishes are all made with fresh, seasonal ingredients, and are designed to be paired with wine.
How to cook Luxembourgish traditional food at home
Going to fancy restaurants and cafes is great, but what can be better than a home-cooked meal? In this section, we want to share with you our favorite Luxembourgish cuisine recipes. The recipes we selected are relatively easy and by following them you will be able to prepare an amazing three-course meal. So grab your aprons and prepare for a gastronomical adventure.

Frequently Asked Questions (FAQ)
What is the most famous dish in Luxembourg
The most famous dish in Luxembourg is Judd mat Gaardebounen, also known as a smoked pork collar with broad beans. It is a hearty and flavorful dish that is typically served with potatoes.
There are also other popular dishes, for example, bouneschlupp, gromperekichelcher and f'rell am Rèisleck.
Where to try real Luxembourgish cuisine in Luxembourg
Sources: wanderlog.com, www.luxtimes.lu, anneskitchen.lu
We took photos from these sources: Adobe Stock Anne's Kitchen Tripadvisor De Kicheclub Marmiton Kachen Reisen Anne's Kitchen Math, Pexels Caves St.Martin Facebook page LMIH Luxembourg Art Week
Copy link