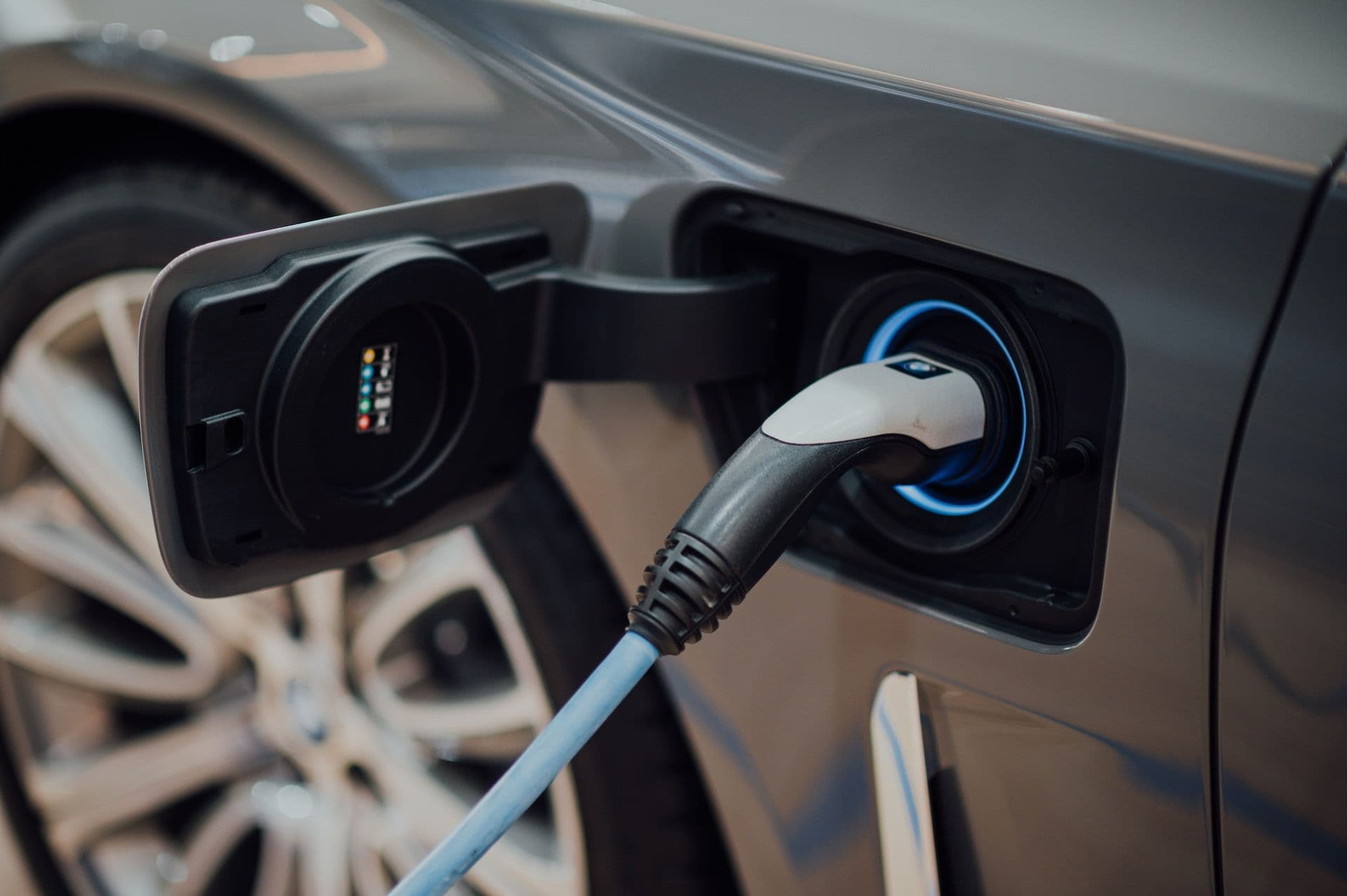 Electric car charging stations in Luxembourg
In this article, we will provide you with a comprehensive guide on where and how to charge your electric car in Luxembourg. We will explore the different types of charging stations available, including their locations and the charging networks in the country.
Luxembourg is one of the leading countries in Europe in terms of promoting sustainable transportation.
The government has made a significant effort to encourage the use of electric and hybrid vehicles, which has increased the number of charging stations across the country.
Chargy charging stations in Luxembourg
A national project called «e-mobilité» is aimed at promoting electric mobility and encouraging residents and businesses in the Grand Duchy to switch to electric vehicles. As part of this project, Luxembourg created Chargy in 2017 – a public charging station network for electric and plug-in hybrid vehicles.
The Chargy network in Luxembourg has two types of charging stations:
Chargy stations
These charging stations have two charging points, which can be adjusted between 3.7 kW and 22 kW, depending on the type of vehicle. Normally, the charging time for an electric vehicle at a 22 kW charging station ranges between 1 hour and 4 hours, depending on the car model and the battery's condition. This means you should plan your trips accordingly, especially for longer journeys.
SuperChargy stations
To address this time-consuming problem, the Chargy network has recently introduced a new type of charging station – the SuperChargy. These ultra-rapid charging stations can deliver between 160 and 300 kW of power, allowing electric vehicle drivers to charge from 20% to 80% of the battery in just 15 to 45 minutes. Since the summer of 2022, SuperChargy stations have been installed along Luxembourg's main highways to add a total of 88 of these stations to the existing Chargy network throughout the country.
Although the SuperChargy stations offer faster charging times, it is recommended not to overuse them as they can lead to battery wear and tear.
How to find Chargy charging stations
The Chargy network currently offers over 700 public charging stations for electric and plug-in hybrid vehicle users in Luxembourg. However, they are expanding very fast in the country and already planning to reach 800 charging spots in the Grand Duchy: half of them will be located in public parking lots in the municipalities, and the other half – in park-and-ride lots, providing easy access to public transportation.
Around 100 Chargy charging stations are located in the capital city. The charging station locations have been carefully selected to ensure maximum coverage throughout the different neighborhoods of the city.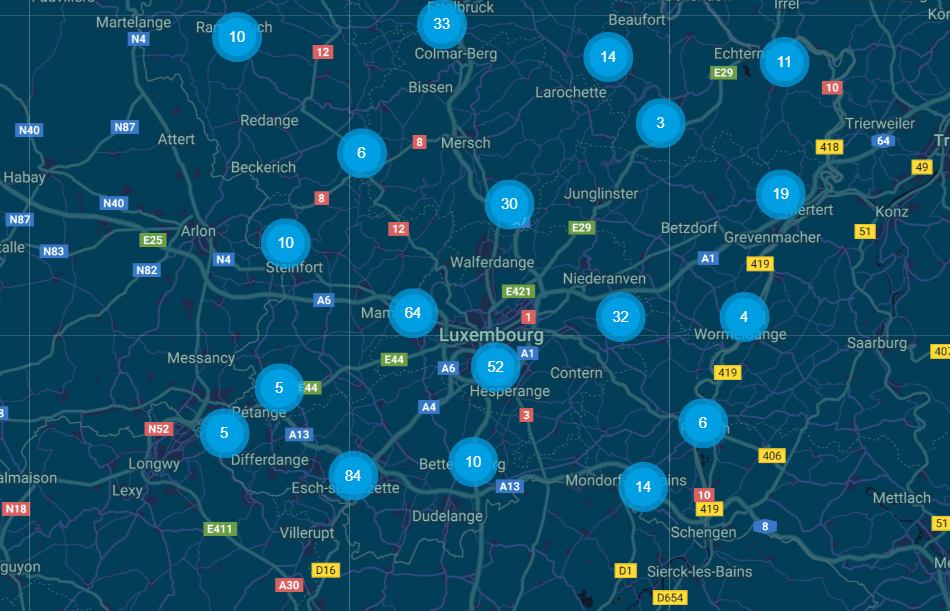 How much does it cost to charge a car with Chargy
This network offers several options for users to pay for their charging. The most common way to pay are:
a badge provided by one of the many partners, such as Blue Corner, Electromaps, or NewMotion.
To obtain a card, you need to sign a contract with the provider, who will issue a unique identification card so you can pay for charging sessions. But it is not necessary, as drivers can also pay with their credit or debit card directly at the charging station.
The price for using the station will be displayed on the screen, making it easy for users to calculate their expenses. It is worth noting that the prices for using the Chargy network can vary depending on the service provider and the type of charging station used. Some providers offer special rates or discounts for their customers, so it may be worth researching all the available options to find the best deal for your needs.
Some charging points are only available to the holders of special cards: mKaart and Enodrive Zen. These cards have different coverage areas. You can check the availability via mobiliteit.lu (mKaart), enodrive.lu (Enodrive Zen), chargy.lu (regular points), and superchargy.lu (fast charging points).
The cost of a full charge will depend on the car and the type of battery. Since January 1, 2022, the kWh rates at the Chargy and SuperChargy terminals are 0,345 euro/kWh and 0,485 euro/kWh respectively. Costs can vary from 15 to 35 euros for a full charge of the electric car in a standard station and from 25 euros to 50 euros for a full charge in a SuperChargy station.
Tesla charging stations in Luxembourg
Elon Musk's Tesla has the largest network of fast-charging stations in the world, with over 45,000 Superchargers available to the drivers. These stations are strategically located on major roadways, making it convenient for Tesla owners to recharge their vehicles when traveling away from home. The Superchargers can charge a vehicle's battery up to 50% in just 20 minutes and quickly get back on the road.
Non-Tesla electric vehicle owners can also use Tesla's Superchargers. To do so, you need to download the Tesla app and pay for the charging session through the app.
How to find Tesla charging stations
In Luxembourg, there is currently only one Tesla Supercharger station located in Mënsbech, but another one is set to open in Luxembourg City in the third quarter of 2023. You can check all the actual and planned Tesla Supercharger stations worldwide in the interactive Tesla charging station map.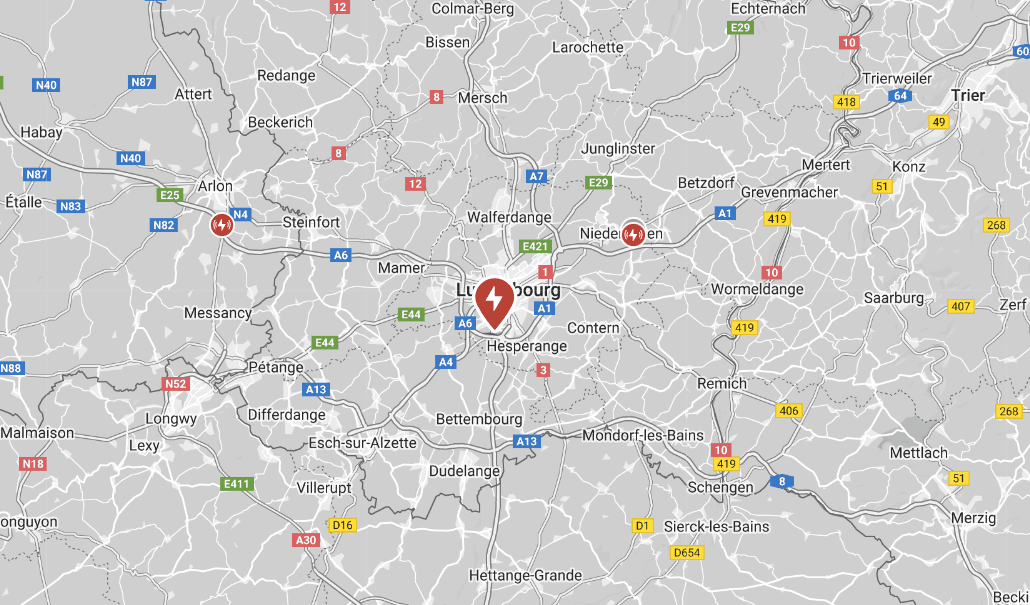 The Superchargers for Tesla are also available at approximately 152 locations across France: the closest one is in Maizieres-les-Metz. It is also possible to charge in Belgium close to the border, as the supercharger for Tesla is located in Arlon.
How much does it cost to charge with Tesla chargers
The cost of charging a Tesla with a Supercharger is dependent on the fluctuations of the kWh price, with the current cost being 0.62 euros, and a discounted rate of 0.53 euros for off-peak hours. To recharge a Tesla for a distance of 100 km, the cost may range from 8 to 12 euros, while for 200 km, it may cost around 14 euros, which is significantly less expensive than an equivalent gasoline vehicle, which can cost up to 26 euros.
However, non-Tesla owners will have to pay a higher price per kWh (0,57 euros) than Tesla owners (0.43 euros), but they can choose to pay a monthly subscription fee to have the same price as Tesla owners.
Charging an electric car at home in Luxembourg
Charging your electric vehicle at home is a convenient and cost-effective way to ensure your vehicle is always ready to go. With the right equipment, you can easily charge your car overnight or during the day, without having to worry about finding a charging station on the road. Almost like a phone.
Most electric cars theoretically can be charged from a simple household outlet. However, this option requires a very long charging time. Because of the low charging capability (about 3 kW), the waiting time can take up to 11 or 20 hours, and it may not be suitable for regular or long-distance use.
Charging an electric car from a domestic socket is a safety risk for the electrical installation, as household sockets are not designed to provide a power of 3 kW for several hours.
To ensure the safe and efficient charging of an electric car at home, it is recommended to have a dedicated charging station installed.
Charging an electric car with a home charging station
These stations are designed to provide faster and more reliable charging, and they can be installed at home or in a commercial location. Car manufacturers typically advise using a wall-mounted charging station with a charging capacity of up to 22 kW for enhanced convenience and safety. However, most charging stations meant for residential use are limited to 11 kW. Nevertheless, opting for a wall-mounted charger can significantly decrease the time it takes to charge your electric vehicle at home.
The installation of a charging station
The cost and installation process of a charging point may vary depending on whether you reside in a house or an apartment. Once you have decided to install an electric car charging station at home, it is important to choose the most appropriate type of station.
It is important to consider several aspects, such as whether the station will be installed indoors or outdoors, whether it should have single or multiple charging points, the required power output, and whether you want access control or the ability to track your charging data and associated costs.
If you live in a house
Installing an electric charging station can be a straightforward process. An installer will come and mount the charging station on the interior or exterior wall of your garage and connect it to your electrical meter. Once installed, you can charge your electric vehicle, and the bills will be paid according to your utility bills contract. Be sure to inform your electricity supplier and check if you can benefit from a more advantageous subscription for your usage.
If you live in an apartment
Your car is likely parked in a communal parking area with the other vehicles. In this case, you'll need to obtain the approval of the co-ownership syndicate to proceed with the installation. You'll also need to ensure that the charging station can be linked to your electrical meter for accurate billing. Finally, you'll need to hire a professional installer to mount the charging station and pay for the installation costs, which may be higher than for a house due to the need for additional cables.
You should make your research to find the best charging station options for your case, you can ask the installer to give you more information. In Luxembourg, the mydiego.lu initiative offers all-inclusive packages for installing a charging station in your home, whether it is a single-family house or a multi-family residence.
How much does it cost to charge an electric car at home
Installing a charging point at home can be considered an investment: the complete installation will cost between 1700 euros and 2800 euros when carried out by a professional. This may seem like an unreasonable waste of money, but the asset is quickly amortized. You will recoup the cost of using public terminals in as little as one year.
In addition, the government is offering a reduction in the electricity tariff of 0.35 euros per kWh for the entire of 2023, and owners of vehicle charging stations can take advantage of it. And the best part is that measure applies automatically when subscribing to an electric supplier for your home, no action is required.
At the end of the day, charging an electric car at home is cost-effective. Despite recent increases in electricity prices, the cost of charging an electric vehicle is still significantly cheaper than a full tank of fuel. For a full charge of your electric car at home, you will pay between 5 and 10 euros, depending on the number of kilowatts per hour (kWh) consumed.
Charging electric vehicles in parking lots
This one can be a convenient option for those who need to charge their cars while running errands or traveling. In Luxembourg, many public and private parking lots are equipped with charging stations, making it easy to find a place to charge.
When parking in a lot with charging stations, be sure to check if the spot is available for charging and if any payment is required. Some parking lots may offer free charging as an incentive for parking costs, while others may charge a fee for the use of the charging station.
Payment is usually made on-site, either at a payment kiosk or directly with parking staff. It's important to note that charging times may vary depending on the type of charging station available, and some parking lots may have limited charging capacity.
Many companies install charging facilities in corporate parking lots. Perhaps your company is one of them and you can also charge your car in the corporate parking lot.

Frequently Asked Questions (FAQ)
What types of charging stations are available in Luxembourg
There are various types of electric vehicle charging stations available, ranging from slow charging to fast charging. The most common type is a level 2 charging station, which uses a 240-volt power source, delivers between 3.7 kW and 22 kW, and can fully charge an electric vehicle in a few hours.
Fast charging stations, also known as level 3 charging stations, can charge a vehicle up to 80% in as little as 30 minutes, but they require a high-power direct current source and deliver between 160 and 300 kW of power. Slow charging stations are less common, but they are still useful for topping up your vehicle's battery during extended parking periods. It's important to note that not all electric vehicles can use fast charging stations, so it's essential to check your vehicle's specifications before using one.
How much does it cost to charge an electric car in Luxembourg
The cost of charging an electric car in Luxembourg depends on several factors, such as the type of vehicle, the type of battery, the type of charging station, the location, and the electricity provider. Typically, charging at public charging stations incurs a fee based on the amount of energy consumed, which can vary depending on the provider and the location.
To have an idea you can take the kWh rates at the public Chargy and SuperChargy terminals which are 0.345 euro/kWh and 0.485 euro/kWh respectively, this leads to an approximative range cost for a full charge between 15 to 35 euros with the standard stations and 25 euros to 50 euros with SuperChargy stations. Charging at home is generally cheaper, with prices ranging between 5 to 10 euros for a full charge, depending on the kWh rate agreed with the electricity provider.
Can I charge my electric vehicle at home in Luxembourg
Yes, it is possible to charge your electric vehicle at home in Luxembourg.
If you live in a house, an installer can come and install a charging station on the inner or outer wall of your garage and connect it to your electricity meter.If you live in an apartment, you will need to obtain approval from the co-ownership syndicate to install a charging station in the shared parking lot, and then arrange for a professional installer to connect it to your electricity meter.
The cost of installation may be higher in an apartment building due to the need for more cables and intervention time. However, once the charging station is installed, you will be able to charge your vehicle at home and be charged based on your electricity contract's pricing.
Where can I find public charging stations in Luxembourg
Public charging stations are widely available in Luxembourg and can be found at various locations such as public parking lots, shopping centers, and tourist attractions. You can easily locate them through the interactive maps of
Chargy
or
PlugShare
, which provide real-time information about the location, availability, and charging rates of the stations.
Copy link