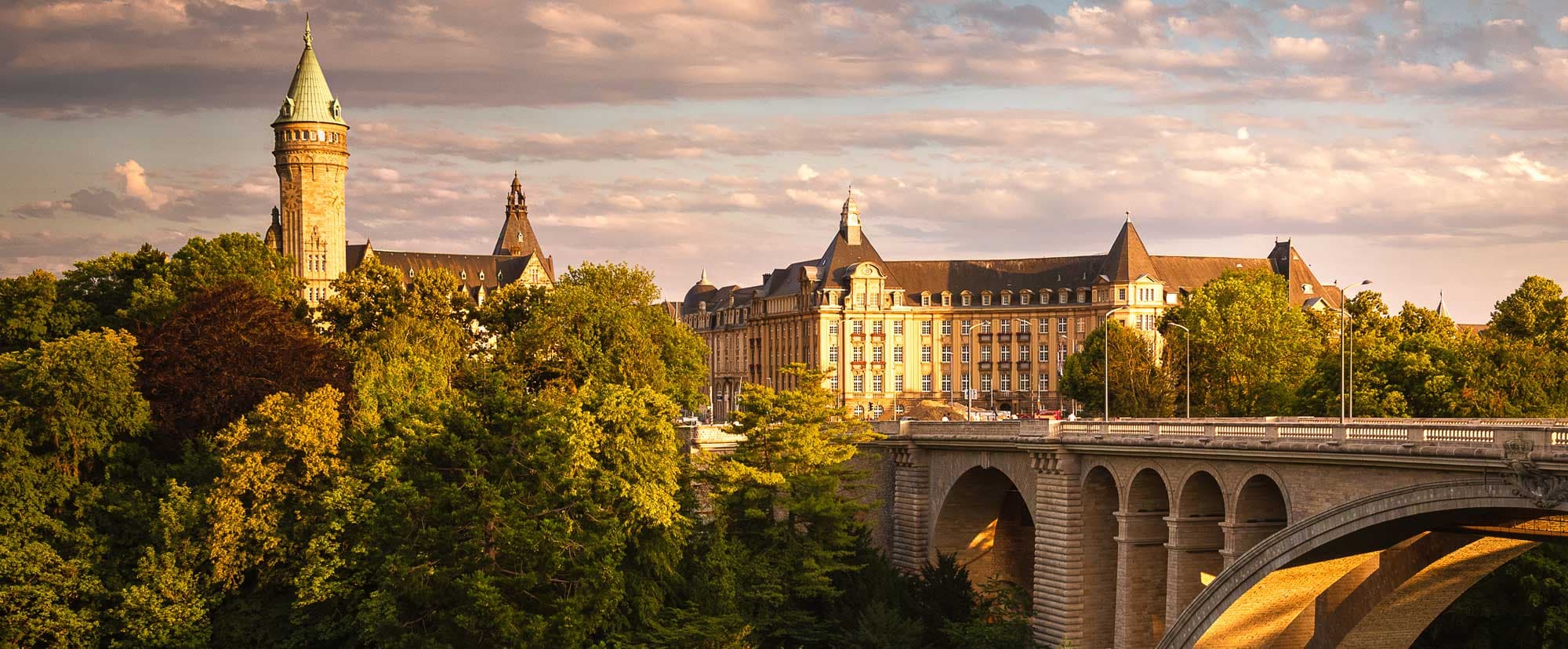 Mersh commune in Luxembourg: nature and the city
Mersch is a commune situated in the heart of the country, the administrative center of the canton bearing the same name. It is a rare inland canton that has no borders with other countries — only with neighboring cantons.
The capital of the commune is likewise called Mersch. This town is built at the confluence of the Alzette, Mamer and Eisch rivers and is located 15 kilometers (9 miles) north of Luxembourg City.
The infrastructure of the Mersch commune in Luxembourg
Mersch commune can be described as a tourist region. There are many places of interest here, mostly old European castles:
Schoenfels Castle
Guttland Trails
Mersch Castle
Church of Mersch
Pettingen Castle
Luxembourg's National Literature Centre. There are more than 40,000 books by Luxembourg authors as well as a reading room. Events and exhibitions are hosted here.
Just over ten thousand people live in the commune. About a third of them live in the town of Mersch.
In Mersch, there are fewer foreigners than the national average. Almost half of Luxembourg's residents are migrants, and in Mersch they account for less than 40%. But there is a large Portuguese community living here: about 15% of the commune's population, while the national average is around 7%.
Mersch is a good place for business people who do not want to live in a concrete jungle. There are many green areas and at the same time, Luxembourg City and its business district Kirchberg are close by.
Schools in Mersch
🖊️ Lycée Ermesinde is an autonomous full-day school. Each student has a personal mentor who guides them through their education. The school helps children ages 12 to 16 figure out what they are interested in learning and uncovers its students' talents.
🖥️ Technical College For Professions in Education and Social Work employs curriculum-bound work practices and a diverse range of extracurricular activities. Students have access to the Sigefroid Lycée Ermesinde boarding school on the Mersch campus.
📚 Mersch International School Anne Beffort — is a state school that educates children of different national, cultural, and social backgrounds. This school provides a multilingual and pluricultural education. Teachers try to develop a sense of individual and general well-being and love of the environment.
Transport
The easiest way to get from Luxembourg City to Mersch is by train. It takes only 20 minutes and runs 24 hours a day. The intervals depend on the time of day. During the day, trains leave every 10-30 minutes, but at night the break can be as long as an hour or two. Trains leave from the Pfaffenthal-Kirchberg station and arrive at the Mersch station.
Alternatively, you can take bus number 111. It takes half an hour, departs from Badanstalt, and arrives at the Mersch bus station. Unfortunately, the bus doesn't run from 10:40 p.m. to 7:40 a.m., so you still have to wait for a train or take a cab at night.
Like many other places in Luxembourg, Mersch is excellent for cycling. There are many bicycle paths, such as the safe and pleasant routes in Camping Krounebierg. There are also more than ten cycling routes through Mersch that might interest you.
Shopping malls in Mersch
In Mersch you can find literally everything: there are shopping centers, supermarkets, veterinary clinics, children's clothing stores, a fishing store, a bicycle store, pharmacies and flower shops.
Topaze
Topaze is located on the outskirts of Mersch, on the highway between Bissen and Mersch. Topaze has 2 floors and 45 stores, including children's and adult clothing stores, shoe stores, a handbag outlet, a nail salon, a hair salon, an ice cream parlor and a pizzeria.
There are also 700+ free parking spaces. Some of them accommodate not only standard-sized cars but also minivans. It's best to go shopping in the morning — it can get crowded after 2 p.m.
The mall is also great for shopping with kids, even the youngest ones: the building is equipped with everything needed for comfortable swaddling and feeding. There are also parking spaces "for moms".
Grand Frais Mersch
A supermarket with a large selection of fresh fruits and vegetables, including exotic and hard-to-find ones such as plantains, okra, soursop, cranberries, squash blossoms and others. The fish and meat counters are impressive, and the large cheese counter offers excellent cheese plates from various countries.
Grand Frais is a favorite brand of the French, and Marie Blachere Bakery offers fragrant, fresh pastries.
Mersch leisure and attractions: camping, water center, hiking trails
The commune, surrounded with nature and pleasant views, attract a lot of people, who want to connect with slightly rural life. Here you will enjoy some of the best camping and hiking spots, as well as human-made activity places.
Centre Aquatique Krounebierg
In the Centre Aquatique Krounebierg, you can relax or take a swim alone or with your family. The Krounebierg has a large pool: 25 x 12.5 m. The depth under the diving platform is 3.8 m. Next to the pool is a jacuzzi, a massage bench and a solarium. In summer the lawn and sun loungers are open for visitors.
Krounebierg is equipped to be convenient for people with disabilities. There are parking spaces at the entrance, an adapted swimming pool, changing rooms and showers.
The wellness center is located on the first floor and is equipped with its own locker rooms. You can visit 4 types of sauna:
a rose-scented bio-sauna with light therapy at 70°;
a large sauna with an hourly aroma infusion at the temperature of 90°;
another sauna with a temperature of 90° and a herbal aroma;
a 110° sauna, hot and very dry.
Camping Krounebierg Mersch
The camping spot is located in the green heart of Luxembourg next to a magnificent forest. Here you will be surrounded by the nature of Mersch while staying connected to an electrical grid.
A camping site in Krounebierg is open from March 26 to October 30. There are 136 camping sites in a 3.5 hectares area. If you travel in a motorhome or like camping, make sure to visit the five-star Camping Krounebierg in Mersch.
Camping Krounebierg provides:
shower with cold and hot water,
electrical connection,
reading and study rooms,
store, bar, and a restaurant with a terrace,
pool,
children's playground,
bicycle paths and mountain bike trails in the forest.
Mersch Park
The 13-hectare Mersch Park is great for walking, jogging and picnicking. There is a terrace next to the lake: hot drinks are served in winter and refreshments in summer. There are many kinds of playgrounds in the park, including a playground made of wooden logs and car tires.
Every two years in July, the Post Luxembourg Balloon Trophy is held in the Mersch Park. It attracts thousands of spectators. The next festival will take place in 2024.
Mersch hiking trails: Noumerleeën
Luxembourg cares for hiking enthusiasts: the country is tangled in a network of trails, popular and hidden from novice hikers' eyes. You can often find a hiking trail from station to station or along a river bank. The trails are equipped with signposts and railings in particularly steep areas.
The trail starts at the Town Hall at Chemin J-A Zinnen, L-7626 Larochette, Luxembourg. And here are some key factors you can expect on the hike:
Distance — 11.12 km
Technical complexity — average
Height gain — 232 m
Max. height — 422 m
Type of route — circular
The circular trail starts at the town hall and ends there as well. On the way, you will see beautiful cliffs with layers of different rocks, traces of coal mining and even the ruins of Alebuerg castle. Then you will go deeper into the Knappbësch forest and find yourself next to the Heisgeskräiz, supposedly the oldest roadside cross in Luxembourg. And after passing the castle, you will emerge back to the town hall.
Mersch loves and cares for nature. Visit the discovery trail at Gousselerbierg, the legendary Mamerleeën caves, the Pëttenerbësch nature reserve, or take your own special trail.
Activities for kids at Fit Kanner Miersch
Fit Kanner Miersch deals with children from 3 to 12 years of age from the Mersch commune and the surrounding area. Fit Kanner Miersch offers age-specific sports programs.
Classes promote improving children's motor skills, enthusiasm for sports, and teamwork. Fit Kanner Miersch has after-school courses, field trips, and sports activities during school vacations: ice skating, skiing, and rock climbing.
Medieval Castle in Mersch
This castle is a part of the Valley of the Seven Castles, located in the center of Mersch at 3, Pl. St Michel, 7556 Mersch, Luxembourg. The castle's history begins in 1232, but the structure you see today was built during the Renaissance period, in the year 1574.
Today the tall building is the town hall and the second building is a museum. You cannot visit the municipal administration, but you can go to the courtyard. On the square in front of the castle stands the symbol of the city — Saint Michel's Tower dated 1707, built in the Baroque style. Saint Michel used to be a parish church, but now the tower serves as a tourist information point.
The annual Pumpkin Festival
Kürbisfrënn Biereng will hold the Kürbisweekend on September 16-17, 2023 in Rue Irbicht, 7590 Beringen, a small town in the commune of Mersch.
There is a night market on Saturday and a national championship of giant pumpkins on Sunday. Edible and decorative pumpkins can be viewed and purchased at the Festival.
Participants present a wide variety of pumpkin foods: pumpkin soup, pumpkin burger, pumpkin eclair, pumpkin pie and cakes. Kürbisfrënn Biereng has also collected many recipes with this vegetable and recorded them in two cookbooks. Both of the books can be purchased for 9 euros.
The traditional Pumpkin Festival is a family event. There will be activities and leisure for children in the playground. Adults can participate with their own exhibition stand, have a barbecue, or learn how to grow giant pumpkins!
Mersch restaurants, bars and cafes
The commune have a vibrant social life. And when it comes to having a party with friends or a family gathering, there will be food and drinks. Let's explore, what's on the menu in the Mersch commune.
☕ Chocolate House
The cafe is located next to Mersch Castle. You can stop here for a cappuccino and breakfast. Chocolate House serves chocolates, cakes, pastries and chocolate bread. The cakes, cupcakes, pralines and bagels are delicious.
🌮 Beim Méchel, a place to eat in Mersh
A restaurant in the town center. Here you can have a great Sunday brunch, lunches with big portions, and homemade tacos. Beim Méchel serves the traditional Luxembourg salad Feierstengszalot with fries, which is a must-try.
🍤 Atypic Restaurant Bar, a place to gather with friends
At Atypic Restaurant Bar you can dine on Mediterranean and Portuguese cuisine. Try Portuguese sandwiches, pork and seafood. The atmosphere is peaceful and the interior is tranquil.
🍷 Café Restaurant Adega Velha , a vegetarian spot
Home-style Portuguese restaurant, great for dinner with a group of friends. They also offer a lot of vegetarian dishes for those with dietary restrictions. Also, Café Restaurant Adega Velha has great meat dishes and excellent wine for you to try.
🍺 Fabrik Bar in Merch, a place with burgers in the commune
Fabrik has the best burgers and pizza in town. Here you can order beer, gin, wine, or coffee and relax after a long day in a pleasantly muted colors interior. If you like burgers, we recommend you ta take a look at other burger places in the country with our guide!
Renting and buying real estate in Mersch
The price of real estate depends on whether it is a house or an apartment and how old the structure is. So, the average price per square meter in an old apartment will be about 5,300 euros against 8,200 euros in a new one.
New houses are even more expensive: about 8,400 euros per square meter. An old house will probably be cheaper, but the difference is not so great: a square meter will cost about 7,300 euros.
It makes sense to buy a home or an apartment in Mersch if you care about living in a green environment-oriented space while staying in close proximity to the capital at the same time. Otherwise, you can find cheaper housing in other areas (Fischbach) or housing at a similar price, but closer to the capital (Steinsel).
In the most inexpensive corners of the country, you may be lucky to find a cheaper place to live, but at best it will cost 1,5 times less. While in Luxembourg City rental prices are about twice as high.
Mersch historical overview
Did you know, that the settlement existed in this area since the days of Roman Gaul. At that time it was called Marisca. The modern name is most likely a modified version of the old one. Marisca was quite densely populated: archaeologists have found many ruins and mosaics here.
People lived here even before the Roman Empire era, but we know very little about them. Concrete evidence of this is an ancient three-meter-high stone pillar from the Neolithic period, called a menhir. It is located in the western part of the commune and is called the Menhir of Beisenerbierg.

Frequently Asked Questions (FAQ)
Which settlements are part of the Mersch commune, except the town of Mersch
Mersch consists of the following villages:
Beringen
Beringerberg
Berschbach
Binzrath
Essingen
Moesdorf
Pettingen
Reckingen
Rollingen
Schönfels
Where can I get my car fixed in Mersch
You can try
Garage Thommes Mersch Sàrl
. Garage helps in emergencies and does not require an appointment. The mechanics work carefully and you can talk to them in English or French.
Sources: bestplacesnthings.com, www.krounebierg.lu, www.campingkrounebierg.lu, www.expatnotes.lu
We took photos from these sources: Topaz Shopping Center facebook.com/topaze.shopping.center Grand Frais Facebook page Swimming pool Krounebierg Facebook page Camping Krounebierg Facebook page Balloon Trophy Facebook page Bogdan for Wililoc fitkannermiersch.lu Wikipedia en.wikipedia.org/wiki/Mersch_Castle kuerbis.lu Wikipedia
Copy link