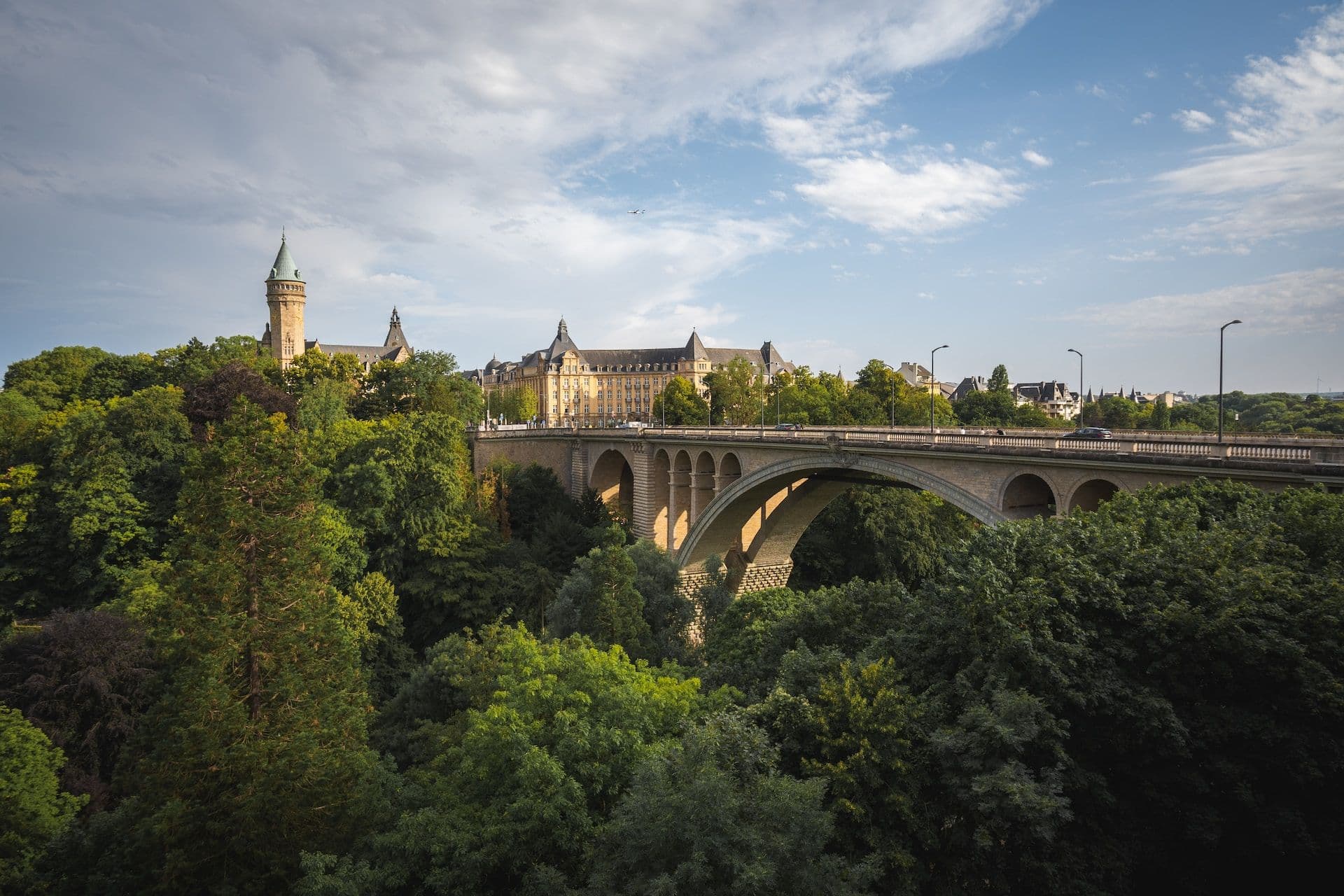 Becoming and working as a nurse in Luxembourg
In this article, we will tell you who can become a nurse in Luxembourg and how to do it: a detailed overview from education to skills.
On average in Europe, the popularity of nursing education is growing along with the demand for nurses. But Luxembourg is one of the exceptions. From 2010 to 2017, the number of nursing graduates fell by almost a third. So the country has a constant need for nurses from abroad.
Life expectancy in the European Union has risen steadily in recent decades. As a result, the demand for medical services is growing: the longer people live, the more they need treatment. The nursing profession is also gaining in popularity as more and more people need professional care. Read on to find out how to become a nurse in Luxembourg.
Who can become a nurse in Luxembourg and how to do it
Luxembourg citizens have free access to public health centers and hospitals, some pharmaceuticals and other patient care services. Most medical facilities are accredited by the National Health Fund (CNS). The CNS is publicly funded and operates under the Ministry of Health authority. The fund provides state health insurance for citizens, is responsible for reimbursing medical expenses, and manages health services in the country.
Nurses often collect and analyze epidemiological data, work in emergency feeding programs, nursing homes, primary health care, epidemics and vaccination centers. There are about 40 different types of nursing jobs around the world, you can choose one for yourself, according to your skills and interests in medicine.
Where to study to become a nurse
Luxembourg has many nursing schools and training courses. Those are attended not only by citizens but also by many students from abroad. It is not hard to find a course to study medicine here, and some students might also count on scholarships and financial support when choosing state education facilities.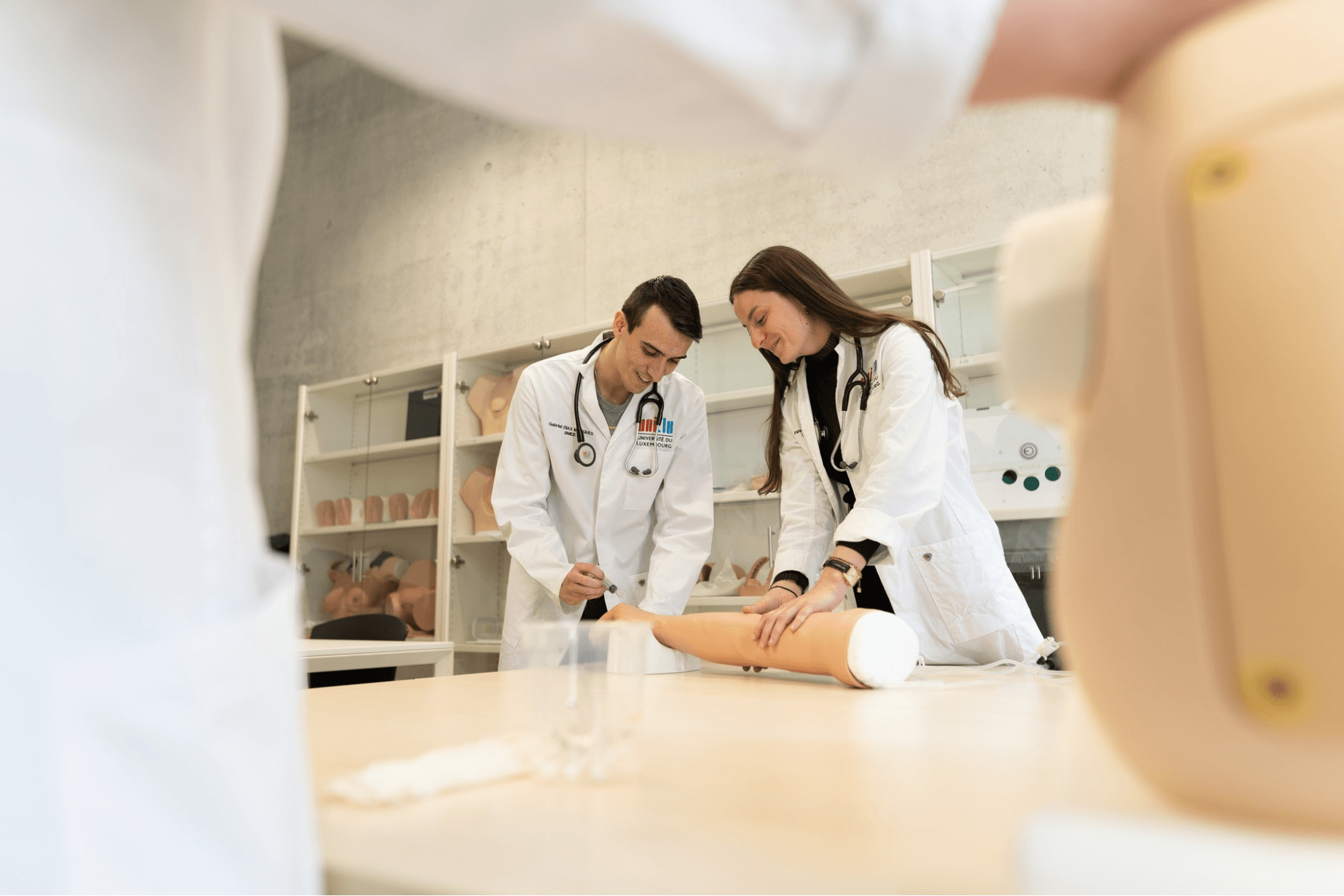 Enrollment in general medicine specialization is usually done through middle and higher education facilities, such as universities. The Nursing Sciences Bachelor's program announced in 2023 by the University of Luxembourg is tailored for individuals who have previously secured a degree in basic nursing and aim to further their expertise.
French serves as the main instructional language, but some modules will be in German and English.

Each academic track accepts up to 15 students annually.

The course consists of 4 semesters, one of them — abroad.
To help strengthen the healthcare system, the government tasked the university with launching a bachelor's degree in medicine in 2020 as well. In 2023, there are 130 first-year students, 32 second-year students and 13 third-year students.
To enroll for a general medicine course, applicants must pass the written test in French and German languages, and several tests in General Medicine. The postgraduate training usually includes the theoretical part (250 hours), and, most importantly, practice for nurses — Hospital practice (6 months or more) and General practice (12 months or more).

Web site

2, Av. de l'Universite, Esch-Belval Esch-sur-Alzette, Luxembourg

(+352) 46 66 441
The main university in the country is the University of Luxembourg.
How to start your medical practice as a nurse
To practice nursing in Luxembourg, you must first and foremost be a citizen of a member state of the European Union, the European Economic Area, including Switzerland, or a third-country national with a valid residence permit and right to stay in the country.
Then, all Luxembourg health professionals must hold a valid license issued by the Ministry of Health. General care nurses or nurses with a Luxembourg diploma may apply directly to the Ministry to obtain a license to practice.
Other nurses or staff who have obtained their diplomas outside Luxembourg must apply for recognition first. In Luxembourg, the general recognition of educational diplomas is handled by the Department for the Recognition of Diplomas.
Medical personnel who have been temporarily or permanently disqualified from practicing medicine in another country are not allowed to practice in Luxembourg.
Once you have received your diploma recognition, you need to submit your application for authorization to practice to the Department for Healthcare Professions of the Ministry of Health.
The application itself is filled in French. It contains 10 pages of questionnaire, where you have to include all the information about yourself and your prior education and experience.
The following documents should be attached to your application:
Copy of the diploma and transcripts (also the recognition documents, if required),

Copy of the identification papers (passport and residence permit for third-country nationals),

Criminal record certificate issued by the country or countries residence (recent original, issued no more than 3 months ago),

Certificate of good mental and physical health (recent original from a licensed physician, issued no more than 3 months ago),

Proof of language skills, if required,

A state fee payment receipt. A fee of 75 euros must be previously paid to the following bank account
Account holder: Administration de l'enregistrement, des domaines et de la TVA
IBAN: LU13 1111 0011 4679
Swift/BIC: CCPLLULL
Communication: AUTOPROFSANTE + applicant's full name
As you have your application and all needed documents filled and ready, you can send them by post or submit online on the state portal Guichet, if you have an account. You will receive the decision by post as well, so keep in mind, that it will be sent to your residential address, as you will have three months to appeal.

Web site

1, Rue Charles Darwin, 1433 Gasperich Luxembourg, Luxembourg

(+352) 24 78 55 00
MON — FRI
8:30–11:30, 13:30–16:30
The Ministry of Health is the main institution in Luxembourg that deals with the qualification of nurses and issues medical licenses.
Healthcare provider code by CNS
Once you are licensed to practice as a nurse, you will have to apply to the CNS for a healthcare provider code. Without this code, you can not practice medicine in Luxembourg, as registration in the system is mandatory.
The good news is you need to do this online. Documents should be sent in PDF format to gefo.cns@secu.lu. Include these documents, the files to be precise, with your application:
An application form (Fiche de renseignements sur l'établissement au Luxembourg),

A copy of your passport,

A copy of the permit to practice issued by the Ministry of Health,

Bank identity statement (RIB).
You can download the application for the healthcare provider code below. It is a brief form in French, mentioning your matricule, personal data and professional and private addresses in Luxembourg.
European Professional Card for nurses coming from Europe
You can apply for recognition as a professional with the European Professional Card system as well, in case you come from Europe. The European Professional Card is issued online in the form of an electronic certificate with a unique number and is used to recognize a nursing professional in another EU member country.
The EPC is available for five regulated professions, including three medical — General practice nurses are on the list. The system is created to facilitate the recognition and provide safety with the alert mechanism on violations across member countries.
To apply for diploma recognition with the EPC, you must:
Complete your EPC profile with personal and contact information.

Create an application for EPC.

Upload scanned copies of documents.

Submit an application to authorities in your home country.
If your education, training or work experience does not meet Luxembourg standards, you will be required to take an aptitude test or complete an internship.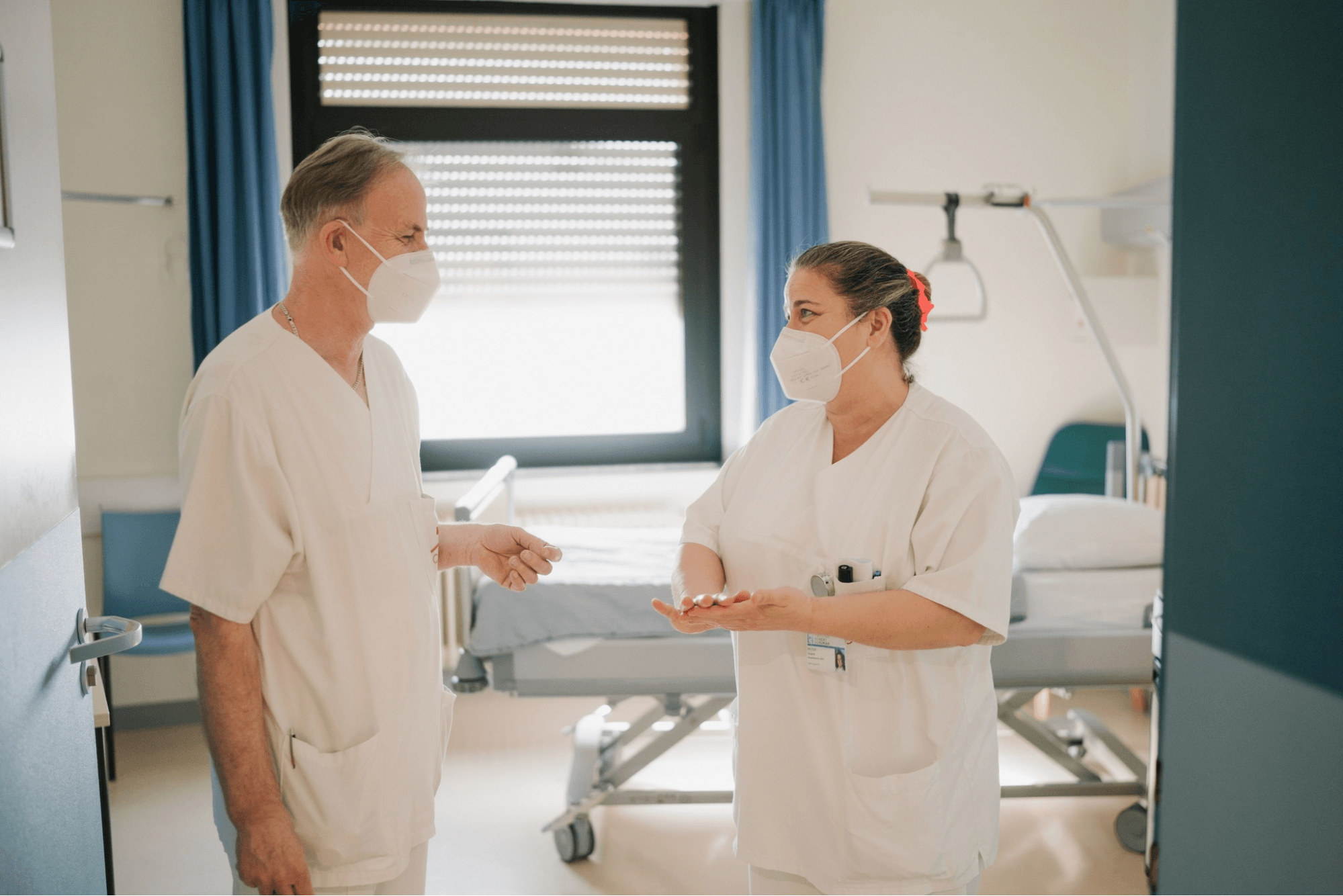 What are the general requirements for nurses
In Luxembourg, nurses require a recognized nursing degree, national licensing, healthcare provider code and language proficiency in French, German, and Luxembourgish. Additional requirements may include certain work experience, ongoing training, and a clean criminal record in Europe and elsewhere.
One of the most important and usually hard-to-get requirements for nurses is, of course, language fluency in all official languages of the country. Let's explore this and other requirements for practice more closely.
Educational requirements
It is possible to study nursing directly in Luxembourg. The University of Luxembourg has an ongoing admission for students for the academic years 2023-2025. Bachelor in Nursing in General Care consists of 3 years of study. For admission, you will need:
Secondary school or prior medical education diploma,

A certificate from an accredited language school certifying that you have at least a B2 level in French or German,

Accomplish a test and provide a portfolio.
A bachelor's degree in specialized nursing is available in four specialties nowadays in Luxembourg. The education provided by the main state University in the country offers the following courses:
Nurse anesthetist and intensive care nurse,

Nurse anesthetist and intensive care nurse,

Pediatric nurse,

Psychiatric nurse.
Licence and certification requirements for nurses
To get a registered nurse job in Luxembourg, you must obtain a diploma, certificate, attestation, or other evidence of formal qualifications in nursing issued by a competent authority in a Member State or outside of Europe.
When you are coming to work from a country outside of Europe, you will not only need to translate your education and experience-proving documents into the official language of the country but also have them recognized by the relevant department.
Nurses are not covered by a business permit system, but the profession itself requires other important permits, such as a practice permit from the Ministry of Health.
Language requirements
To practice in Luxembourg, you must speak at least one of the three languages at the B2 level or above. The official languages in the Grand Duchy are German, French and Luxembourgish. In case none of them is your mother language, you must provide documented proof you can speak one.
A certificate of language skills or a proof of work experience in a French- or German-speaking country will usually suffice. If you don't have any of the above, your language skills can be confirmed by a certificate issued by the local examination center — the National Institute of Languages in Luxembourg.
Soft and hard skills for nurses
The nursing profession is rather stressful, so you will need to have soft skills to make your job easier for yourself and the patients. Soft skills are related to personality traits and are acquired throughout life. Here are some examples of what people usually mean by it:
Communication skills,

High emotional intelligence,

Reliability and resilience,

Critical thinking,

Time management skills,

Ethics and confidentiality.
Hard skills are technical skills acquired through training and practice. They may seem more useful, but the balance of such abilities is crucial when working with people. Those are hard skills for nursing professions:
Emergency care,

Taking and analyzing a patient's vital signs,

Obtaining a patient's medical history,

Attention to patient safety,

Use of digital devices and applications.
How to work as a nurse in Luxembourg for foreigners
Many individuals from India, South Africa, Nigeria and other countries are drawn to the nursing profession. If, for instance, an Indian nurse wishes to practice in Luxembourg, it's essential to secure a permit from the appropriate ministry.
For foreigners, it's crucial to have their professional qualifications recognized to be eligible for this permit. If you're from outside Luxembourg and aim to work as a healthcare professional, your initial step should be to apply for a relevant permit.
One hurdle can be finding a job in hospitals in Luxembourg, getting a license, and more. Get a medical education in the country to secure a position with your qualifications and specialty. This can be a refresher course or a full-fledged degree if you have the time and resources to do so.
Luxembourg has a huge demand for medical professionals, as well as a multi-ethnic population, with many expats moving to the country and becoming part of the public. It is very important for them and their families to have doctors who speak their native language, so for many nationalities, working as a nurse in Luxembourg is not only a great paycheck and helping people in need, but also a definite contribution to the national expat community.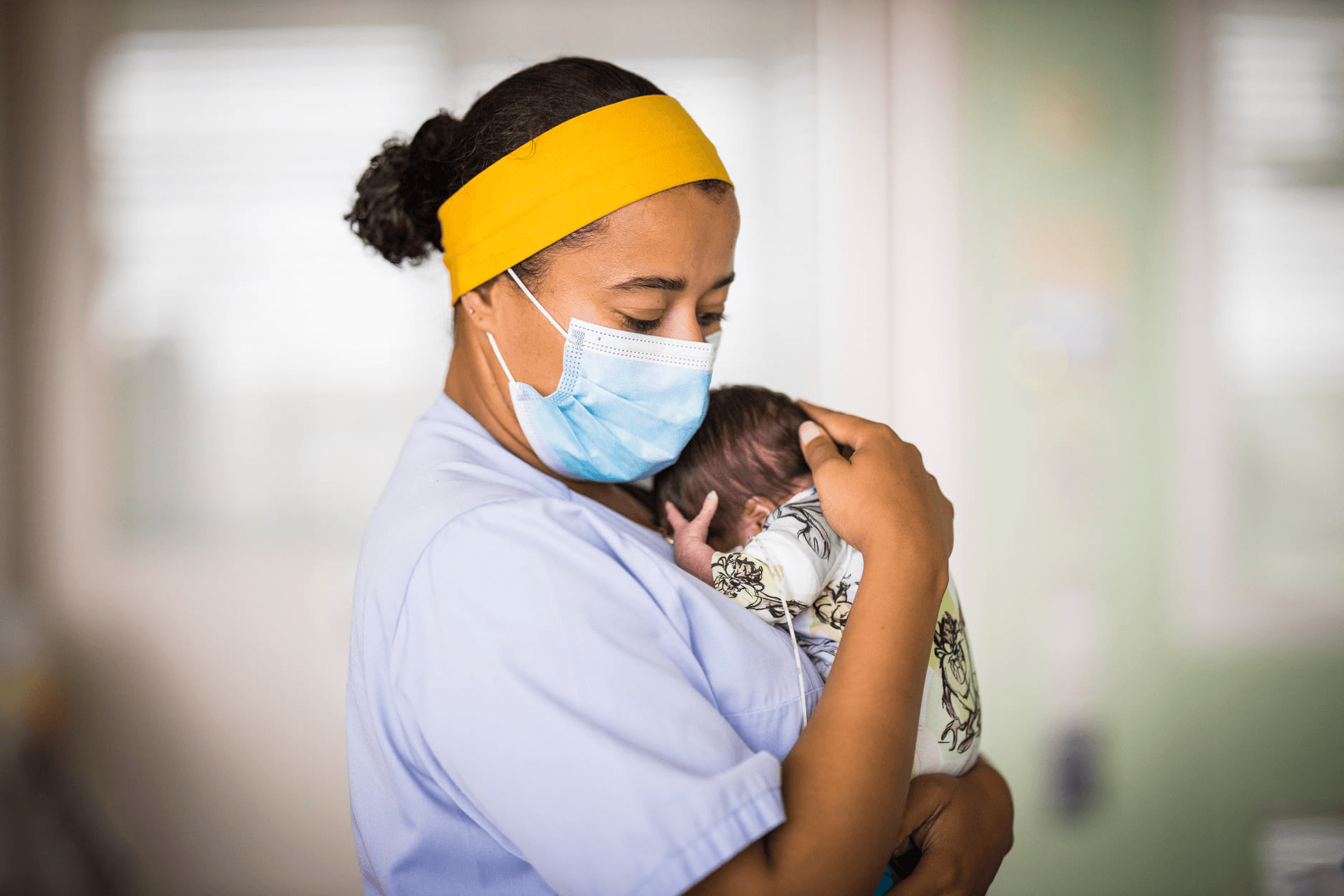 Job opportunities and salaries for nurses in Luxembourg in 2023
As of 2023, the average annual salary for a registered nurse in Luxembourg is approximately 60,250 euros. The median income in the nursing sector is 4,480 euros, indicating that half of the nursing workforce in Luxembourg earns less than this figure, while the other half earns more.
The average salaries for nurses in Luxembourg in 2023, representing different professional areas
| | |
| --- | --- |
| Nursing specialty | Average salary per month |
| Acute care nurse | 4,280 euros |
| District hospital nurse | 4,070 euros |
| Head nurse | 4,650 euros |
| Home nurse | 3,840 euros |
| Mental health nurse | 3,950 euros |
| Neonatal nurse practitioner | 5,420 euros |
| Nurse anesthetist | 3,990 euros |
| Nurse midwife | 4,690 euros |
| Nursing assistant | 3,380 euros |
| Perioperative nurse | 3,920 euros |
| Psychiatric nurse | 3,830 euros |
| School nurse | 3,510 euros |
The salary distribution shows that approximately 65% of all reported salaries fall within the range of 3,570 to 4,920 euros. Furthermore, specific roles within the nursing domain have their respective average salaries.

Frequently Asked Questions (FAQ)
Can foreigners get nursing jobs in Luxembourg
Yes, they can. To work as a nurse in Luxembourg, you need a practice permit issued by the Ministry of Health, a residence permit, and some language skills in general. Of course, as the work in the medical sphere is highly regulated, you might need additional papers and qualifications, but overall, for nurses from India or Nigeria for instance it is a realistic path to take professionally.
What are the requirements for foreign nurses to work in Luxembourg
To practice in the Grand Duchy, a foreign specialist will need to provide basic documents supporting their desire to work, such as:
Diploma of foreign nurse (minimum 3 years of study),One year of clinical experience,Be recognized by the Ministry of Higher Education and Research,Speak at least one of the 3 national languages of Luxembourg at B2 level (German, French or Luxembourgish).
How much can a nurse earn in Luxembourg
The average salary of a nurse in Luxembourg is 60,250 euros per year or 30,90 per hour. Specific roles within the nursing domain have their respective average salaries. We have published a table in the article.
Is it always stressful to be a nurse
Well, nursing is a stressful profession: one mistake can have serious consequences for a patient's health, even death, so it is a big responsibility. However, if done correctly, the patient will receive invaluable care. To get the right results, a nurse must be attentive and careful, be able to manage emotions and be well prepared.On average in Europe, the popularity of nursing education is growing along with the demand for nurses. But Luxembourg is one of the exceptions. From 2010 to 2017, the number of nursing graduates fell by almost a third. So the country has a constant need for nurses from abroad.
Sources: health.ec.europa.eu, ec.europa.eu, nurseabroad.in, lu.talent.com, salaryexplorer.com, cns.public.lu, guichet.public.lu
We took photos from these sources: Artem Shuba for Unsplash, University of Luxembourg Facebook page, Hôpitaux Robert Schuman Facebook page, KannerKlinik Clinique Pédiatrique CHL Facebook Page,
Copy link